Australian Real Estate: Same Difference?
As Europe continued to receive bailout after bailout, delaying the inevitable, we look east to see what else to expect from the oncoming financial Tsunami of debt.
One economy that is centre focus is Australian, residential real estate in particular. It seems only rational that with the debt cloud is spreading around the global, that Australia - another Western Economy would be the next domino to fall.
It is highly possible that emerging Asian economies and Australian will become the next victim of the debt crisis. Both the US and the EU zone are now facing prolonged recessions, we find it extremely different to avoid the blow given that two of the biggest markets have slowed.
My fellow Australians disagree. Australia is different, they argue. We're not like the US or the Europeans. "This time it's different."
How many times have you heard that before?
1. Highly Inflated Real Estate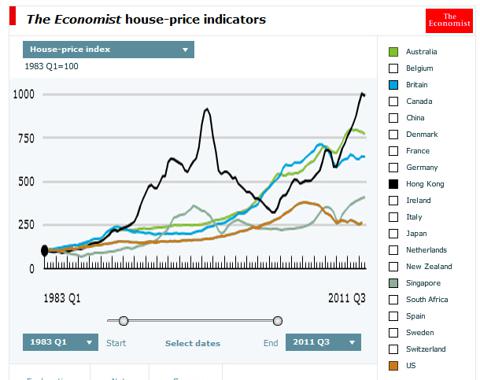 Australian real estate has continued to rise over 20 years since 1992. The rate of rise mirrors Britain closely, especially in 2001-2009, where both indexes moved step in step.
Australia fared better in 1991-1999 compared to Britain, probably because of its proximity to Asia (see HK and Singapore), but did not suffer the 1998 price collapses of HK and Singapore.
Prices of Residential Real Estate may fall up to 40% in Australian dollars.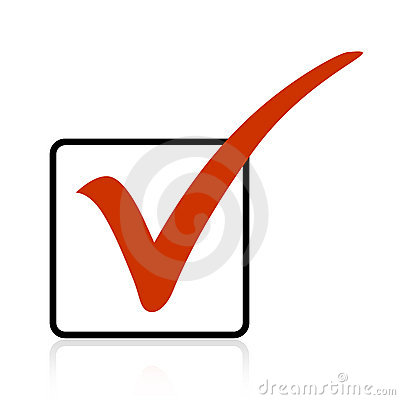 2. Very unaffordable Real Estate Prices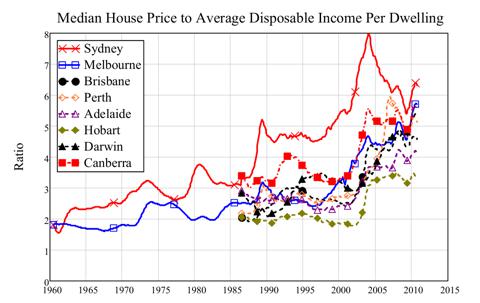 No matter how you slice the cake, affordability in Australia has collapsed. Melbourne looks especially suspect, with the ratio spiking from 2 in 1998 to almost 5.5 in 2012.
The biggest jump occurred in 2001, when the ratio surged from 3 to almost 4.5 in a period of 2 years.
Even though wages are increasing, housing prices have gone up more thereby decreasing affordability, bearing a strong resemblance to the US market before the bottom fell out.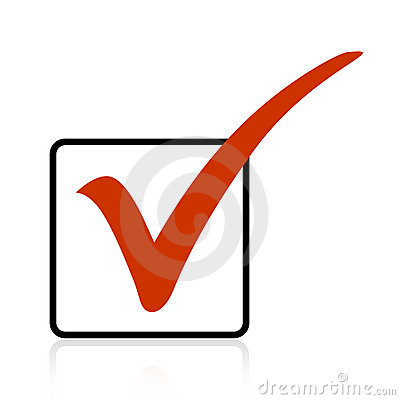 3. Check: High levels of Mortgage Debt to GDP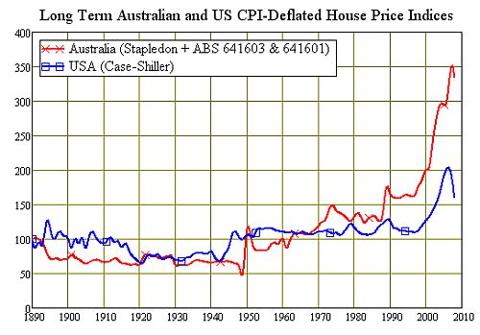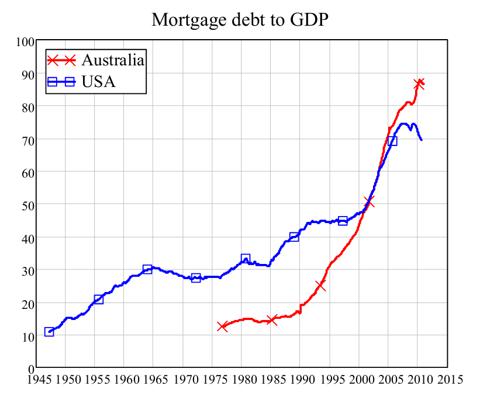 How have Australians been funding their purchases with the price of residential real estate rising fast than their wages?
The answer is debt. Above shows that debt in Australia trended up slowly until the 2001 when it started going up almost vertically.
Since 2009, Australians have made an effort to pay back their loans. In 2011, the median home price was $480,000 and the median mortgage payment including repayments was $2,200 /month. The median household income is $7,500. This means that mortgage to income percentages are around 27%. With the limited amount of available free cash flow after taxes and living costs, savings towards principal repayment dwarf in comparison to the size of the mortgages.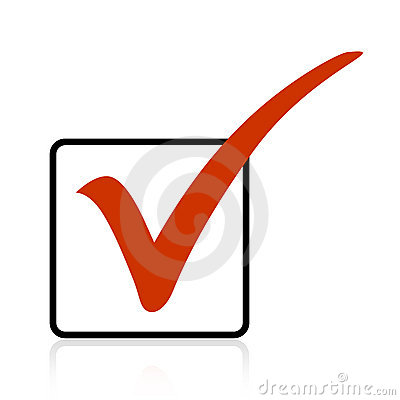 4. Counter argument: Employment & Exports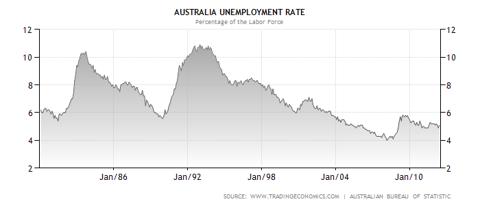 The biggest argument against real estate prices collapsing is the strength Australian employment and income. A household can sustain a huge amount of debt as long as the borrower has a job and a high income to match. But only just.
Australia has enjoyed some of the best economic growth and low unemployment from 1993 - 2007. Once again, you see the accelerated 'good times' from 2001, where unemployment fell below the historic low of 5% set in 1989. We see in 2007 -2009 the spike towards 5.8% after the US financial crisis, but quick spending programs by the fed and the Australian government quickly restored the figures.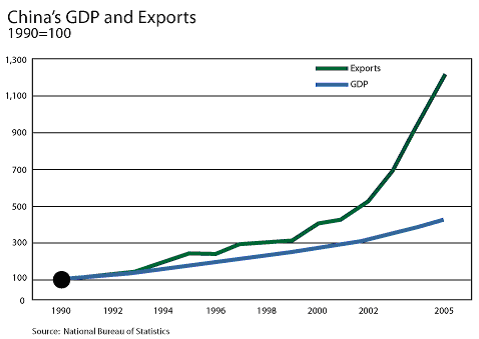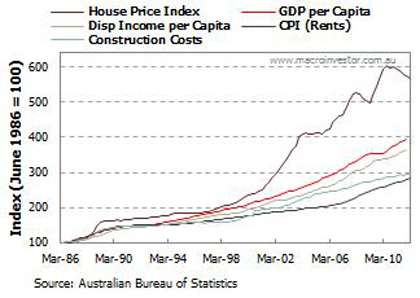 Australian Economy Heavily Tied to China
But the Australian economy is heavily tied to the Chinese economy. Looking at the graph above, we see that the unemployment numbers are correlated to China GDP growth and its exports.
Australia's two largest trading partners are China (18%) and Japan (14%).
What if China stalls?
China Starting To Slow
China, the factor of the world is facing a big problem. Its two biggest customers are broke. Below shows China's biggest trading partners. The EU & US together with the proxy Hong Kong account for almost 55% of exports. Both these countries are now in recession.
4.1) Western Australia - Ground Zero
Western Australia is too reliant on Iron Ore
Western Australia has remained roughly untouched by the economic slow down - until now.
The economy remains a 1 trick pony. Not only solely based on mining, but the mining of one particular commodity: iron ore. Iron ore exports represent almost 60% of Western Australia's GDP.
China sneezes, Australia Catches A Cold
In 2011, China consumed a total of 2,016 million mt of Iron Ore. It imported a total of 686 million (+10.6%) mt, while producing a total of 1,330 million (+27%) mt internally. China is the biggest producer of Iron Ore in the world. Australia only produced 486 million mt in 2011.
If China were to slow down and demand drops 10% while their production increases 10%. Iron Ore imports to China will drop 41.5%, not 10%. A drop of 285 million mt in demand world wide could collapse the iron ore price. In fact, Iron Ore prices have already started to weaken.
Iron Ore Price FOB Tianjing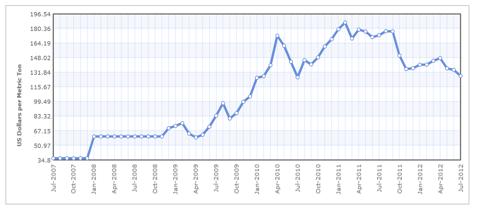 Prices have already dropped 40%.
Forget Soft Landing, Australia will crater
1. Bank financing:
Australian banks maybe rated as safe, but they are funded on foreign liabilities. Much like Spain and Greece, when investors start demanding higher interest rates, things are going to get hairy.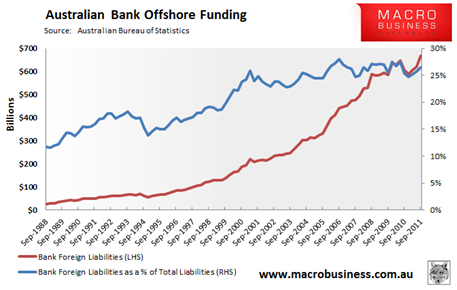 Table 1: Bank comparison:
| | | | | | |
| --- | --- | --- | --- | --- | --- |
| | US Average | ANZ | CBA | NAB | WBC |
| Tier 1 ratio | 9.2% | 10.9% | 10.0% | 11.0% | 9.7% |
| Loans | xxxx | 758.2 | 335.4 | 427.5 | 474.6 |
| Deposit | xxxx | 301.8 | 370.2 | 324.9 | 335.3 |
| Loan/Deposit | 71% | 111% | 130% | 132% | 142% |
| NIM | 3.56% | 2.40% | 2.15% | 2.19% | 2.02% |
Net interest margins in Australia are extremely low, this is a product of high cost of funding, because of the low savings rate in Australia.
2. No white knight:
Australia has no FED and no ECB. When their banks start going into distress, the Australian government will be forced to bailout the banking system, which means like Ireland it ultimately would need funding itself. Unlike the previous 2 countries, there are limited options for Australia. The IMF will be too small and Asia would be too afraid. A spectacular currency devaluation maybe possible and mass money printing, but might not resolve the problem of insolvency immediately.
How do you get into this trade?
For those who want to take advantage of this trade, the easiest way is to short the Australian Dollar. Similar to the Fed, the RBA - Australian Central Bank will begin cutting interest rates and printing money, causing the devluation of the AUD. There are several ETFs that do this with very interesting names. GDAY is the short AUD/USD pair. While CROC is the x2 short AUD/USD pair. There are also pure FX accounts that do the same thing. However, please take caution investing in any ETF or structure product.
References:
An Epic Australian Bust
How to Profit From the Coming Aussie Property Crash and Banking Crisis
Disclosure: I have no positions in any stocks mentioned, and no plans to initiate any positions within the next 72 hours. I wrote this article myself, and it expresses my own opinions. I am not receiving compensation for it. I have no business relationship with any company whose stock is mentioned in this article.