Economic uncertainty has been monstrous, from the cloud hanging over end-of-the-year tax policy and budget negotiations to a down-to-the-wire national election. And that doesn't even include ever-present eurozone squabbling over bailouts for austerity.
In spite of the question marks, stock assets continue working their way to higher ground. Remarkably, they've done so with limited resistance and a relatively low level of volatility. The CBOE VIX Volatility Index (VIX) remains near levels that some might even describe as complacent.
(click images to enlarge)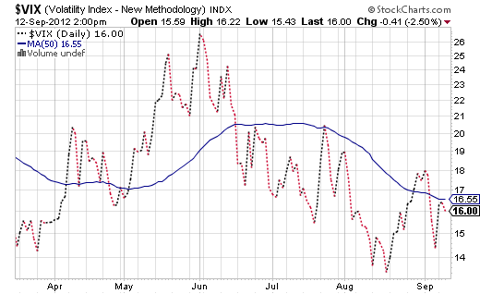 Is the S&P 500's success simply a case of the smart money climbing a wall of worry? There may be some of that. Abysmal 2012 performance by hedge fund managers may also be contributing to short covering and a reluctant conversion to "going long" on stocks.
There is one thing that nearly everyone agrees upon, though. For worse or for better, central banks around the globe have committed to bailouts and unconventional methods of easing. This fact seems to be encouraging market direction more than any other.
There's always the possibility that the markets have already moved higher in anticipation of Federal Reserve and European Central Bank interventions. If that turns out to be the case, we might see an ugly "sell the news" event rather than a consistent registering of multi-year stock highs.
In my estimation, there is at least a 50% chance that the Fed will hold off announcing specific quantitative easing measures on Thursday (9/13). If that easing involves the controversial electronic printing of money. I think it is just as likely that they will tease a future "QE3″ initiative, choosing to wait until after the election and subsequent jobs reports.
Indeed, stocks may react negatively at first. However, with the "QE carrot" still out there, the circumstance should eventually bolster reflation-oriented assets. Moreover, some of those reflation-oriented assets — precious metals, materials, natural resources and resources-related companies — have been beaten down for quite some time. Assuming the world's central banks (e.g., People's Bank of China, European Central Bank, U.S. Federal Reserve, etc.) are able to follow through on anticipated/planned interventions, these longer-term underachievers may become the "Belles" of the ball.
Resources-Related ETFs In A Material World
5 Days %
1 Year %
Market Vectors Steel (NYSEARCA:SLX)
10.8%
-8.9%
Market Vectors Rare Earth/Strategic (NYSEARCA:REMX)
9.7%
-29.6%
SPDR Metals & Mining (NYSEARCA:XME)
9.6%
-19.3%
United States Natural Gas (NYSEARCA:UNG)
9.0%
-48.8%
iShares Global Materials (NYSEARCA:MXI)
7.6%
-0.4%
SPDR Global Natural Resources (NYSEARCA:GNR)
6.0%
-0.1%
PowerShares DB Base Metals (NYSEARCA:DBB)
5.7%
-12.3%
SPDR S&P 500 Trust (NYSEARCA:SPY)
2.4%
25.2%
Since mid-July, when Mario Draghi pledged to do "whatever it takes" to save the euro, the above-mentioned ETFs substantially increased both their price and relative strength. And while I would still wait for general market weakness, consolidation and/or a near-term pullback before buying resources-related assets, the general trend toward asset reflation should remain in place for quite some time.
It follows that one might look to commit new dollars to a few key resources-related possibilities, incrementally and opportunistically. Exchange-traded vehicles that I may consider for more assertive client portfolios include assets such as iShares DJ Materials (NYSEARCA:IYM), First Trust Natural Gas (NYSEARCA:FCG) and/or iShares Natural Resources (NYSEARCA:IGE).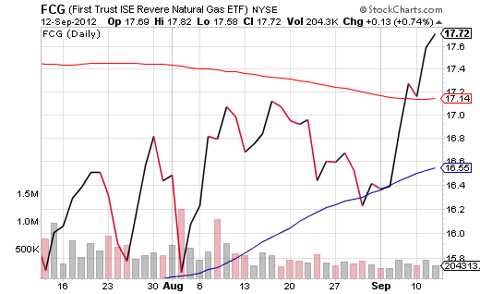 Disclosure: ETF Expert is a web log ("blog") that makes the world of ETFs easier to understand. Gary Gordon, MS, CFP is the president of Pacific Park Financial, Inc., a Registered Investment Adviser with the SEC. Gary Gordon, Pacific Park Financial, Inc, and/or its clients may hold positions in the ETFs, mutual funds, and/or any investment asset mentioned above. The commentary does not constitute individualized investment advice. The opinions offered herein are not personalized recommendations to buy, sell or hold securities. At times, issuers of exchange-traded products compensate Pacific Park Financial, Inc. or its subsidiaries for advertising at the ETF Expert web site. ETF Expert content is created independently of any advertising relationships.