Facebook (NASDAQ:FB) CEO Mark Zuckerberg recently addressed a friendly tech audience. During his address, Zuckerberg claimed "Facebook is all about mobile." While the markets welcomed this slogan, Facebook faces serious problems with a declining growth in new active users and revenue. While there is a lot of room in the mobile segment, the basic question still remains: Will Facebook be able to increase its revenue growth substantially?
As I mentioned in my previous article about Facebook, a lion's share of the revenues for Facebook comes from advertisements. However, bombarding the users with the advertisements is not going to be helpful in retaining the users. Mobile advertisement will be a huge challenge for Facebook, as most of the users are not thrilled about the increased advertisements on their small-screen mobile devices. Zuckerberg also downplayed the rumors about Facebook launching its own phone. In this article, I will take a look at Facebook's business model as compared to its competitors and its future growth prospects.
Facebook by the Numbers

Facebook is currently facing a problem of slowing revenue growth. At the moment, revenue growth is close to 30%. In the most recent earnings announcement, Facebook reported a revenue growth of 32%. While these revenue growth numbers were better than tech giants Apple (NASDAQ:AAPL) and Google (NASDAQ:GOOG), which recorded revenue growth of 21% and 23%, respectively, they still fall short of the year-on-year revenue growth, where Facebook experienced over 100% revenue growth in the previous year. Moreover, slowing revenue for Facebook is not just a case of one bad quarter; from the third quarter of 2010, Facebook revenue growth has come down from 104% to 32%.
Facebook recorded revenue growth of 104% in the third quarter of 2010, which came down to 54% by the end of year 2010. However, the decline did not stop there, and the revenue growth further contracted to 46% in the first quarter of 2011. It currently stands at 32%. While there is no doubt that the firm will be able to reach one billion users, it will be extremely hard to monetize these new users as most of the users will come from less advanced economies where online advertisement is not a lucrative business.
There are some concerns about the business model of Facebook. Investors remain skeptical about the ability of Facebook management to give the business a real direction. At the moment, Facebook's "new active members" growth is slowing down and the business has not been able to make the most from its user base. Increasing revenues through advertisements will be a tricky job for Facebook management, as users are not going to be thrilled with the prospect of entertaining more advertisements. Furthermore, online advertisement business is already reaching saturation, and it will be tremendously hard for the company to attain gargantuan revenue growth numbers from the market.
Competition: LinkedIn
LinkedIn (LNKD) reported its earnings in August, showing impressive revenue growth figures. Year-over-year revenue growth for LinkedIn was very remarkable at 89%. This was not an isolated quarter of over 80% revenue growth for LinkedIn; the company now has been reporting revenue growth of over 80% for the last two years. These revenue figures are impressive, and the firm has continued to see strong revenue growth after going public, consistently beating analyst estimates.
The main reason for LinkedIn to show better revenue growth than Facebook is that it does not rely as heavily on online advertisements as Facebook does. LinkedIn has a stronger business model than Facebook; its offerings include subscriptions, job postings, and advertisements. These three revenue streams contribute to the growth of the company. LinkedIn has a better mix and diversity in its revenue base, which will help the company grow its revenue at a notable rate and avoid stagnancy in its earnings.
Competition: Google
Google reported a revenue growth of 23% in its most recent earnings announcement. Revenues for Google stood at $8.36 billion, slightly falling short of analyst expectations. Google recorded improved numbers of advertisement hits, as its recent changes in the Internet surfing technology lured more surfers and generated more hits. Google's search formula concludes a user's request and is geared to buy merchandise, book a vacation, or make some sort of other commercial transaction. As it collects more data regarding customers, Google can do a better job understanding people's individual interests in order to modify ads to suit users.
Google recorded a 42% increase in the total clicks for the second quarter. Google revenues are not completely dependent on the advertisement revenues; the company also has diversity in its revenue mix, which provides it a cushion against slowing revenue growth.
A Comparison of Revenue Growth
Click to enlarge image.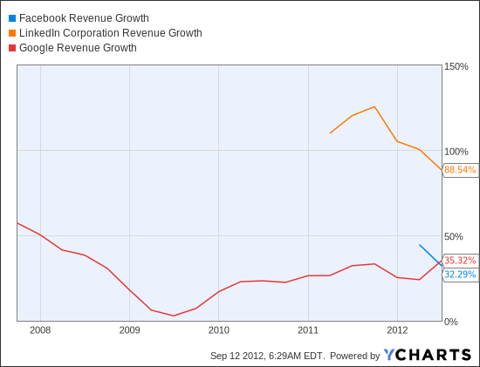 Summary
While there are growth opportunities in the market, I believe it will be extremely difficult for Facebook to generate impressive revenue growth numbers. The biggest segment of its revenues faces competition from Google, which has a far superior business model and a tighter grip on the advertisement market.
Facebook currently faces a struggle to improve its revenue growth, and it will either have to invent some cash-generating product that it doesn't currently have or become dramatically more focused on making money using its ad products. Zynga (NASDAQ:ZNGA) is one of the revenue providers, but Zynga has its own problems. Zynga shareholders lost almost 70% since January. I think both companies should reconsider their future plans based on user monetization.
Disclosure: I have no positions in any stocks mentioned, and no plans to initiate any positions within the next 72 hours. I wrote this article myself, and it expresses my own opinions. I am not receiving compensation for it (other than from Seeking Alpha). I have no business relationship with any company whose stock is mentioned in this article.