Shares of Deere & Company (NYSE:DE) have posted a flat performance by returning only 5% over the past 12 months. The current stock price of $78.79 is roughly at the mid-point of its 52-week trading band between $89.70 and $59.92. Deere is one of the popular dividend stocks that many investors own, given its decent dividend yield currently at 2.3%, solid market share in the industrial machinery sector, and cyclical business nature which offers a greater potential for stock price appreciation. However, in my opinion, this dividend stock does not warrant a buy decision based on the following four reasons:
1. Deere's stock is not priced attractively relative to the firm's growth potential (see table below). Analysts in average forecast DE's revenue, EBITDA, and EPS to grow by 2-year CAGRs of 9.3%, 2.0%, and 11.4% over the current and next fiscal years. Those estimates are lower than the averages of DE's comparable peer group consisting the firm's competitors such as Caterpillar (NYSE:CAT) and CNH Global (NYSE:CNH). Accounting for DE's earnings prospects, the stock trades at 0.9x PEG, which is close to the high end of the peers' PEG range between 0.4x and 1.1x.
Click to enlarge

2. The current stock valuations appear to have fully priced in DE's strengths (see table above). Asides from the weaker growth prospects, DE has a superior profitability relative to the peers. Almost all of DE's margin and capital return measures are stronger than the peer averages. Another bright spot is DE's liquid balance sheet, which is reflected by the firm's robust current and quick ratios. However, DE is the most leveraged company in the group as suggested by the highest debt to capitalization ratio. The company's debt to EBITDA ratio of 5.6x is also significantly above the peer average of 3.2x. In addition, DE has not been able to produce positive free cash flows over the last 12 months. The LTM FCF margin of -6.4% is substantially below the peer average of -1.0%.
Nonetheless, the current stock price of $78.80 implies an average valuation premium of 14.4% to the peer-average NTM EV/EBITDA and NTM P/E multiples (assuming both multiples are equally weighted in determining the stock value) (see table above). I believe the market has been quite generous in pricing DE's shares even with the company's relatively slower growth potential, high leverage, and deteriorating free cash flow margin.
3. DE's shares have become pricier over the past 12 months (see table below). Comparing the current financials to what they were exactly a year ago, DE's revenue, EBITDA, and EPS growth estimates have become significantly lower. Its profitability measures such as margins and capital returns have remained flat. The debt to capitalization ratio and debt to EBITDA multiple have both increased slightly, but the company's LTM FCF margin has slipped into negative territory from a solid 2.0% a year before. Despite an overall weaker financial performance, DE's NTM EV/EBITDA, NTM P/E, and PEG have only slightly changed 1.6%, -7.1%, and 1.4%, respectively. The flat valuations with weakened financials suggest that the share price has become more expensive over the past year.

4. DE has a strong commitment to its dividend policy, as its annual dividend per share has been steadily raised by a 10-year CAGR of 13.2% to $1.52 in FY2011 from $0.44 in FY2001 (see below), but the company appears to have tight financial resources to continuously improve the dividend payments at the current pace. According to the table shown below, over the past several years, annual dividend paid generally represented almost the entire annual free cash flow generated, and sometimes even exceeded the amount of free cash flow, meaning that DE may not be able to meet the market's expected dividend payments with its internal-generated free cash flow in the future.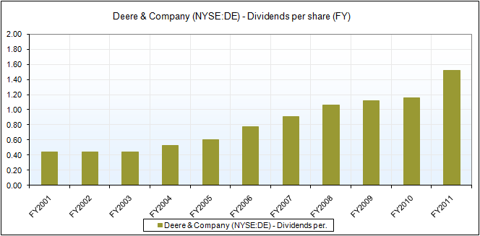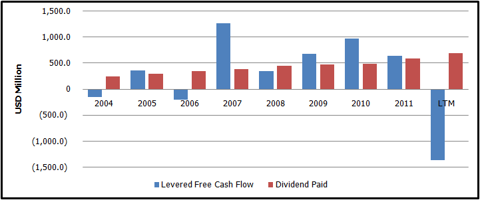 Bottom line, DE's valuations present an unfavorable risk/reward profile, and its weak FCF generating capability further reduces the investment's margin of safety. As such, I do not recommend acquiring the shares at the current price.
Historical dividend table is sourced from Capital IQ, all other tables are created by author, and all financial data is sourced from Morningstar and Capital IQ.
Disclosure: I am long CAT. I wrote this article myself, and it expresses my own opinions. I am not receiving compensation for it (other than from Seeking Alpha). I have no business relationship with any company whose stock is mentioned in this article.