We have been long attracted to Accenture plc (NYSE:ACN) because it is the best-of-the-best of (IT) consulting firms. We previously compared it with the IT/BPO Services divisions of Hewlett-Packard (NYSE:HPQ), Dell Inc (DELL) and Xerox Corporation (NYSE:XRX) and we found that Accenture simply outclassed HP Services, Dell Services and Xerox/Affiliated Computer Services.
In this report, we will be giving Accenture stiffer competition than second-tier BPO firms by comparing it against International Business Machines (NYSE:IBM), Aon Corporation (NYSE:AON), Towers Watson (TW) and Marsh & Mclennan Companies Inc. (NYSE:MMC). Even though Aon, Towers Watson and MMC are primarily human resources consulting firms, we have included these three because we have considered investing in those companies from time to time and there are not many consulting related companies available to compare Accenture with.
Comparison of Accenture with Peer Sample
Operating Margins: We were surprised that Accenture's operating margin was middle-of-the-pack in comparison to these three companies. Still, we can see that these companies generated healthy operating margins of 12-20% in the most recent quarter in spite of weak macroeconomic headwinds. IBM was able to generate a 20% operating margin because 24% of its revenue comes from software solutions, which generated an 88.4% gross margin in Q2 2011 and Q2 2012. Part of the reason why Marsh & McLennan has a higher gross margin than Accenture is because 56% of its revenue comes from risk services and insurance brokerage. That business generated a 23.6% operating margin in the most recent quarter on the strength of a 5% increase and strong expense containment.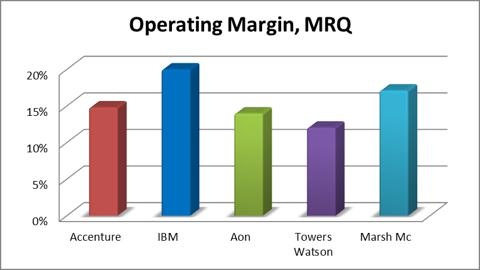 Source: MRQ Earnings Reports for Accenture, IBM, Aon, Towers Watson and Marsh Mc.
Revenue Growth: Towards the end of August, our firm released our report in which we identified Accenture's strong and diversified business model. We were impressed with its revenue diversity by division, by geographic segment and by client group plus this diversity enabled the firm to generate strong revenue growth without resorting to blockbuster acquisitions. This compares favorably to Xerox, H-P and Dell as these companies got into the IT software and services segment through blockbuster acquisitions and these companies have had mixed results from the services business. In its most recent quarter, Accenture generated 6% revenue growth year-over-year in US Dollar terms and 9% in currency equivalent terms. This is stronger than the 5% growth from Xerox ACS (7% currency adjusted). Both Accenture and Xerox ACS outperformed Dell (1% revenue growth in USD) and HP Services (-1.27%).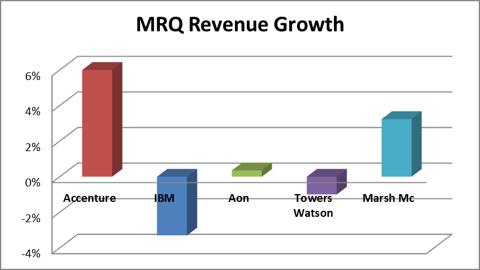 Source: MRQ Earnings Reports for Accenture, IBM, Aon, Towers Watson and Marsh Mc.
Return on Equity: The next metric we are using to compare these firms is ROE. We find that IBM and Accenture have absolutely breathtaking ROEs of 77% and 68% respectively. Because Aon, Towers Watson and Marsh McLennan have been involved in major acquisitions over the years, those companies have significant levels of goodwill and other intangible assets sitting on the balance sheet and as such have lower levels of ROE. Accenture and IBM only have between 8-20% of each company's respective assets, represented by goodwill and intangible assets from acquisitions. IBM also utilizes debt for nearly 30% of its assets, compared to 3% for Accenture. Accenture also has cash and cash equivalents representing 36.4% of its assets, versus 15% for IBM. IBM does have over 31.5% of its assets in financing receivables though.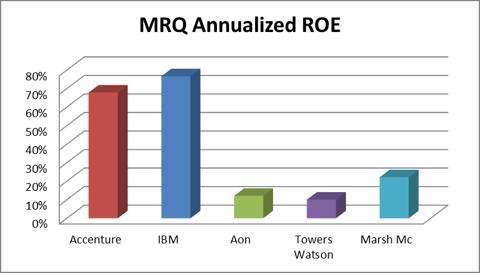 Source: MRQ Earnings Reports for Accenture, IBM, Aon, Towers Watson and Marsh Mc.
Price to Earnings Growth: While Accenture has the highest FY 2013 PE of the peer sample at 16X FY 2013 EPS, Accenture also has the best record of EPS growth of 15% over the last eight years. Accenture had the second best PEG ratio at 0.99, trailing only Towers Watson at 0.91.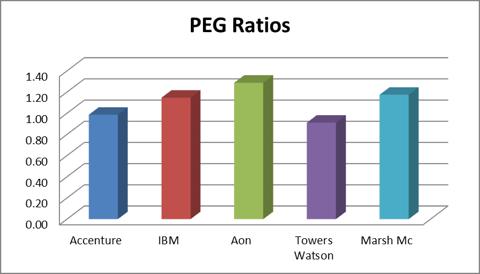 Source: MRQ Earnings Reports for Accenture, IBM, Aon, Towers Watson and Marsh Mc.
Conclusion
In conclusion, Accenture is an undervalued, industry-leading best-of-breed blue chip professional services and consulting firm. Despite facing global macroeconomic challenges, we see Accenture continuing to put up solid financial and operating performance. In our previous report, we found that it is a much stronger company than three notable IT/BPO Services companies that have been acquired by large hardware companies (XRX, HPQ and DELL).
In this report, as we have outlined, we could see that Accenture is truly the best of the best amongst general business and IT consultants. We love asset-light firms that have strong liquidity and free cash flow generation and we can see that Accenture gives us a light to like. We believe that investors should take advantage of market weakness to enter into or add to their position in Accenture.
Disclosure: I have no positions in any stocks mentioned, and no plans to initiate any positions within the next 72 hours. I wrote this article myself, and it expresses my own opinions. I am not receiving compensation for it (other than from Seeking Alpha). I have no business relationship with any company whose stock is mentioned in this article.
Additional disclosure: This article was written by an analyst at Saibus Research. Saibus Research has not received compensation directly or indirectly for expressing the recommendation in this article. We have no business relationship with any company whose stock is mentioned in this article. Under no circumstances must this report be considered an offer to buy, sell, subscribe for or trade securities or other instruments.