Following months of persistent rumors, economy experts across America predict that the US Federal Reserve will finally announce plans for a third round of quantitative easing, or QE3, on Thursday, September 13th. Since 2008, the Federal Reserve has kept interest rates near zero, and has also instituted two rounds of quantitative easing to lower long-term borrowing costs and promote investment and growth.
Recent polls indicate nearly two thirds of economists believe QE3 stimulus will come to fruition. Although popular in the media, polls such as this one offer no guarantee, so some uncertainty still remains. A counter argument is that the stock market has rallied close to all time highs, therefore there is diminished reason to artificially lift the economy. In addition, with the election close at hand, perhaps QE3 may be delayed until after November? Whatever the outcome, investors should be prepared on how to react.
If QE3 happens
A major effect of QE3 is increased inflation, which will increase the price of raw goods and materials. Commodities such as food, oil/gas, and metals would increase in price if QE3 is passed. It also would no doubt benefit the mREIT sector by keeping rates low. Some stocks that could harness a Fed induced inflationary environment are Weyerhaeuser Co. (NYSE:WY), Freeport-McMoRan Copper & Gold Inc. (NYSE:FCX), EOG Resources, Inc. (NYSE:EOG), and Annaly Capital Management, Inc. (NYSE:NLY). These stocks have been impressive performers, and they have run up significantly in anticipation of QE3 in the last several months. However, they seem poised to continue their uptrends if QE3 becomes definite.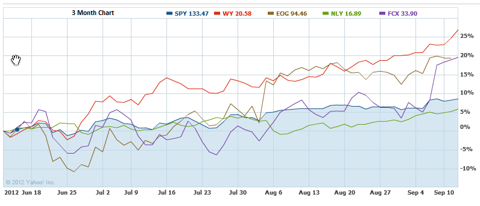 If QE3 fails
Inflation won't be as drastic, and thus prices of materials and other raw goods won't increase significantly, which could benefit companies that are heavily reliant on these inputs for their businesses. Some examples of companies that could save on costs are: The Coca-Cola Company (NYSE:KO), The Home Depot Inc. (NYSE:HD), and Ford Motor Co. (NYSE:F). Another option could be to invest in financial sector, since higher rates can increase profits. Back in the Spring, Deutsche Bank AG (NYSE:DB) released a detailed report explaining how low interest rates negatively effect banking margins. Net Interest Margins, or the difference between the interest income generated and the amount of interest paid out to depositors, are near decade lows. In fact, as recently as Tuesday, Wells Fargo & Company (NYSE:WFC), announced an outlook of decreased margins for the 3rd quarter. If QE3 is a dud, banks will surely be relieved, and so will portfolios with financial holdings.
Summary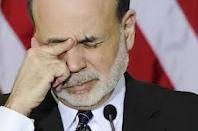 QE3 should prove to be an exciting day for the markets. I'm sure there will be a surprise or two, but perhaps there will just be more of the same. Either way, investors should prepare their portfolios and have a game plan - not be confused.
Disclosure: I am long KO. I wrote this article myself, and it expresses my own opinions. I am not receiving compensation for it (other than from Seeking Alpha). I have no business relationship with any company whose stock is mentioned in this article.