They say the U.S. dollar isn't worth the paper it's printed on. With inflation over the years diminishing the purchasing power of our currency, they may have a point. Even though inflation has been benign over the last few years, with all of the quantitative easing going on at the FED and ECB, it may rear it's ugly head sooner than we'd like. So then, how much is paper worth and how can an investor profit from an investment in it?
Well, one option is to invest it in a recently converted REIT with exposure to the housing market and not only collect the dividends over time, but quite possibly appreciate in value by over 30% - that's what some analysts are saying that Weyerhaeuser Co. (NYSE:WY) is currently undervalued by.
Weyerhauser is one of the largest forest companies in the world. It operates in four business segments: timberlands, wood products (used in homebuilding), cellulose fibers (used in diapers and feminine hygiene products), and real estate. Strategically, it converted itself to REIT status in 2010, essentially reducing its tax rate from 35% to 15%.
Since REITs must pay out 90% of their taxable income, investors can expect a rising dividend as well. Weyerhauser currently has a 2.4% dividend, but the more likely yield is somewhere around 4.0-4.5%, which is the dividend yield on comparable Timberland REITs.
Even though the stock has shot up around 50% over the last year, it may still have some upside. Weyerhauser is driven by the housing market, and recent data indicates that we may be in the midst of a turnaround. Shares of homebuilders are up considerably, and if the environment continues to improve, Weyerhauser will be a big beneficiary.
Click to enlarge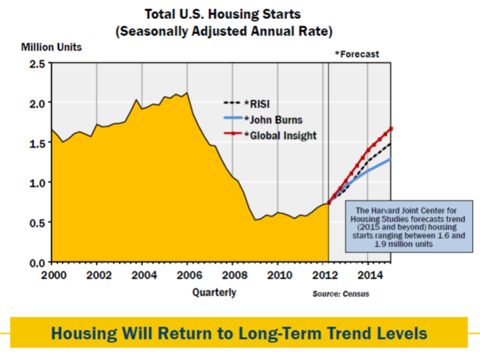 Source: www.weyerhauser.com
Lumber prices are already showing signs of rising, from $272 in 2011 to $300 in 2012, and a forecast price of $315 in 2013. With rising prices and rising demand, the impact could knock the stock price into the $30s. It had reached as high as $85 in 2007, and while we don't expect it to get there overnight, we think it has the potential, and the higher dividend yield doesn't hurt either.
As for the valuation, it looks expensive from a P/E perspective at 44, but this is based on trough earnings. We would go even further and say that perhaps P/E is no longer an accurate way of assessing valuation with WY, now that is has become a REIT. Annual earnings growth estimates from our friends on Wall Street range from 126% to 207%, hence the expectation of a rising dividend.
For investors looking for some income and some price appreciation, Weyerhauser is worth a good look.

Disclosure: I have no positions in any stocks mentioned, and no plans to initiate any positions within the next 72 hours. I wrote this article myself, and it expresses my own opinions. I am not receiving compensation for it (other than from Seeking Alpha). I have no business relationship with any company whose stock is mentioned in this article.