To the same degree that the ISM's PMI index (manufacturing) disappointed the markets, the NMI index (non-manufacturing) was positive news for the markets. The PMI continued its contraction for the third consecutive month with an additional drop of 0.2 to 49.6% which was on the low end of the narrow consensus range of 49.5-50.5% provided by Econoday. On the other hand, the NMI showed considerable strength with an expanding growth rate of 1.1 to 53.7% for the 32nd consecutive month of growth. According to Econoday, the NMI exceeded the consensus by 0.7 and above the consensus range of 51.5- 53.5%.
The broad strength in the non-manufacturing report was represented by increases in employment of 4.5 to 53.8%, reversing last month's contraction, back log of orders of 6 to 50.5%, new export orders of 1 to 52%, imports of 5 to just shy of 50 at 49.5%, supplier deliveries of 2 to 51.5%, and prices by a surprising 9.4 to 64.3% from a low of 48.9 in June. This rapid rise in the price index could signify either positive news that demand is picking up or that the economy has more structural rigidity to overcome before recovery is fully realized. The anemic jobs reports has not negated the second possibility. This jump of input prices for non-manufacturing was also felt in manufacturing with a huge jump of 14.5 to 54%. Along with the jumps in price indexes, we also see a shift back to more commodities going up in price than going down.
The manufacturing employment index inched down 0.4 to maintain above 50 at 51.6%. Still not good enough especially considering the other sub-indexes are weak, which is likely to cause more drag on the employment situation in the near future. As noted above, the non-manufacturing sector reversed its downward drop from the previous sub-50 number with a jump of 4.5 to 53.8%. The graph below shows reversion to the mean trend since December 2009.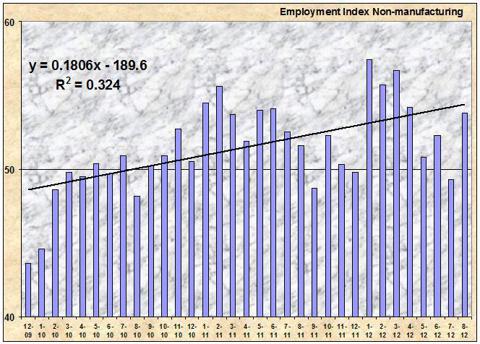 Stock Picks for Bulls and Bears
This month's regression is based on the non-manufacturing sub-indexes including Business Activity, New Orders, Employment, Supplier Deliveries and Prices. The one correction from before was to change the sign for the prices index so that it should more easily line up with lovers and haters of the index. That is, the slopes of the regressors should all theoretically be of the same sign. The regression results from backtesting was a respectable 9.36% for Lovers and 8.32% for Haters annual return per year from mid-2000 compared to a near flat S&P 1500. Below is the results grouped by Lovers and Haters with their corresponding current rating from Sabrient Systems. Lovers as a group perform better over time when the services sectors do better and Haters perform better when the sectors perform poorly or trending down.
Bull Lovers:
AECOM Technology Corporation (NYSE:ACM) STRONGBUY
Basic Energy Services, Inc. (NYSE:BAS) STRONGBUY
Lithia Motors, Inc. (NYSE:LAD) STRONGBUY
Movado Group, Inc. (NYSE:MOV) STRONGBUY
VOXX International Corporation (NASDAQ:VOXX) STRONGBUY
Chipotle Mexican Grill, Inc. (NYSE:CMG) BUY
Ceradyne, Inc. (CRDN) BUY
F5 Networks, Inc. (NASDAQ:FFIV) BUY
Fifth Third Bancorp (NASDAQ:FITB) BUY
Heartland Payment Systems, Inc. (NYSE:HPY) BUY
Joy Global Inc. (NYSE:JOY) BUY
Lamar Advertising Company (NASDAQ:LAMR) BUY
NetApp, Inc. (NASDAQ:NTAP) BUY
Bank of the Ozarks, Inc. (NASDAQ:OZRK) BUY
Under Armour, Inc. (NYSE:UA) BUY
Albany International Corp. (NYSE:AIN) BUY
Boston Private Financial Holdings, Inc. (NASDAQ:BPFH) BUY
Capital One Financial Corporation (NYSE:COF) BUY
priceline.com (NASDAQ:PCLN) BUY
Portfolio Recovery Associates, Inc. (NASDAQ:PRAA) BUY
Regions Financial Corporation (NYSE:RF) BUY
Gibraltar Industries, Inc. (NASDAQ:ROCK) BUY
Scripps Networks Interactive, Inc. (NYSE:SNI) BUY
Thor Industries, Inc. (NYSE:THO) BUY
Vishay Intertechnology, Inc. (NYSE:VSH) BUY
Darling International Inc. (NYSE:DAR) BUY
Stone Energy Corporation (NYSE:SGY) BUY
Texas Industries, Inc. (NYSE:TXI) BUY
Bear Haters:
Aetna Inc. (NYSE:AET) STRONGBUY
ANN INC. (NYSE:ANN) STRONGBUY
Celgene Corporation (NASDAQ:CELG) STRONGBUY
Cigna Corporation (NYSE:CI) STRONGBUY
Community Health Systems, Inc. (NYSE:CYH) STRONGBUY
Old Dominion Freight Line, Inc. (NASDAQ:ODFL) STRONGBUY
Smithfield Foods, Inc. (NYSE:SFD) STRONGBUY
Tyson Foods, Inc. (NYSE:TSN) STRONGBUY
Valassis Communications, Inc. (NYSE:VCI) STRONGBUY
Western Digital Corporation (NYSE:WDC) STRONGBUY
Genworth Financial, Inc. (NYSE:GNW) STRONGBUY
Bed Bath & Beyond Inc. (NASDAQ:BBBY) BUY
Cirrus Logic, Inc. (NASDAQ:CRUS) BUY
Deluxe Corporation (NYSE:DLX) BUY
Federal Signal Corporation (NYSE:FSS) BUY
Healthways, Inc. (HWAY) BUY
Gartner, Inc. (NYSE:IT) BUY
MWI Veterinary Supply, Inc. (NASDAQ:MWIV) BUY
Superior Energy Services, Inc. (NYSE:SPN) BUY
Williams-Sonoma, Inc. (NYSE:WSM) BUY
Olympic Steel, Inc. (NASDAQ:ZEUS) BUY
The Andersons, Inc. (NASDAQ:ANDE) BUY
Cedar Realty Trust, Inc. (NYSE:CDR) BUY
Brinker International, Inc. (NYSE:EAT) BUY
Emergent BioSolutions Inc. (NYSE:EBS) BUY
The Hartford Financial Services Group, Inc. (NYSE:HIG) BUY
M/I Homes, Inc. (NYSE:MHO) BUY
Oxford Industries, Inc. OXM BUY
SYNNEX Corporation (NYSE:SNX) BUY
Stage Stores, Inc. (NYSE:SSI) BUY
Weingarten Realty Investors (NYSE:WRI) BUY
LSB Industries, Inc. (NYSE:LXU) BUY
Pennsylvania Real Estate Investment Trust (NYSE:PEI) BUY
Tuesday Morning Corporation (NASDAQ:TUES) BUY
To get a perspective on the performance, the graph below compares the returns for Lovers (red hues) and Haters (blue hues) vs. the S&P 1500. The goal is to have the returns above the black 1:1 line. Both Lovers and Haters perform better when the market is going up and thus have higher betas. But the slope of the lines are less steep on the downward markets and thus have higher gains than loses.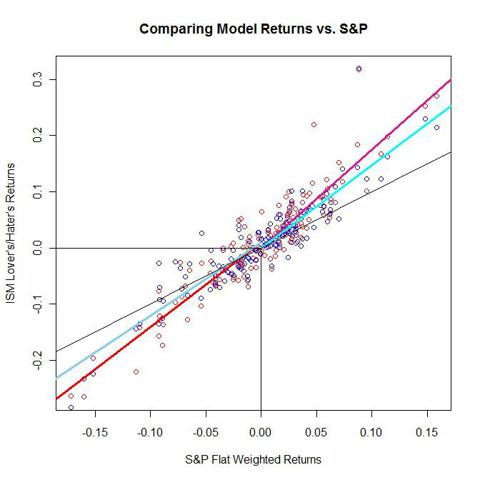 Disclaimer: This article is published solely for informational purposes and is not to be construed as advice or a recommendation to specific individuals. Individuals should take into account their personal financial circumstances in acting on any rankings or stock selections provided by Sabrient. Sabrient makes no representations that the techniques used in its rankings or selections will result in or guarantee profits in trading. Trading involves risk, including possible loss of principal and other losses, and past performance is no indication of future results.
Disclosure: I am long DLX. I wrote this article myself, and it expresses my own opinions. I am not receiving compensation for it (other than from Seeking Alpha). I have no business relationship with any company whose stock is mentioned in this article.
Additional disclosure: I am long DLX. I am long as part of the Rock Solid Yields (RSY)