by Rom Badilla, CFA
Earlier we talked about how earnings disappointments can leave corporate bonds vulnerable to underperforming. Despite the strong technical backdrop of the corporate bond market, the recent string of positive quarters for companies may be at risk due to results from second quarter earnings. Citigroup's High Grade Strategy team suggests that the recent earnings season has "left much to be desired from the fundamental perspective." Given the headwinds of slowing growth, corporate earnings in the coming quarters may be impacted, which could in turn negatively affect performance and corporate bond holders.
Specifically, top line growth a.k.a. corporate revenues were weak, which were masked by strong profit margins. While bottom line growth was decent, the fact remains that stock analysts were wide from the mark in their second quarter earnings estimates. In other words, they were too optimistic. While it is widely known that Wall Street analysts are an optimistic bunch, the focus should be on the magnitude of their optimism relative to actual earnings numbers.
In fact, according to Citigroup's credit analysts, you have to go back to the third quarter of 2011 to find such a miss. Back then the big whiff by analysts was due to curveballs thrown in the form of tsunami and debt ceiling negotiations which impacted earnings. Unfortunately, there were no events that led to lower earnings in the second quarter of this year other than weaker corporate growth.
With that said, there are more developments that are piling on that reinforce the deterioration of corporate earnings. Specifically, negative U.S. company pre-announcements going into the third quarter are now running at their fastest pace since the third quarter of 2001 according to Societe Generale's Strategist, Albert Edwards. In the latest Global Strategy Weekly, Edwards wrote the following:
"Analysts are currently slicing around 2% a month off the level of earnings forecasts which have now fallen some 15% yoy..."

While Edwards concedes that downward revisions by analysts are nothing new given their "jolly optimistic" attitudes toward the companies they follow, Edwards points out that when you look at the downward revisions from a seasonal context, it is quite revealing and unfortunately, quite bearish for companies in the months ahead.
The bad news is that August is typically not a month which sees much in the way of downgrading. It is in the period from September to April that analysts are forced by reality to slash and burn their EPS estimates (see chart below). So an almost 2% downgrade in August can be seen as very serious indeed and reflective of deteriorating underlying economic conditions. But on seasonal grounds alone we should expect to see the earnings downgrades accelerating over the next few months.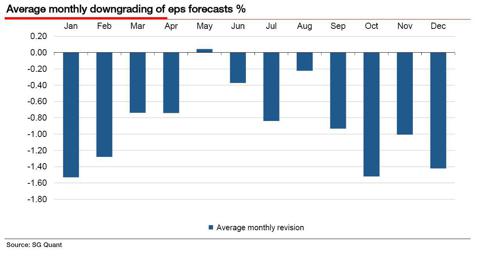 In addition, Edwards suggests that the change in analyst optimism tends to drive equity performance.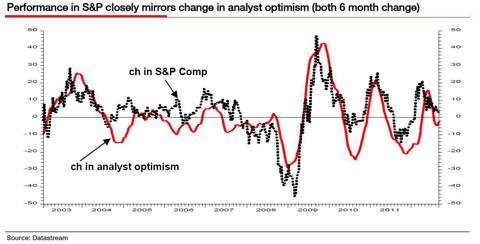 Hence, a decline in optimism could lead to higher volatility and declines in the equity markets. This in turn could lead to wider corporate bond spreads and underperformance relative to safe haven assets like U.S. Treasuries. Deteriorating corporate fundamentals could be the catalyst that pushes investors to leave corporate bonds which have experienced tremendous inflows in this low rate environment. As we mentioned earlier, this turn -- coupled with the poor liquidity that plagues the secondary market-- could be enough to negatively affect corporate bond valuations.