We are bullish on Tesoro Corporation (TSO) because of its high crack spread, rising capacity utilization and an improvement in throughput in the mid-continent and California regions. The acquisition of the BP's (NYSE:BP) refinery business in California will help the company achieve synergies due to its strategic location. The company's lucrative supply chain network will further help Tesoro bring down its distribution cost.
Moreover, Tesoro has reported earnings of $2.87, beating analyst estimates of $2.28 in the last quarter, with a surprise increase of 25%. The company has restarted paying dividends of 12 cents per share; its dividend yield is 1.2%. The company has also announced that it will repurchase 500 million shares in the coming period to boost returns for shareholders.
Furthermore, Tesoro posted an upside of 79% in the last three months. In our view, going forward, the stock will further show an upward trend by sustaining its refinery margins. The company has posted a gross margin of $20.3 per bbl through its efficient operational system, and the cost advantage of feedstock in the Pacific Northwest and the mid-continent. We retain our positive stance on the stock, based upon the aforementioned key points.
Company Overview
The company's core business is of petroleum refining and its marketing. It is engaged in the manufacturing and selling of transportation fuels in the United States. Tesoro's refinery segment refines jet fuel, petroleum coke, asphalt, diesel fuel, gasoline blend stocks, LPG and gasoline. The other operating segment is engaged in the selling of refined oil to a wide range of customers. At the retail level, it is selling in 18 states with the help of 1,175 retail stations under the Shell and U.S. Gasoline brands. The company is producing 665,000 barrels per day through its seven refineries operating in Western Europe.
Industry Overview
Click to enlarge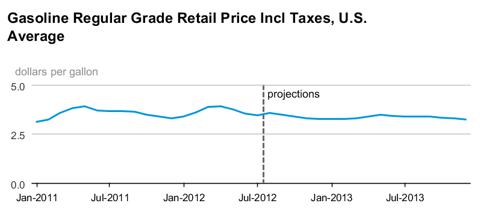 Source: U.S. Energy Information Administration
According to the United States Energy Information Administration, the estimated crude oil production in the region will increase up to 6.7 million barrels per day by the end of 2013. Furthermore, the EIA has increased its Brent crude oil prices outlook to an average price of $103 per barrel in the second half of 2012. It has also increased its gasoline retail price outlook from $3.39 per gallon to $3.49 per gallon for the third quarter, due to increasing crude oil prices. But going forward, gasoline retail prices will be stable, as depicted in the graph given above.
The EIA also revealed that global oil consumption will increase from 0.8 million barrels per day to 0.9 million barrels per day from 2012 to 2013. The rise in the spot price of $100 per barrel of Brent crude reflects market expectations that policymakers in the United States, China and the European Union, through their economic initiatives, will stimulate growth.
However, Iran's threats to block oil also create market anxiety and put upward pressure on prices. Moreover, oil supply disruptions are also responsible in oil price volatility. Due to the economic turmoil in Europe and slow growth in China, the consumption rate of petrochemicals has slowed down. However, we believe that in the coming period, the economic stimulus by policymakers will boost demand in the oil and gas industry.
Latest Developments
The company's expansion plans also make it a good future prospect. It has announced that it will acquire BP's California refinery business for $2.5 billion (out of which $1.3 billion comprises of inventory at market value). This acquisition will enhance the company's oil refining capacity by 265,000 barrels per day, and help it achieve operational synergies.
As BP's refinery is located in Caron city, near Tesoro's Wilmington refinery, this acquisition will enable the company to achieve operational efficiencies and produce vast amounts of distillates together. Along with this, through this acquisition, the company can achieve efficiency in its logistics.
In fact, it is spending $1 billion on logistics assets out of the total acquisition price. The company's logistics assets consist of crude carrier cable dock, 3 marine terminals and 114 miles of pipeline. This will help the company considerably lower its distribution costs.
Profitable Arbitrage
California's second largest refinery shutting down for 6 months due to a blaze has hampered the oil shortage and price hikes in the United States. In response, Tesoro has booked a jet fuel cargo to bring 35,000 tons of fuel from Asia to the United States to satisfy excess demand. Moreover, the company is aiming to purchase spot cargo of jet fuel from South Korean-term buyers to take advantage of this profitable arbitrage.
Environmentally-Friendly Company
The company's management has decided not to spend too much on capital in the coming period in order to mitigate the risk of Assembly Bill 32 regulations against the company. AB32 is always a great concern for investors when it comes to putting their money in the oil and gas refining and marketing industry. The AB32 regulations have limited greenhouse gas emissions, and the company is now leaning towards becoming more environmentally-friendly.
Capacity Utilization
The company has achieved capacity utilization of 87% in the last quarter, without incorporating Alaskan and Hawaiian utilization rates. The capacity utilizations in these regions were 98% due to the company's turnaround strategy. Moreover, total throughput was 579 thousand barrels per day; it has beaten its second quarter guidance by 1% and 3% in the mid-continent and California regions.
Financial Analysis
Tesoro's operating income has significantly increased from $448 million to $728 million, after excluding special items, showing an upside of 62%. Its index has shown an increase of $2.75 per barrel in the last one year. The 25% increase in gasoline crack spreads in California and around 50% in the Pacific Northwest have triggered an improvement in Tesoro's index of $14.9 per barrel. In fact, the company's organic growth is witnessed in the opening of 165 new retail stations in the last one year.
Direct Competitor Comparison

Tesoro (TSO)

HollyFrontier (HFC)

Valero Energy (VLO)

Western Refining(WNR)

Market Cap

5.6B

8.02B

17.66B

2.40B

Qtrly Rev Growth (YOY):

2%

62%

11%

-4%

Gross Margin

14%

14%

4%

13%

Operating Margin

8%

13%

3%

10%
Tesoro's gross and operating margins are 14% and 8% respectively. Its gross margin is at par to its peer HollyFrontier (NYSE:HFC) and higher than Western Refining (NYSE:WNR) and Valero Energy (NYSE:VLO). Its EBITDA has increased by $100 million over the last one year. An important reason for this has been the availability of crude oil at a considerable discount. The foreign heavy crude oil and Canadian crude oil were continuously available at discount on the West Coast.
Furthermore, due to the cost efficiencies in the California plant, the company has relatively brought down its direct manufacturing cost, averaged at $4.49 per barrel in the second quarter. Moreover, it has total debt-to-equity of 1.35x in the last quarter. Standard and Poor's has given the company a credit rating of BB+ and a stable future outlook. The company will maintain its moderate financial leverage, and will have the potential to manage the expected implementation of carbon tax regulations in the state of California.
Price Appreciation

Source: Google finance
TSO's price has rapidly increased by 79% in the last 3 months. Its 50-day and 200-day moving averages are $35.4 and $27.6. This considerable increase in price is primarily because of two reasons: (1) the company announced the completion of its expansion of the Mandan refinery project (this project will raise the company's crude oil capacity from 58,000 barrels per day to 68,000 barrels per day), and (2) the aforementioned acquisition of BP's refinery and logistics.
Valuation
Direct Competitor Comparison

Tesoro (TSO)

HollyFrontier (HFC)

Valero Energy (VLO)

Western Refining(WNR)

P/E

8.57x

5.6x

10.8x

13.2x

PEG (5 yr expected):

0.89

2.1

1.6

-1.42

P/S

0.18x

0.4x

0.13x

0.27x

Forward P/E (Dec 2013)

8.2x

7.93x

7.2x

6.99x
The stock is currently trading at 0.18x to its sales, at a discount when compared to HFC and WNR (who have P/S of 0.4x and 0.27x); and at par with VLO's 0.13x. The stock is trading at cheap valuations, as reflected in its five-year expected PEG ratio of 0.89. It is trading at forward earnings of 8.2x, at a premium when compared to HFC, WNR and VLO (7.9x, 6.9x and 7.2x respectively).
Conclusion
The company's initiative of paying dividends, its acquisition of BP, and high demand of petrochemicals in the U.S. industry make TSO a good buy. However, the management has planned to add 9 stations in its retail system in the third quarter. Furthermore, 50 additional sites will be expected to add in fiscal year 2014, which will enable it to provide up to 25,000 barrels of oil per day to cater to the expected high demand. Also, Tesoro has been able to manage its market share of 28%, the largest in California. The acquisition of BP California refinery business will help the company produce lower C02 emissions and achieve operational efficiencies as compared to its peers. We expect that the company's EPS will increase in the coming period, while its share buyback program will increase the return for shareholders.
Disclosure: I have no positions in any stocks mentioned, and no plans to initiate any positions within the next 72 hours.
Business relationship disclosure: The article has been written by Qineqt's Energy Analyst. Qineqt is not receiving compensation for it (other than from Seeking Alpha). Qineqt has no business relationship with any company whose stock is mentioned in this article.