We were pleased to see that the August 24th report on Bloomberg about merger speculation with Supervalu (NYSE:SVU) has helped stabilize the company's stock price. We are not as optimistic as Citi Investment Research's Deborah Weinswig (she expects SVU to fetch $2.8B collectively for Save-A-Lot and the wholesale grocery business), but we are not as pessimistic as UBS's Jason DeRise (who doesn't expect SVU to receive any offers for any of its 14 retail chains nor its wholesale grocery business). We reiterate our thesis that what excited investors the most from Bloomberg's coverage of SVU merger rumors was Cerberus Capital Management examining a possible deal involving SVU's New Albertsons Inc. operations. That deal would make sense since it would triple the Albertsons branded store count in Cerberus's portfolio, give it purchasing and operating scale and eliminate administrative redundancies. In our previous report, we also elaborated on SVU's management changes and debt refinancing. In this report, we will evaluate SVU's new single serving coffee cups, SVU's labor contracts and asset disposals.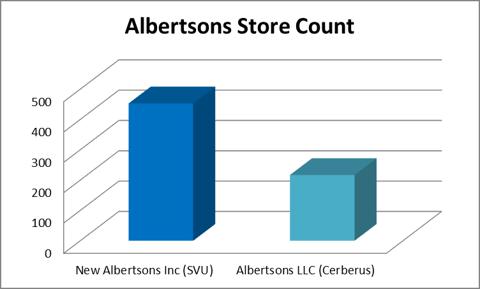 Sources: New Albertsons and Albertsons LLC (Albertsons Market) Websites
SVU's New Single Serving Size Coffee Cup: On September 4th, SVU announced the launch of the Java Delight Single Serve UnCup, a new single serve size of its premium coffee product that will be available in stores beginning this month. SVU's new Java Delight products will be sold in the company's nationwide traditional retail grocery chain footprint, which comprises ~1,100 stores coast-to-coast. This will also be available in independent grocery stores serviced by SVU's Wholesale Grocery Distribution business. Java Delight is available in six flavors and the company is developing additional flavors.
SVU's Labor Contracts: 84K of SVU's 130K employees are covered by a labor union and collective bargaining contracts covering a significant portion of them will be expiring in FY2013. We think that SVU's new boss Wayne Sales and his management team should have a sit-down with Joe Hansen and his contract negotiating team of the United Food and Commercial Workers and show them in no uncertain terms the financial pressure that SVU is facing. We believe Hansen would be right to point out that SVU should not have engaged in the Albertsons transaction and made a huge mistake of taking on $8.1B in new debt, including assuming $6B of Albertsons debt.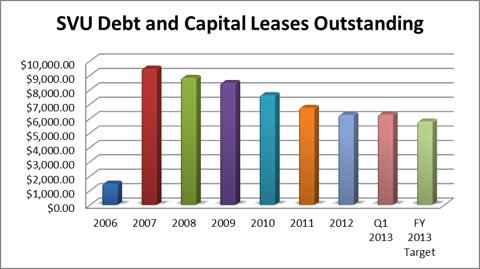 Source: Morningstar Direct
At the same time, we expect Wayne Sales to say "You know something Joe, you're right. SVU's previous management messed up. They made a mistake and that's why they are the former managers of SVU. I'm here to clean up their mess. I did a great job turning around Canadian Tire (OTCPK:CDNAF) from 2000 to 2006 and, unlike Jeff Noddle at SVU, I did it without increasing debt outstanding as well. I've been with SVU's board since 2006. I've been Chairman since 2010 and I'm the new CEO. I even replaced 60% of the old executive regime. In the next three years, we are also replacing 40% of the Board of Directors (Steve Rogers in 2013, Susan Engel in 2014, Edwin Gage and Irwin Cohen in 2015). This is a new Supervalu and we need to work together to ensure the turnaround of this one great company." While it should be noted that these directors are leaving because of SVU's mandatory director retirement provisions (15 years as a director or 74 years of age), we believe that this will enable SVU to replace its ossified board with fresh blood.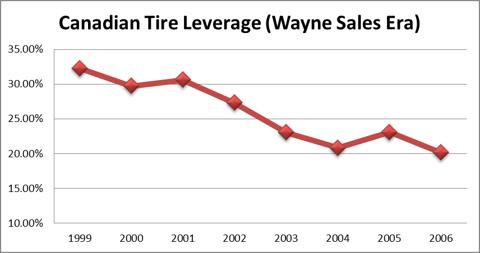 Source: Canadian Tire's Financial Statements at SEDAR.com
SVU's Asset Disposals: We had noticed that under SVU's former CEO Craig Herkert, the company had sold or closed 150 stores while he was running the company from FY 2010 to his untimely departure on July 30th. On September 5th, SVU announced that it would close 60 underperforming or non-strategic stores in FY 2013. 38 of the store closings will be in its traditional food retailing segment and 22 will be in its Save-A-Lot hard discount segment. The majority of these stores are expected to close before December 1st, 2012, which is the end of Q3 2013 for SVU.
SVU will take a pre-tax charge of $80-$90M to close the stores, but only $3M will be cash expenses (severance costs). $50-$55M is expected to be accrued in Q2 2013 and the rest will be in Q3 2013. This will be partially offset by a $10M pre-tax gain from the sale of departmental assets in Q2 2013. SVU estimates that closing these locations will enable it to salvage between $80-$90M in cash over the next three years by selling property, plant and equipment as well as eliminating cash flow deficits from these stores. SVU owns the real estate for one-third of these stores and cash generated from the sale of these stores will be used to pay down outstanding debt. Traditional retail grocery stores being closed include the following:
27 Albertsons stores (19 in Southern California and 8 in the Mountain West region).
4 ACME stores.
1 Jewel-Osco store.
8 stores to be named at a later date. These stores are part of ongoing contractual discussions and were not disclosed at this time.
One of the Albertsons stores and the Jewel-Osco store were previously scheduled to be closed.
Conclusion: In conclusion, we are regaining our previous enthusiasm about Supervalu's future. However, we believe that Sales is taking the right steps in order to right the ship at SVU. We are not of the opinion that Sales has absolutely no hand in SVU's weakness since 2006 because we are aware of the fact that he was on the board since his 2006 retirement from Canadian Tire . At the same time, we are willing to give Sales an opportunity to turn SVU around since he had successfully transformed the culture and performance of Canadian Tire while serving as its CEO from 2000 to 2006. In our July 31st report on SVU, we elaborated on how Canadian Tire's revenue increased from $4.7B in 1999 to $8.3B when Sales stepped down as CEO in 2006. The market seems to agree with our thesis because SVU's stock has increased by 17% since SVU announced the replacement of Craig Herkert with Wayne Sales on the morning of July 30th. This compares favorably with the 1.6% achieved by the S&P 500 and the 3.55% achieved by the S&P 600. We have no illusion that it has a ways to go before it recovers to the level it was at before its Q1 2012 EPS disaster. At the same time, we are expecting Wayne Sales and his new team to stabilize SVU's performance and to help long-suffering shareholders recover value.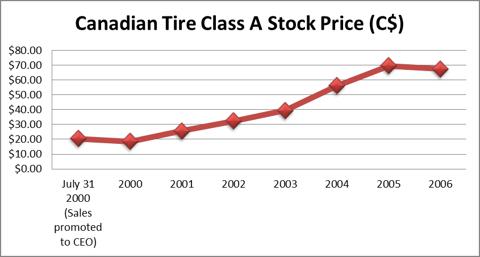 Source: Canadian Tire Stock Information
Disclosure: I am long SVU. I wrote this article myself, and it expresses my own opinions. I am not receiving compensation for it (other than from Seeking Alpha). I have no business relationship with any company whose stock is mentioned in this article.
Additional disclosure: This article was written by an analyst at Saibus Research. Saibus Research has not received compensation directly or indirectly for expressing the recommendation in this article. We have no business relationship with any company whose stock is mentioned in this article. Under no circumstances must this report be considered an offer to buy, sell, subscribe for or trade securities or other instruments.