Canada only possesses two national rail companies: Canadian National Railway (NYSE:CNI) and Canadian Pacific Railway (NYSE:CP). Of the two, Canadian National Railway is the larger by both track length and geographical coverage. Courtesy of Wikipedia, maps of CNI and CP tracks are provided below (click to enlarge images):
Canadian National Railway -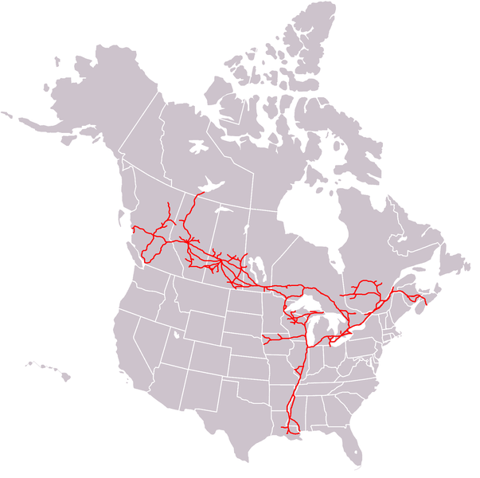 Canadian Pacific Railway -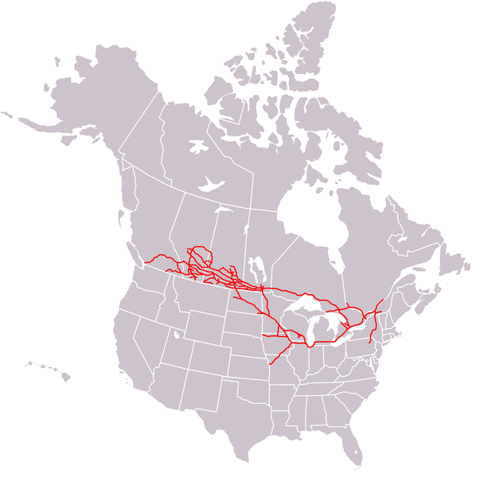 When their performance over the past ten years is compared, Canadian National Railway is the clear winner, being up almost 500% compared to Canadian Pacific Railway's 300%. (These values are for the equities traded on the US exchange; if you are investing in Canadian dollars, your return would be 340% and 180%, respectively, due to the change in exchange rate over the same time period.)
(Source: Google Finance)
As dividend growth stocks, the yields are not as impressive as the growth rates. Canadian National Railway's yield sits at 1.66% and Canadian Pacific's sits at 1.70%, while distributions have increased by 81% and 52% over the last five years, respectively.
(All data used in the below calculations are from MSN Money.)
When we look at the financial statements of both railways, the gross profit margins are comparable for both Canadian National and Canadian Pacific at 40% to 43% and 43% to 46%, respectively. For both companies, the depreciation expenses as a percentage of gross profit are comparable, ranging 20-25% over the last five years. However, a more discernible difference is seen when the net earnings of the two are compared: Canadian National has an overall higher percentage of net earnings to total revenues and more reliable yearly earnings increases. Over the last five years, Canadian National has seen between 22% and 27% of its total revenue being net earnings, on a rise since 2008 after a decrease from 27% to 22% from 2007 to 2008. Canadian Pacific, on the other hand, is only at 11% this year after seeing 19% in 2007. The net earnings of Canadian National have also shown an increase of 16% and 13% in the last two years, respectively, whereas Canadian Pacific has -12% and 18% for the same years.
When we look at the debt of both companies, the assets to liabilities ratio of both are over 1, with Canadian National's being slightly higher (ranging from 1.64 to 1.79 compared to Canadian Pacific's 1.49 to 1.59). Neither shows any distinct trend over the last five years, nor any clear advantage of either. However, when we look at how long it would take for each company to pay off their debt with their net earnings, Canadian National comes out the clear winner, requiring only 2.4 years to be fully paid off. This is at the low end of what has been seen over the past five years, where the time to pay off long-term debt has ranged from 2.4 to 3.5 years. Canadian Pacific is in far worse shape, requiring 8.3 years to pay off all long-term debt in 2011.
Both companies have successfully increased retained earnings over the past five years. The table below indicates the superior increase in retained earnings of Canadian National compared to Canadian Pacific.

Of course, investors will have to perform their own due diligence before initiating any position. However, based on the information presented above, we believe that Canadian National Railway is a superior investment to Canadian Pacific Railway.
Disclosure: I have no positions in any stocks mentioned, but may initiate a long position in CNI over the next 72 hours. I wrote this article myself, and it expresses my own opinions. I am not receiving compensation for it (other than from Seeking Alpha). I have no business relationship with any company whose stock is mentioned in this article.