Last night was a good one for health care companies whose name start with the letter 'I'. Both remain very 'rich' in valuation.  A quick review of each:

Illumina (NASDAQ:ILMN)
Genetic analysis company Illumina Inc. said Tuesday its second-quarter profit rose 66 percent on a surge in product sales, prompting the company to boost its third-quarter and full-year outlooks.
The company earned $15.4 million, or 23 cents per share, compared with profit of $9.3 million, or 16 cents per share, during the corresponding period a year prior. The per-share results reflect a 5.5 percent increase in the number of outstanding shares in the 2008 quarter. Excluding stock compensation expenses, a manufacturing equipment write-off and other charges, the company said it earned 44 cents per share.
Revenue rose 66 percent to $140.2 million from $84.5 million last year.
The majority of the company's revenue came from product sales, accounting for $128.6 million, while service and other lines contributed $11.6 million.
Looking ahead, the company said it expects third-quarter profit between 42 cents and 45 cents per share, on revenue between $142 million and $147 million. Analysts forecast third-quarter profit of 31 cents per share on revenue of $136.7 million.
For the full year, Illumina expects profit between $1.65 and $1.75 per share on revenue between $550 million and $560 million, while analysts expect $1.21 per share on revenue of $535.5 million.
Huge increase in guidance versus analysts expectations, but the stock has priced much of this in; full earnings release here. (Conference call transcript here.)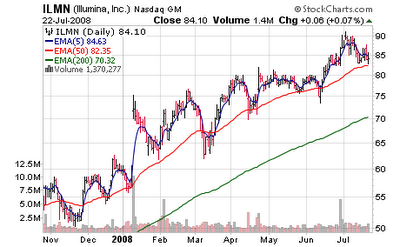 Intuitive Surgical (NASDAQ:ISRG)
Intuitive Surgical Inc. on Tuesday said its second-quarter profit jumped 66 percent as sales of its surgical robotics soared. (Conference call transcript.)
For the three months ended June 30, the company reported net income of $51.2 million, or $1.28 per share, compared with $30.7 million, or 79 cents per share, in the corresponding period a year earlier.
Revenue climbed 56 percent, to $219.2 million from $140.2 million.
Analysts polled by Thomson Financial, on average, expected profit of $1.18 per share on revenue of $208.6 million.
Intuitive Surgical said its revenue growth was driven by wider adoption of robotic procedures, and higher sales of both instruments and accessories and its da Vinci Surgical System. Product sales rose 58 percent to $189.8 million, while service and training revenue jumped 44 percent to $29.4 million.
This company has that excellent razor-and-blade model, and in the end the blade will be the real winner - it's starting to really show. Full earnings release here.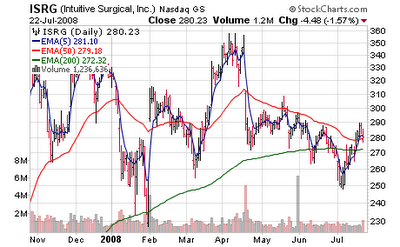 This is the conundrum that is investing in this sector - the few companies with true growth, and without FDA risk (unlike drug companies), are priced at stratospheric levels. So one must either ignore traditional valuation measures, or not own them at all. At least with overachieving results like this, they get a bit less expensive.
Disclosure: Long Illumina in fund; no personal position