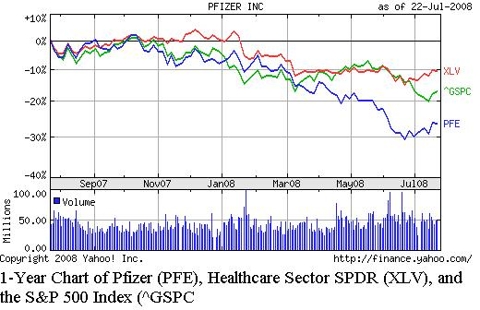 Pfizer (NYSE:PFE) reported 2Q08 revenues of $12.1 billion [B] and adjusted earnings-per-share of $0.55, which were both ahead of consensus analyst estimates for the quarter. The Company also affirmed its full-year revenue ($47B - $49B), earnings ($2.35 - $2.45 per share, adjusted), and cost-savings ($1.5B - $2B) guidance for 2008. Pfizer posted strong results in its animal health segment and brand drug sales for Lyrica, Celebrex, and Sutent. Animal health sales for 2Q08 were $715 million [M], representing an increase of 13% from the year-ago period. Total pharmaceutical sales increased 9% from the year-ago period to $11.1B, including a significant 7% benefit from currency exchange rates due to international sales and a weak US dollar.
The Company also reached an agreement with Indian generic drug maker Ranbaxy to delay a copycat version of the world's best-selling drug Lipitor in the United States until December 2011. During 2Q08, Pfizer repurchased $500M of its own stock or about 26.4M shares.
Lipitor revenues in 2Q08 were $3B, an increase of 9% compared with the year-ago period and largely due to a 6% currency exchange benefit. Lyrica revenues for the quarter were $614M, posting a robust increase of 52% from the year-ago period and due to growth in managing nerve pain associated with diabetes, nerve pain after shingles, and fibormyalgia. Celebrex revenues for the quarter were $589M, representing an increase of 23% compared with the year-ago period. Sutent revenues for 2Q08 grew by 45% to $211M thanks to strong performance in the treatment of advanced renal cell carcinoma [RCC] and gastrointestinal stromal tumor. The anti-smoking pill Chantix posted sluggish sales growth of just 3% to a level of $207M in the face of recent safety concerns including suicidal/erratic behavior and sleep/dream disturbances, which prompted the Federal Aviation Agency to ban the drug among its pilots.
As I have written previously on Pfizer, I continue to recommend shares of the Company as a turnaround play at or below the $18 per share level, which equates to a dividend yield over 7%. Despite significant patent challenges to Lipitor and other products in Pfizer's portfolio over the next few years, the Company's strong balance sheet, marketing muscle, and ability to bolster its pipeline through targeted acquisitions should provide investors with positive returns from current trading levels at multi-year lows which have lagged both the overall market and Healthcare Sector SPDR (NYSEARCA:XLV) as shown on the chart above.
Disclosure: None