Apple (NASDAQ:AAPL) has announced their latest and greatest iPhone and pre-orders will be accepted starting September 14th and we all expect lines to be wrapped around Apple stores come the 21st of the month. This was, and is, entirely anticipated.
What may not be anticipated is the strong earnings I believe the company will be announcing once sales of the new devices begin to hit the income statement. Why is no one anticipating a big earnings beat? Likely it is because analysts and consumers alike have been hypnotized with anticipation for the iPhone 5's arrival for sometime and thus these sales are already booked into the stock's price.
Earnings will not beat because of iPhone sales, but rather iTouch sales. The device, claimed by the late Steve Jobs to be the training wheels for an iPhone, has an immense following and an audience that ranges from young kids whose parents refuse to give their 8 year old a phone, to the parents refusing to pay for data plans even for themselves. Of course there are also the college and post college young adults who can't afford a data plan and need a cheaper, yet high-functioning alternative.
Why do I believe that demand for the iTouch will drive revenues? It has been two years since the iTouch has been refreshed and the 4th generation iTouch looks prehistoric when stacked up against the latest device. A 5MP camera (iTouch 5) versus 0.7MP camera (iTouch 4) is one of the biggest differences that jumps off the paper. 1080p HD video recording (5th) versus the 720p HD (4th) is another notable difference. As added bonuses (not that anyone of these or all three together would have influenced a purchasing decision) AAPL has thrown in Siri, new colors, and an LED flash. Of course if all of those improvements weren't enough there is always Facebook (NASDAQ:FB) and Twitter integration that will please many users.
Why am I so confident that iTouch sales will drive both top and bottom line numbers to beat estimates? No one is giving the iTouch any credit for its true potential. From what I've read it's being treated as any old refresh which is certainly not the case. With the iTouch base model selling for $299 versus the $199 base for the previous generation, Apple should also expect to see margins expand as well!
Finally, iPod Touch sales account for more than half of all iPod sales. Sales of the music player have declined for two consecutive years starting in 2009 when sales peaked. Sales dipped sharply in 2010 however that rate of decline sped up in 2011, especially seen in the final three quarters of the year. That sharp decline I believe can be attributed to those consumers holding off on replacement purchases, a number I place at around 1.7 million units. The average annual decline in sales between 2008 - 2010 was 4% (using the geometric mean), which includes the 2009 bear market conditions. Even if this average decline were to have doubled against Apple's favor in 2011 due to increased durability of product and the decline of a social trend, -8% growth would yield 2011 sales of 8,359,000 units. Seeing as only 6,655,000 units were sold, it's my belief that the carryover (1.7 million units) is a result of purchases withheld because of an impending device update and we'll see these sales flow back to the market.
Moving forward I believe that in the first quarter of AAPL's 2012 fiscal year the company will see sales of 21 million units (excluding iPhone), followed by 28.5 million units over the remaining 3 quarters of 2012 for yearly sales of 49.5 million iPods.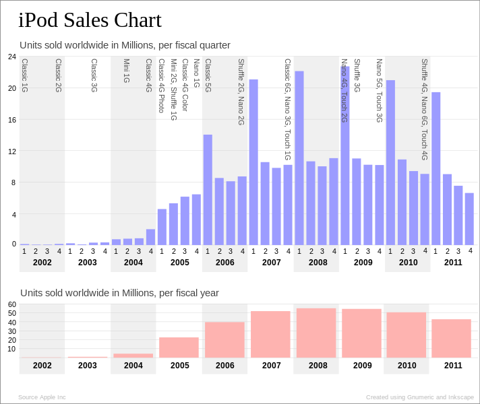 (Data gathered from Apple Reports, graph published through wikipedia.)
Disclosure: I am long AAPL. I wrote this article myself, and it expresses my own opinions. I am not receiving compensation for it (other than from Seeking Alpha). I have no business relationship with any company whose stock is mentioned in this article.
Additional disclosure: I am long December Calls.