Further signs that the liquidity crunch is spreading beyond housing and financial companies can be found in a new report from Moody's.
The number of junk bond issuers with Moody's weakest liquidity rating hit a record level in June as several companies were swept up in the one-year-old liquidity crunch.
For the first time since February 2003, SGL-4s -- Moody's weakest composite rating -- account for 11% of SGL-rated universe of 490 companies. That percentage has doubled since June 2007, before the onset of the credit crunch last summer. Seven downgrades during June brought the total of SGL-4s to 53 at the end of the month.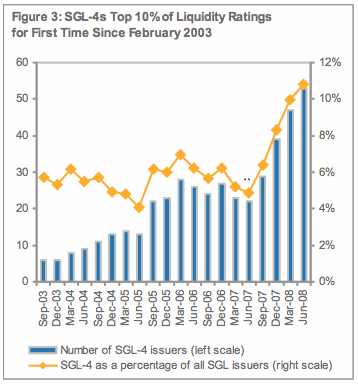 Seven more companies made Moody's list of SGL-4s last month, ranging from drug- store chain Rite Aid Corp. (NYSE: RAD), due to expected continued revolver usage, to pork processor Smithfield Foods Inc. (NYSE:SFD), partly owing to rising hog-feed prices and a heavy reliance on external sources of cash. Other companies were Alliance One International Inc. (NYSE:AOI), Cablevision Systems Corp. (NYSE:CVC), Select Medical Holdings Corp., Baseline Oil & Gas Corp. [OTC: BOGA] and Gray Television Inc. (NYSE:GTN).

With more companies struggling to maintain their liquidity positions amid a consumer-spending slowdown and commodity-cost increases, the ratings agency downgraded the liquidity ratings of 15 companies and upgraded just four during June.
Despite a long list of woes in the housing industry, home builders' liquidity has held up relatively well, Moody's said. Although cash flow has been slow to materialize and well-below expected levels in this latest downturn, a number of companies have been accumulating cash and refraining from new debt issuances.
In addition, the one-year default rate for SGL-4 issuers rose to 21.6% in June, from 17% in May, above the 18.7% average since Moody's first assigned SGL ratings in October 2002. The one-year default rate for all SGL issuers climbed to 2.6%, surpassing the historical average of 2.4%.
More details are available in Moody's Speculative-Grade Liquidity Monthly Monitor.