As you might already know, the US Treasury is about to sell a $18 billion stake in AIG, in denomination of a total of 553.8 million common shares of American International Group (NYSE:AIG) at $32.50 per piece. As expected, around $12.4 billion will be earned as profit in the process. A move that is going to turn a four-year old bailout into substantial income for the American taxpayers. Needless to say, the US government still holds around a 22% stake in the company.
Here's bit of background information on the whole topic.
It was in September 2008 that the US government decided that AIG was too big to fall and need to be financially supported, or in other words, bailed out. This was just when Lehman Brothers Holdings has been denied any help, and Merrill Lynch & Co. was already sold off to Bank of America (NYSE:BAC).
Here's the excerpt from a Wall Street Journal article:
The final decision to help AIG came Tuesday as the federal government concluded it would be "catastrophic" to allow the insurer to fail, according to a person familiar with the matter. Over the weekend, federal officials had tried to get the private sector to pony up some funds. But when that effort failed, Fed Chairman Bernanke, New York Fed President Timothy Geithner and Treasury Secretary Paulson concluded that federal assistance was needed to avert an AIG bankruptcy, which they feared could have disastrous repercussions.
AIG already had been going down, and needed a hand that could pull it out. Here's a short glimpse of how the company was slowly sliding down the gutter in the disastrous second quarter FY2008 results.
Needless to say, the US government had to do something about it, and it has pumped in around $132 billion into the company since then, acquiring a 79.9% equity stake in the company. Essentially, the liability of AIG limits to only $85 billion, which excludes the government's purchase of toxic assets.
How AIG fared repaying the bail-out debt to US government
Let's look at how much debt AIG incurred right at the onset of the bailout.
The AIG Bailout (in billions)
| Source | Outlay |
| --- | --- |
| Federal Reserve Credit Facility (Max $60 billion) | $43.458 |
| Federal Reserve Securities Purchases (Maiden Lane II) | $19.8 |
| Federal Reserve Securities Purchases (Maiden Lane III) | $29.6 |
| Treasury Preferred Stock Investment | $40 |
| Treasury Credit Line (Max $30 billion) | $1.5 |
| Total: | $134.358 |
Sources: Federal Reserve, Treasury Department, AIG.
By December 2009, around a $25 billion stake in special purpose vehicles (SPVs) aka American International Assurance ((NYSEARCA:AIA)) and American Life Insurance Co. (ALICO), with $16 billion in the former one and $9 billion in the latter one, has been issued to the US Fed. That brought down the total debt down to around $60 billion for AIG, with around $15 billion due to the US Fed.
By December 2010, AIG completed the sale of ALICO to MetLife, Inc. (NYSE:MET) for approximately $16.2 billion and issued an IPO of AIA of about $20.51 billion. By January 2011, the total cash proceeds of $26.9 billion were used for the full repayment of the liability to Fed, except for the toxic asset purchases, and then some to acquire preferred interests in the previous two SPVs.
Note: As per AIG's site, even the Fed's Maiden II loan of 19.5 billion and Maiden III loan of $24.3 billion were paid in full during the second quarter of 2012 (although, according to sources, the toxic asset purchases needn't be repaid back).
With the Fed loan being amortized, now is the time to cut down the Treasury stake further, and that's what the US government is doing right now. As expected, this needs to be hurried before the November elections, since American taxpayers need to know how their money is being used by the government.
And here we come to another $18 billion worth preferred shares being disinvested by the US Treasury. In the previous four transactions, US Treasury cut its stake to 53%, fetching over $23.3 billion in sales proceeds. According to this Reuters article, US Treasury could always "swap its preferred stake of $49.1 billion for 1.66 billion shares of common stock and then sell the holdings in the open market." So, in short, after this scheduled sales of around $18 billion worth of preferred stake due this September will bring the amount due to around $9 billion.
If everything goes right, AIG might be relieved of government and public debt very soon. Needless to say, that's the plan. Analysts believe AIG might have to buy back shares at an even faster rate in fourth quarter of 2012 and the first two quarters of 2013.
So, that's about the whole AIG bailout story. Here's how AIG represents it, but you know the truth.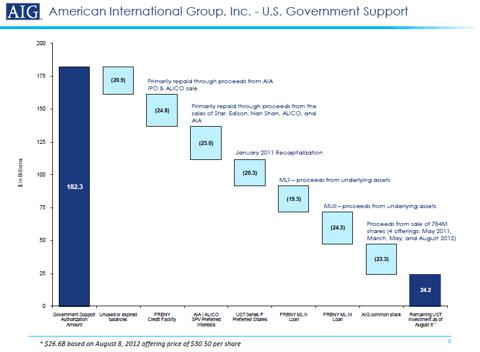 Remember, this is still without the $18 billion stake disinvestment by the US government that is about to happen soon.
How does this affect the investors?
Nice question. In fact, that's the first thing we are concerned about. Of course, we believe every word what Geithner, President of the NY Federal Reserve said:
"The steps the government took to rescue AIG were motivated solely by what we believed to be in the best interests of the American people."
But does it turn out well for the investors?
The first thing that bothers investors is whether issuance of new common shares will affect the EPS or not. My Alpha contributor friend has already written an article on how AIG could have repurchased even more shares. Practically speaking, does the issuance of new common shares really bother the investors as long as the net income keeps growing and the EPS remains unaffected? I don't think so. Plain common sense, and if we look at it, AIG is doing just that, reviving and increasing net income. So why should you worry in the first place?
Into the Financials
Okay, we need to give the financial statements a look at this point. Here are a few excerpts from the second quarter 2012 financial sheet.
Chartis reported operating income of $936 million in the second quarter of 2012, compared to operating income of $783 million in the second quarter of 2011. Nonetheless, improved capital management, higher value lines of business, upward pricing trends and positive loss ratio was upset by higher expenses, but that didn't affect much I guess.

SunAmerica Financial Group reported operating income of $933 million in the second quarter of 2012, compared to operating income of $723 million in the second quarter of 2011. Second quarter 2012 results were positively affected by base spread improvement due to cash redeployment in 2011 and disciplined management of interest crediting rates, partially offset by lower income on alternative investments and lower call and tender income. Additionally, second quarter 2011 results included a fair value loss on Maiden Lane II and an increase in estimated reserves of $100 million for death claims.
As it seems, the low interest environment was a factor in the fixed annuity products, yet rollover provision and proper interest crediting rate still managed to bring in customers.
ILFC reported second quarter 2012 operating income of $88 million, compared to operating income of $86 million in the second quarter of 2011. During the second quarter of 2012, ILFC recorded rental revenues of $1.1 billion, essentially flat from the second quarter of 2011, resulting from the re-lease of older aircraft at lower rates, the impact of aircraft repossessed since December 31, 2011, a limited delivery schedule of new aircraft over the past year, and offset by revenue from AeroTurbine that was acquired by ILFC in the fourth quarter of 2011.
Is the rapid technology progression being a problem for ILFC? Perhaps, yes.
United Guaranty Corporation (UGC), AIG's residential mortgage guaranty operations, reported operating income of $43 million for the second quarter of 2012, compared to operating income of $12 million in the second quarter of 2011, reflecting favorable prior year development and a 17 percent decline in new delinquencies. Net premiums written were $212 million for the second quarter of 2012, compared to $191 million in the second quarter of 2011. Domestic first-lien new insurance written totaled $8.5 billion for the 2012 second quarter compared to $3.1 billion for the same period in 2011, driven primarily by greater market acceptance of UGC's risk evaluation and Performance Premium pricing, higher sales focus in certain channels, and the benefit of fewer competitors in the second half of 2011. Quality remained high, with an average FICO score of 759 and an average loan to value of 91 percent on new business.
In short, it is clearly visible that AIG has improved significantly if we compare these results to the second quarter results of 2008. And this is evident from the fact that the total shareholders' equity has risen to $105 billion in 2011, compared to $85.3 billion in 2010.
One thing to remember is that the company is still trading at 60% of its book value, and the stock price has fallen by over 97% in the last five years. Even the return on average assets (ROAA) stands at 2.74%, better than 0.93% of American Financial Group (NYSE:AFG), 0.88% of American National Insurance Company (NASDAQ:ANAT) and 2.73% of HCC Insurance Holdings (NYSE:HCC-OLD). So, if things go right with the company management and the US economy grows back in the next five years, you are looking at a stock that is well below its normal average price, in short, underpriced.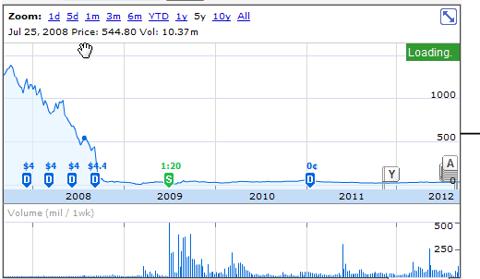 The ultimate decision rests on you.
Disclosure: I have no positions in any stocks mentioned, and no plans to initiate any positions within the next 72 hours. I wrote this article myself, and it expresses my own opinions. I am not receiving compensation for it (other than from Seeking Alpha). I have no business relationship with any company whose stock is mentioned in this article.
Additional disclosure: Investing is subject to market risks. Please contact your personal financial adviser before investing.