The world economy is slowing down. With exports being 25% of Chinese GDP, this is hitting China quite hard, and it comes at an unfortunate time as the leadership is about to be handed over.
The latter constitutes a sufficiently serious condition for any efforts to reinvigorate the Chinese economy. And that seems to be needed. Import figures actually declined in August (by 2.6%). For an economy supposedly growing at 7%+ a year it is rather surprising. In isolation, this could be a single month aberration, but there is a slew of weak figures for the economy.
China is the biggest market for iron ore, and that market has collapsed. From a high of $180/ton a year ago it has fallen to just under half that, even if the price has recovered to over $100/ton in the last week due to expectations of a Chinese stimulus.
Figure: Iron ore, ton/$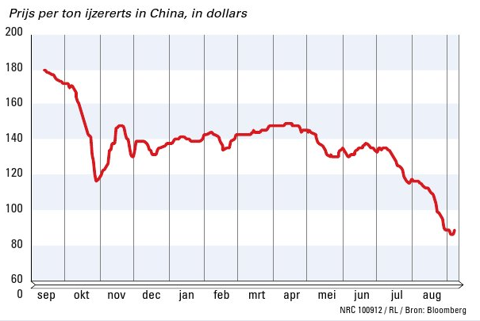 The HSBC/Markit manufacturing index for China fell to 47.6 in August and even the official PMI index did fall below 50, which means contraction. Rail volumes fell 8.2% from last year (July) and the slowdown is spreading to the rest of Asia.
The issue of a new Chinese stimulus cannot be seen in isolation from the rather epic stimulus of 2009. While that effort did restore growth, many argue that it overshot its goals. The consequences of that were inflation (which has been dealt with), and a legacy of debt, which will come back to haunt. Here is Minxin Pei:
From the beginning of 2009 to the end of June this year, Chinese banks have issued roughly 35 trillion yuan ($5.4 trillion) in new loans, equal to 73 percent of China's GDP in 2011. About two-thirds of these loans were made in 2009 and 2010, as part of Beijing's stimulus package. Unlike deficit-financed stimulus packages in the West, China's colossal stimulus package of 2009 was funded mainly by bank credit (at least 60 percent, to be exact), not government borrowing.
According to Pei, this has fueled a property bubble and other "ill-conceived infrastructure investment by local governments" that undid "years of painstaking efforts to strengthen the Chinese banking system." Not only bank balances are in a bad shape as a result, there is a large overhang of local government debt:
The National Audit Office of China acknowledged in June 2011 that local government debt totaled 10.7 trillion yuan (U.S. $1.7 trillion) at the end of 2010. However, Professor Victor Shih of Northwestern University has estimated that the real amount of local government debt was between 15.4 and 20.1 trillion yuan, or between 40 and 50% of China's GDP.
Those are uncomfortable figures. Add to that the 10.4 trillion yuan in "wealth management products," a sort of higher-yielding notes that banks offer for customers but keep off their balance sheet, and you have a difficult situation. The proceeds of these notes are lent to higher risk projects not qualifying for normal bank loans.
So bank balances are compromised, overdue loans at major banks increased 27% in the first half of the year. Pei calls it a debt bomb, but to what extent remains very much to be seen.
On the other hand, bank liquidity is sound. Reserve requirements for Chinese banks, at 20%, are very high by global standards. China also has a budget surplus:
China has a budget surplus so far this year of around 1 trillion yuan (US$158 billion), and around 100 billion yuan in a special reserve fund [WSJ]
China also has a trade surplus and a growing mountain of foreign currency reserves and the debts are internal, not to foreigners. It is difficult to imagine that if Chinese banks would start to falter under the weight of bad loans, the state would not rapidly intervene to create some kind of bad bank. It would be expensive, but it clearly has the financial capacity to do so.
Stimulus
Now, the position of bank balances means that a new stimulus should not work primarily through banks, but through public spending. And this is what seems to be happening. China has announced a stimulus worth roughly a trillion yuan ($150B), comprising 2.1% of GDP, involving stuff like:
the construction of more than 1,250 miles of roads, nine facilities for sewage treatment, two waterway projects, and improvements to five port facilities. In addition, 25 subway projects and other railway spending got approval from China's National Development and Reform Commission. [Motley Fool]
Citygroup analyst Scarlett Chen isn't terribly impressed:
Ms. Chen, who is based in Hong Kong, studied the sensitivity of demand to fixed asset investment in recent years. Whereas every million yuan of stimulus generated extra demand of 84 tons of cement and 29 tons of steel in 2009, this time around it would only bring 60 tons of new cement consumption and 18 tons of steel.
It's the effectiveness of demand for cement and steel that Ms. Chen is talking about. Even if this effectiveness is lower than in 2009, an infrastructural stimulus still means a boost to overall economic demand and employment. Nomura is pretty optimistic this will push growth higher:
While GDP is expected to grow only 7.7% in the third quarter, Nomura's research team forecasts a sharp rebound in the fourth quarter, with output expanding 8.8%. [Forbes]
Some argue that these measures are nothing new though:
The slew of infrastructure project approvals announced by the National Development and Reform Commission last week are already included in the nation's current five-year plan and were aimed at increasing confidence rather than introducing any new stimulus, said Yang, who previously worked at the International Monetary Fund. [smh.com]
However, whether new or old, we think that China is still pretty well positioned for these kind of policies. With the large move of people from the countryside to the cities, there is obviously a need for infrastructure. Apart from stimulating demand in the short run, it creates a better economic structure in the long run.
To see the rationale, look no further than a country like India. In India, economic growth has been hampered for decades by lack of infrastructural spending. For instance, this has led to a rather monumental blackout earlier this year, involving almost half the country.
Supply side
While these large infrastructure projects are (mostly) helpful and necessary, China could do a lot more. It could remove obstacles for small and medium sized companies (SME's). One of the problems in China, according to Howie and Walter, authors of "Red Capitalism," is that these entrepreneurs are still not trusted by the political elites. These elites have a habit of mistrusting anything that could develop into an independent and rival source of power.
As a result, the number of SME's is stagnating and there is ample room for improvement:
Chinese companies are facing even tougher business conditions now than during the 2008 global crisis, according to a survey of more than 4,000 companies. The findings resulted in experts calling for less government intervention and more support for the private sector to improve the business environment. [trade2cn]
So we're not saying that Keynesian policies, boosting demand while investing in infrastructure, education and science (motors for long-term growth) should be the only way, not even in China. There are many more routes that should be embarked upon simultaneously, like making it easier for SME's to operate.
China should not go down the route of Argentina, that implemented demand led growth in 2002 (after the crash) whilst completely ignoring, often even downright harming the supply side and doubling down on demand side when the economy was already overheating.
Investment opportunities
While the Chinese overall market jumped on the news of a new stimulus, we're not at all sure the overall market (in the form of an ETF) is the best instrument to play this. The measures are heavily concentrated on infrastructure, so we think it's best to stick with that. One way to profit from that is through the EGS INDXX China Infrastructure ETF ETF (NYSEARCA:CHXX).
This ETF has come off its recent low of $14 with a 15$ jump in a week, and we think this ETF is a better bet than the overall Chinese market.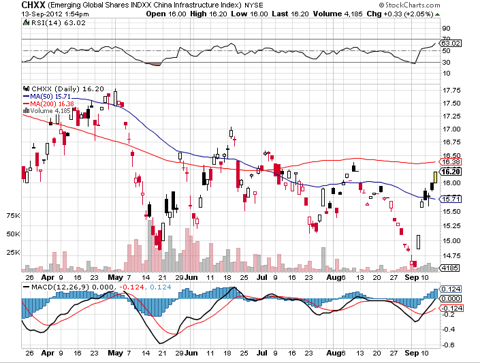 Disclosure: I have no positions in any stocks mentioned, and no plans to initiate any positions within the next 72 hours. I wrote this article myself, and it expresses my own opinions. I am not receiving compensation for it (other than from Seeking Alpha). I have no business relationship with any company whose stock is mentioned in this article.