In case you hadn't heard, it appears that Apple (NASDAQ:AAPL) may be considering offering a music streaming service to compete directly with Pandora (NYSE:P). While the service would operate exclusively on Apple devices, no details are currently available, and the company has not officially confirmed the rumor, there has already been an impact on Pandora stock. With Apple TV coming out in the near future, should Netflix (NASDAQ:NFLX) be worried that a competing video streaming service is coming from their current business partner?
If Apple management decides to implement this service as a subscription-for-ad-free model mirroring the Pandora offering, this will mark another significant departure from the vision that Jobs maintained for the company.
Steve Jobs was famously quoted in a 2003 Rolling Stone article as saying:
The subscription model of buying music is bankrupt. I think you could make available the Second Coming in a subscription model and it might not be successful.
Now, the model he was talking about at the time more than likely had to do with the old Columbia House CD subscription plans that I used to peddle as a kid for fund raisers. In fact, he was correct; it did not take long for such services to be supplanted by iTunes, Amazon and other such e-commerce solutions to music distribution.
His broader statement, however, is still valid. The idea of an all-you-can-listen-to subscription service vastly limits the provider's ability to profit, as the content creator will continually attempt to erode whatever profit margin exists.
We have already seen such profit margin pressure with Pandora, which is only now providing it shareholders with actual operational profits. Netflix has seen such pressures as well, going from a solidly profitable business to a juggling act trying to please streaming customers even as content costs explode higher.
While Steve Jobs famously disparaged the idea of subscription based services, Apple has already demonstrated through their buyback and dividend initiation that a new sheriff is in town. If the Pandora-esque streaming service rumors are to be believed, Tim Cook is already planning to veer into this Jobs-verboten territory and may be considering doing the same with streaming video to bolster the upcoming Apple TV.
I Saw It On AppleTV!
Apple offering a video streaming service to entice customers to purchase the Apple TV makes a lot of sense. The Apple TV will likely be sold at a premium compared to other TVs on the market, so any extra bonuses that can be tacked on to joining the Apple team will serve to lower the barriers to justifying the higher price. The iTunes store already has the infrastructure for rentals and digital content purchases, so a streaming service would provide Apple with the capability to be a one stop shop for digital content.
Months ago, we heard rumors that Apple was approaching studios for such a service, but so far there has been no additional follow up. Scuttlebutt had the studios' reaction as extremely cold to the idea, but Apple's money pile is large enough to crack even the hardest resistance, if it is put to dedicated use. There were rumors that Epix exclusivity might be ending for Netflix, but we didn't hear anything for months until rumor became reality. The impact of a confirmed AppleTV video streaming service would likely have the same immediate impact on NFLX shares as was recently seen with P.
Sure, it's all speculation, but it is speculation based on the observed actions of Apple under the reign of Tim Cook. Ideas and moves that Jobs had avoided in the past are now being explored and implemented. While it will take some time to see how the moves work out for Apple shareholders, the impact will be immediate and abrupt for competitors in the markets that the Apple juggernaut decides to enter.
Amazon Prime vs. Netflix
The big news that has recently taken NFLX to new lows is the loss of exclusivity of Epix content to Amazon (NASDAQ:AMZN). With the streaming offering of Netflix already limited until 2013 when new content is set to arrive, this loss of relative value for the service is going to continue to put pressure on the company.
Anecdotally, I cancelled my Netflix streaming service on hearing the news, after keeping it a few months past the free trial. While I had meant to cancel it earlier, as I found the service lackluster and extremely dated compared to my cable on demand offering, I got sucked into Mad Men for the seasons that were available and let the company get a few charges out of me.
While Netflix's service has a better movie selection than Amazon, or did before the new deal, the announcement was enough to justify moving to Prime as my only streaming service. The additional benefits of free shipping and free kindle book "rentals" did not make the decision a hard one. Were Netflix my main destination for streaming, offering new release rentals or the purchase of digital copies might have made it a bit more of a difficult choice, but alas, the company has foregone establishing themselves as the go-to place for streaming. Amazon Prime, however, appears to have recognized the benefits of being a one stop shop for digital content and will be retaining my business.
Much had been made by Netflix customer relations of the upcoming Avengers movie and other blockbusters coming from the Epix deal. Without exclusive access to this content, the argument of a virtuous cycle through content acquisition that was made famous in 2011 by the CEO is further muted. The fact remains that customers demand new and better content, especially from a subscription based service. Netflix has not announced a new deal in the last few months, while Amazon Prime continues to add new content on a fairly regular basis.
The Epix announcement provides a decision point for all Netflix customers that also use Amazon Prime, of which there are likely a significant number. The fact that Netflix won't be receiving new content until 2013 is not going to end well for the company. Even with the impact of the Epix deal, there may be another catalyst lurking around the corner that would dwarf it in comparison.
Netflix vs. All Comers
How the mighty have fallen, risen, fallen and then fallen some more.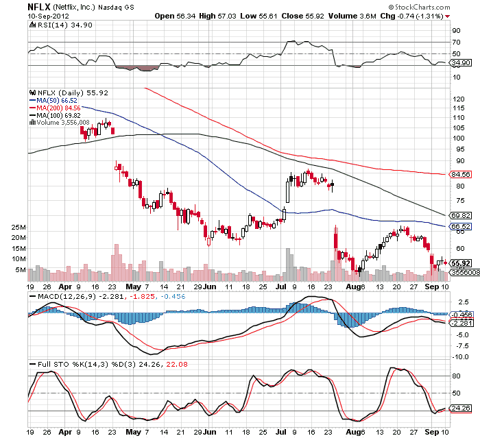 After making a recovery off the lows in early August, Netflix's sails have had the wind taken out of them all over again by news from the competition.
One of the bear cases for Netflix has always been the idea of a limited domestic streaming market and dividing the pie among too many competitors. While Netflix still maintains the dominant market share, the first mover advantage is now being surpassed by companies entering the space with better balance sheets and more opportunity to run Netflix's bread and butter streaming service at a loss or break even to promote other products and services.
The more deals like Epix and new market competitors like Apple that come along, the harder and harder it will be for the company to maintain even the modest market multiple that it currently holds. At a 30.76 TTM P/E ratio and declining-to-non-existent earnings, the company is still richly valued and any further competitor surprises could lead to new lows for NFLX.
The technical picture for NFLX is somewhat bullish at this point. We have new lows, with higher levels in RSI and Full Stochastics to point to justifying long positions. But back to back island reversals should give anyone pause before committing to a large position. While one could try to play a bounce from oversold conditions, the real money through 2012 is still going to be on the short side. The lack of new content and potential for new entrants into the streaming market will continue to apply downward pressure on the stock, even if the technical setup allows for momentary bullishness.
Once the indicators equalize to more normal levels with RSI above 50 and Full Stochastics back into bearish territory above 80 as we saw just a short three weeks ago, I would recommend establishing a short position and riding NFLX down to new lows once the next story of increased competition comes along.
Disclosure: I have no positions in any stocks mentioned, and no plans to initiate any positions within the next 72 hours. I wrote this article myself, and it expresses my own opinions. I am not receiving compensation for it (other than from Seeking Alpha). I have no business relationship with any company whose stock is mentioned in this article.