Long-time followers of ours on Seeking Alpha will know that we have been bearish on gold (NYSEARCA:GLD) ever since it hit $1900/ounce in August 2011. After today's shocking FOMC announcement, we are now long gold for the first time in a year.
Our primary concern about gold over the past year has been lack of expansion of the Fed balance sheet, leading to broad US dollar strength over the past year. The following chart shows the Fed's balance sheet in white, the ECB's balance sheet in orange, the BOE's balance sheet in purple, and the BOJ's balance sheet in green.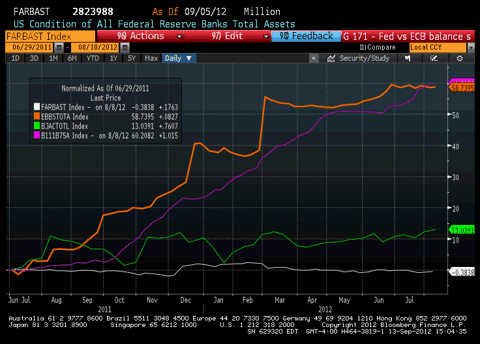 As can be seen, for over a year now the Fed balance sheet has not changed in size, while every other major central bank in the world has expanded their balance sheet with reckless abandon. This slowly supported the dollar, leading to a 12.5% rally in the dollar. A chart is shown below.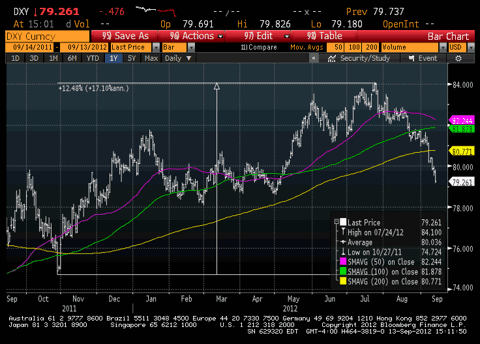 The dollar's strength was supported by worsening fundamentals in Europe, as well as comparative monetary tightness. However, in an instant, the fundamentals have changed.
Today, Bernanke announced a new quantitative easing program to start expanding the size of the Fed balance sheet for the first time since June 2011. Moreover, Bernanke pulled a rabbit out of his hat and indicated that the size of purchases was not finite nor the term limited, instead tying these parameters to the health of the job market. In simple terms, Bernanke will keep printing money with accelerating force until unemployment in the US actually comes down.
To say that we were surprised by this posture is a large understatement. In our opinion, unemployment is unlikely to come down any time soon in the US (and apparently the FOMC shares this opinion as judged by their economic projections). This means that the Fed will be forced to print money in an unlimited amount, possibly for years.
While Bernanke and Co. believe that their past QEs have been responsible for all good in the economy, the actual economic effect of the current QE will be negligible at best. The fact that the bond purchases are focused on mortgage-backed securities means that the mortgage market is the greatest beneficiary of today's move. Considering that the yields on these mortgage bonds were already trading at their lowest levels since 2007, there is very little gain to be had here. While the purchases will support that market, they will be very unlikely to materially improve it.
Simply speaking, Bernanke buying bonds does not put Americans back to work, nor does it restore the European economy to growth. QE is a psychological move that produces very little in actual market results. It can only serve to boost confidence in an otherwise healthy market, and cannot jumpstart the economy in and of itself.
What QE is very good at is boosting commodity prices, specifically gold. Without real growth in the economy, it is tough to recommend a long position in crude oil or copper, as the demand destruction from an economy already in decline will counteract any positives. However, since gold's main use is for investment purposes and is therefore not as susceptible to demand drops from industrial purposes, gold is the perfect asset for investors to pile into as the confidence in the currency markets continues to erode.
While other currencies such as the euro, pound and yen look extremely poor fundamentally, the Fed's insistence and commitment to destroying the value of the dollar makes the dollar the least attractive for the time being. While we continue to expect the euro will likely fall to parity against the dollar eventually, the forex market does not present nearly the same opportunity at this point as the precious metals market.
Given that gold is trading just below the extremely important $1800/ounce resistance level, a break above that level could take us up to new all-time highs quickly. Given the relatively low historical net long position on gold, speculators could jump in wholesale. The following chart shows Managed Money net long futures positions on gold.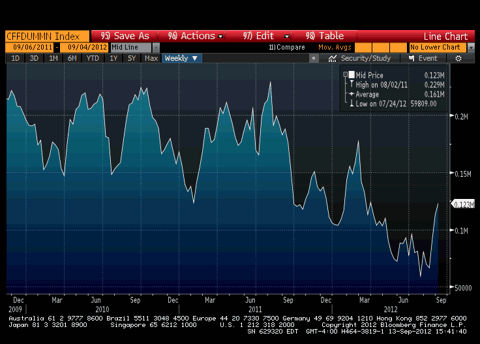 As can be seen, while Managed Money has returned to gold lately, interest in the metal is nowhere near where it was in March 2012 or September 2011. Given the now-bullish fundamentals on gold, we expect that speculators will eventually push their positions up to the all-time high again, taking gold prices with them.
With a nascent bull market in gold, there is no telling how high prices could go from here. Bernanke and the FOMC are committed to devaluing the US dollar, and since all other major currencies have big problems, we expect that the value of gold will continue to rise even if the dollar rises against the euro, pound or yen.
One cautionary note we would offer is that gold miners should still be avoided. While gold miners will outperform gold while the stock market is hot, we believe that we may enter a situation in which gold rises and equities fall. As the market realizes that the economy is not getting better even though the Fed continues to print money, more and more investors will turn to gold as their hedge against monetary devaluation. However, they will also sell equities as companies' earnings growth turns negative. Additionally, if energy commodities catch a bid from QE as well, this would be highly bearish for a world economy already reeling from the European debt crisis. Emerging markets as well as the US consumer would be hit hard by a further increase in energy and food prices.
Trade Recommendation
We recommend buying gold at a price of $1767.40 per ounce or better as a long-term holding and building the position on pullbacks.
Disclosure: I am long GLD. I wrote this article myself, and it expresses my own opinions. I am not receiving compensation for it (other than from Seeking Alpha). I have no business relationship with any company whose stock is mentioned in this article.