As the drought continued to take its toll during most of the crop season this year, crop yields have been severely hampered, leading to a huge rally in grain prices. The impact has been especially dreadful for corn, as its yield is going to be the worst since 1995. Soybeans have also been squeezed lately, as their yield is also set to be the lowest in nine years. As a result of lower crop output this year, farmers will be focused on augmenting yields in the next planting season, which is expected to lead to a huge demand of fertilizers. Nitrogenous fertilizers are set to benefit the most from this rally, as corn demands the application of nitrogen the most among all crop nutrients. In addition, the shale gas boom has continued to favor the production of nitrogen-based fertilizers, as natural gas is the most important feedstock for its production. Consequently, we remain bullish on the fertilizer sector in general, and those companies with a high nitrogen exposure in particular. Agrium Inc. (AGU) and CF Industries Holdings Inc. (NYSE:CF) remain our top picks. The following note analyzes AGU in detail, which was recently upgraded by Citi from "Neutral" to "Buy."
Agrium Inc.
Agrium Inc is the only publicly-traded company that possesses the unique feature of crossing the entire agricultural value chain. It is one of the major retail suppliers of agricultural products and services, and is a leading global producer of agricultural nutrients and industrial products. It has three main strategic business units (SBUs), namely retail, wholesale and advanced technologies.
Being the third-largest global nitrogen producer (it derives more than half of its profits from the nitrogen segment), the company has benefited significantly from the shale gas boom (which has resulted in gas prices being almost 60%-80% lower than Ukrainian and Western Europe producers), given the fact that gas is the primary feedstock for nitrogenous fertilizers' production. In addition, as corn plantings are expected to increase next year to near-record levels (given this year's poor output), the demand for nitrogen is set to increase, which will be beneficial for AGU.
Furthermore, with U.S. farm income rising as the expected profits for farmers amount to a record $122 billion this year as a result of sky-high grain prices and high insurance payments due to the drought, farmers are expected to spend higher on crop-protection chemicals, especially seeds and fertilizers, and will avail more of agricultural services, which will be beneficial for Agrium's retail business.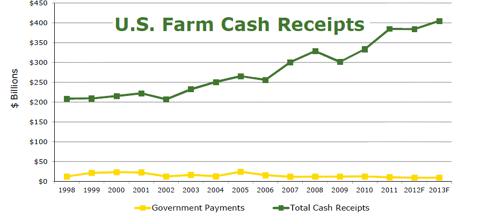 Source: USDA, Deere & Company s documents
Valuation
The following table shows the important valuation metrics for Agrium and other major fertilizer companies, CF Industries Holdings Inc. , Potash Corp (POT) and the Mosaic Company (NYSE:MOS).
| | | | | |
| --- | --- | --- | --- | --- |
| | AGU | CF | POT | MOS |
| Forward P/E (1 year) | 10.3x | 8.69x | 11.12x | N/A |
| EV/EBITDA (NYSE:TTM) | 5.89 | 4.28 | 9.73 | 7.27 |
| Dividend Yield | 1% | 0.8% | 1.3% | 1.7% |
| Share price performance (YTD) | 54.28% | 47.6% | 1.13% | 17.89% |
Source: Bloomberg, Google Finance, Yahoo Finance
Although AGU is already more than 50% up this year, and is the best performer among its peers, its forward price-to-earnings of just 10x, reasonable dividend yield of 1%, and future growth prospects as a result of high demand make us buy-rated on this stock.
Disclosure: I have no positions in any stocks mentioned, and no plans to initiate any positions within the next 72 hours.
Business relationship disclosure: The article has been written by Qineqt's Basic Materials Analyst. Qineqt is not receiving compensation for it (other than from Seeking Alpha). Qineqt has no business relationship with any company whose stock is mentioned in this article.