Of the 200 or so key ETFs across all asset classes that we track in our daily ETF Trends report, 95% are currently trading above their 50-day moving averages. That's about as high as the reading has gotten over the past few years. And the majority of the 10 ETFs that are trading below their 50-days are fixed income ETFs. It has been a good few months for risky assets.
Below is a list of the ETFs from our report that are trading the farthest above their 50-days. As shown, Spain (NYSEARCA:EWP) and Italy (NYSEARCA:EWI) rank #1 and #2, and both countries are trading more than 15% above their 50-days. On July 23rd, Spain was the most oversold ETF, while Italy was the fourth most oversold! Two silver products (DBS and SLV) rank 3rd and 4th, followed up by Europe (NYSEARCA:FEZ) in 5th.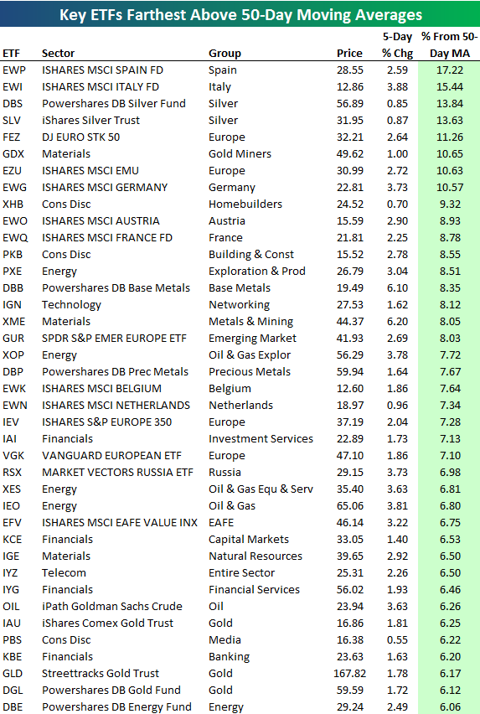 The US Dollar (NYSEARCA:UUP) is actually the farthest below its 50-day at -3.21%. The 20+ year Treasury ETF (NYSEARCA:TLT) is the second farthest below at -3.19%. Just a few months ago, the Dollar and Treasuries were the only asset classes going up. Now they're the only ones going down.