Market Recap
The market got the QE3 it was looking for as Bernanke and friends offered another plan to buy up $40B of mortgage backed securities every month until the labor market improves. It was actually a better plan than many expected, which is why the market rallied so significantly. The news today sets up a pretty solid bullish market to end out the year as long as Europe cooperates, and thus far, they appear to be doing so. The initial jobless claims were also released today, fairly weaker than expected at 380K+, which is the perfect symbol of the reason for the Fed to act. We are expecting more rally over the next several weeks, and we will look to continue to keep a bullish set of positions.
Here are some stocks we like moving into the rest of the week and beyond:
Stocks To Trade
Today, we are looking at an earnings trade in Apple (NASDAQ:AAPL), longs in Lennar (NYSE:LEN) and Abbott Labs (NYSE:ABT), shorts in Smithfield Foods (NYSE:SFD) and Netflix (NASDAQ:NFLX).
For an earnings trade, we like the looks of Apple. The company's release of the iPhone 5 is a buying point, and it will create another great revenue stream. We believe that Apple has created a series of devices that is more than just a phone. Many critics discuss that the iPhone 5 catches up in technology. Yet, it creates new technology on the Apple platform, and that is what Apple sells -- its name, its image, its platform. We are very confident that the iPhone 5 will create another strong set of sales, and that will reflect well on its Q3 report as well as outlook for Q4. Not to mention that we expect an iPad Mini to be released before October earnings. All in all, we can make very good returns selling puts on Apple before earnings, and that earnings report puts a great floor on the stock. We can make 20% still selling the 635/630 bull put spread on AAPL for Oct 20 expiration.
Trade: AAPL, Oct20, 635/630 Bull Put Spread
Max Gain: 20%
(click images to enlarge)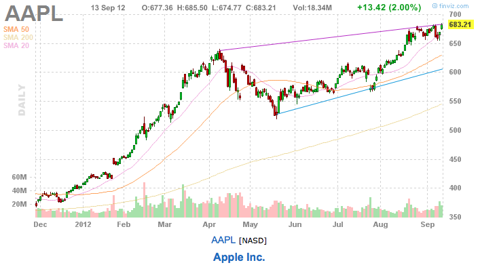 For longs, we like the looks of Lennar and Abbott Labs. LEN looks like it is ready to break out. Moody's today announced that it has raised its outlook for housing market to Positive from Stable. The company broke out of an upward wedge that had resistance at $35, and the stock looks like it can break out from here. Residential construction continues to be one of the best performing sectors of the market, and the QE news today will only help, because it will keep interest rates low, aiding new home sales.
Abbott Labs looks very solid right now, as the stock is in a great uptrend, and it should continue higher from here. Last week, the stock broke a multiple resistance at 67, and the company has low beta and volatility. We expect it to stay strong through its next round of earnings in mid-October. You can make 15% selling the 67.50/65 bull put spread. With the new uptrend, ABT looks strong to hold that level. The company has a future P/E of 13, and we believe its next round of earnings will be another catalyst as it's supposed to show another 10% growth in earnings.
Stock Trade: Long, LEN
Breakout Point: N/A
Options Trade: ABT, Oct 20, 67.50/65 Bull Put Spread
Max Gain: 15%
For shorts, we like the looks of Smithfield and Netflix. SFD was one of the few stocks that did not rally on Thursday. Smithfield hit a strong resistance level at 21.00, which is the high of a downward moving channel. The stock dropped today, and we believe that its latest earnings were fairly weak and have put a ceiling on the upside for SFD. The stock missed its EPS estimate at 0.44, hitting 0.40. Additionally, SFD reported lower revenue. The company said that it was expecting a solid FY13, but feed costs will remain high with QE3 creating higher commodity costs.
Additionally, the fact that the stock did not rally on a day like today suggests the upside is over, and the stock appears ready to drop.
NFLX continues to remain one of our least favorite stocks. The service has zero economic moat right now, and it's seeing competition continue to eat away at its market share. Its next round of earnings is going to barely show a profit, and we do not see when the company will be able to recover. The costs of doing business are rising, and companies with more cash and more size are entering the market. We suggest a bear call spread on NFLX at the 65/67.50 level for Oct20.
Stock Trade: SFD, Short
Breakout point: 20.00
Options Trade: NFLX, Oct 20, 65/67.50 Bear Call Spread
Max Gain: 23%
Tomorrow's Outlook:
The market is ready, set, and go now with QE3. The stock market is definitely going to have a lot of momentum from here. Yet before we get ahead of ourselves, the market's attention is going to turn to Europe next week. The first roadblock to the ECB's bond buying was the German courts, and that did not hinder the process so far. However, the plan still has a long way to go with regard to countries accepting the deal and other roadblocks.
For tomorrow, the market's upside will depend on Retail Sales, CPI, Industrial Production, and Michigan Consumer Sentiment. It's actually a busy day, but it's hard to imagine much downside, even if that data disappoints. We may be getting back into a market condition where we rally now on strong data and just move flat on bad data.
Our Moves/Holdings:
We had an excellent day in the market, as we were able to close the rest of our IBM (NYSE:IBM) long, Baidu (NASDAQ:BIDU) short pair trade for a 1% gain. We closed our Visa (NYSE:V) bull put spread for a 33% gain. We closed our SPDR Energy (NYSEARCA:XLE) bull put spread for a 13% gain. We closed our Priceline.com (PCLN) bull put spread for an 18% gain. We closed our Google (NASDAQ:GOOG) bull put spread for an 18% gain. We closed our Starbucks (NASDAQ:SBUX) bull put spread for a 14% gain. We closed our first half of a Costco (NASDAQ:COST) long for a 2% gain. We closed half of our Polaris (NYSE:PII) bull call spread for a 22% gain. We closed our sold puts in Francesca's (NASDAQ:FRAN) for a 31% gain, and we closed a short in Cohen & Steers (NYSE:CNS) for a 4.2% gain. We only got hit on a long Oceaneering (NYSE:OII) long for a 1% loss. We added a bull put spread in Apple.
We have the following positions:
In our Short-Term Equity Portfolio, we are long Watson Pharma (WPI) and Polo Ralph Lauren (NYSE:RL). We are short Perrigo (NASDAQ:PRGO) and Cardinal Health (NYSE:CAH).
In our Options Portfolio, we are long Whole Foods Market (WFM) and Apple.
In our Earnings Alpha Portfolio, we are long Costco, Polaris, Crocs (NASDAQ:CROX), Discover Financial (NYSE:DFS). We are short RedHat (NYSE:RHT). We have a reverse iron condor in Abercrombie & Fitch (NYSE:ANF).
In our Goldman Sachs Up/Down Paper Portfolio, we are long Wells Fargo (NYSE:WFC), Manitowoc (NYSE:MTW) and Fiserv (NASDAQ:FISV).
Chart courtesy of finviz.com.
Disclosure: I have no positions in any stocks mentioned, and no plans to initiate any positions within the next 72 hours.
Business relationship disclosure: The Oxen Group is a team of analysts. This article was written by David Ristau, one of our writers. We did not receive compensation for this article (other than from Seeking Alpha), and we have no business relationship with any company whose stock is mentioned in this article.