Strayer Education (NASDAQ:STRA) shareholders lost nearly one-third of their investment over the past eight months in a slide that erased nearly $300 million in market value. This decline has been punctuated by a strong capitulation in July, when prices fell 20%. From a fundamental standpoint, however, the slide may soon end.
Click to enlarge images.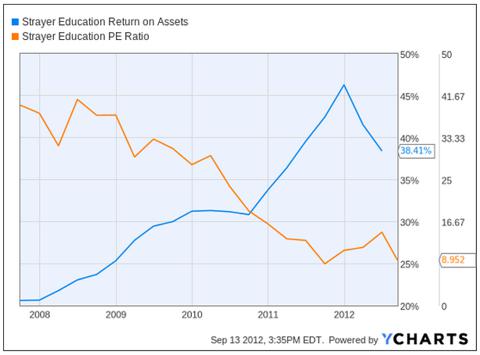 The chart above shows five years of history of return on assets and price-to-earnings ratio in Strayer. Over the past 20 quarters, Strayer has demonstrated a strong ability to transcribe its asset base into profits as seen by return on assets. Not only has Strayer demonstrated an excellent efficiency with its core assets, but also it has performed increasingly better over the past five years. It was not until 2012 that Strayer actually experienced a significant dip in asset-based performance; however, it is important to note that even at the current rate of 38%, Strayer is still exhibiting excellent efficiency.
Over the past five years another key event has been transpiring, and that is the decrease in the P/E ratio. P/E is a basic form of relative valuation and, by examining the figure, we can gauge if a stock is overvalued or undervalued. For example, since P/E has been decreasing throughout the duration of the chart, Strayer has become a more attractive value opportunity. This decrease in P/E essentially boils down to what the market is willing to pay for a share of Strayer's earnings, and the market is currently only willing to pay around one-quarter of what it was willing to pay five years ago. I believe that this decrease in valuation does not reflect the true fundamentals of Strayer, as demonstrated by its increasing returns, but rather is reflective of an investing public focusing on economic events as a whole. Strayer is still a solidly profitable company, as can be seen in the chart below.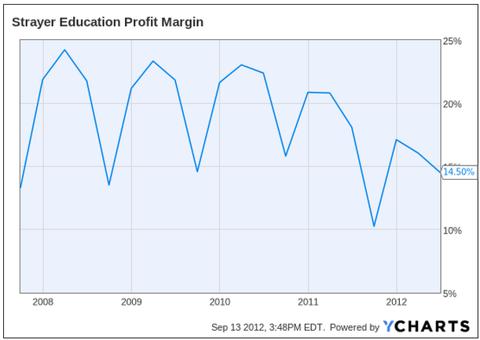 Profit margin is a figure that basically tells the investor the amount of profit the firm makes as a percentage of revenues and expenses. When profit margin is high, the firm is strongly defending its competitive edge and is not required to expend too many resources as expenses. When profit margin is low, it demonstrates that the firm is experiencing an increase in expenses or a decrease in revenues. Note the cyclicality of Strayer's profit margins. It seems that the third quarter of every single year is marked by a decrease in profit margin. I believe that investors are ignoring the fact that Strayer typically experiences yearly profitability slumps and focusing instead on the fact that 2011 and 2012 are marked by lower overall margins. Some believe that this is a cause for concern, but I do not believe so due to the fact that Strayer has historically been able to rebound and has demonstrated the ability to deflect competition, control expenditures, and increase revenues.
If an investor is worried about the decrease in profitability of the firm, there are two possible defense mechanisms. The first is dividend yield. Dividend yield is a figure that essentially states that if share price remains the same and dividend payment remains the same, the annualized return will be equal to the number provided. The chart below shows the dividend yield of Strayer for the past five years.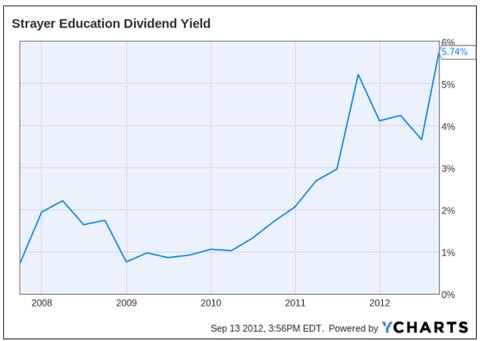 As you can see, dividend yield has been increasing for the past 20 quarters. At a current yield of 5.74%, investors are nicely rewarded for holding shares in this declining stock. It is important to note that dividend yield increases as share price decreases if the organization continues the same dollar amount of dividend payments. Also, as a side note, I personally believe that the dividend yield should be slashed and all cash should be channeled into making the firm profitable once again. In a situation where profits are eroding and the market is strongly reacting to this erosion of value, the most logical course of action for a firm is to channel all of its efforts and resources into restoring profit margins. However, Strayer has continued to pay a strong dividend, and we as investors should enjoy it even if we do not necessarily agree with it.
The second defense mechanism afforded to investors to protect their precious capital is technically timing entries and exits in the market. As the chart below clearly shows, Strayer is in a downtrend. Even though the fundamental picture of the organization is strong, it makes very little sense to own shares in a declining security if your intention is to profit from share price appreciation. This said, I believe that we should be pragmatic in our investments and only participate in a security during times when price is rising. Technically speaking, Strayer is in a strong downtrend and until price is able to overcome $90 per share, there is no reason to hold the security. Some investors will definitely gawk at this figure since prices must rise over 30% for this target to be reached. However, they would be ignoring the profit potential.
If the firm is able to recover diminishing profit margins and continues exercising its strong ability to generate profits from assets, then I believe that prices could appreciate to the levels achieved during previous periods of profitably. Specifically, I see it as entirely reasonable that prices could rise to around $180 if Strayer is able to overcome this current slump in profits. However, I reiterate that even though the fundamental picture is promising, I do not advocate purchasing the stock immediately. At $90 per share, I believe that price will have given the clear signal that Strayer has bottomed and it is once again "in play."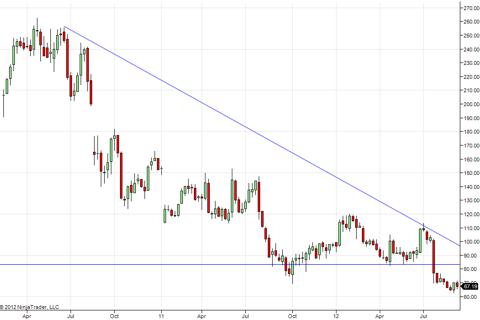 Disclosure: I have no positions in any stocks mentioned, and no plans to initiate any positions within the next 72 hours. I wrote this article myself, and it expresses my own opinions. I am not receiving compensation for it (other than from Seeking Alpha). I have no business relationship with any company whose stock is mentioned in this article.