As the second largest industry in the United States, retail has quite a lot to offer if you seek safe and decent money. Much of the U.S. economy relies on the success of this industry, because it provides employment to nearly one out of every eight workers. You can easily understand the upcoming mood of the markets by observing and analyzing data here in this industry.
Like Alison Paul, leader of Deloitte's U.S. retail practice pointed out:
"Retailers are like the canary in the coal mine. They are the first place you can see where consumer sentiment really is."
While you don't want to be in retailers in such a weak economy, retail stocks have been riding out of the storm recently. As the New York Fashion Week hosted hundreds of designers to bring out what they've got, Jim Cramer looked into this sector and made a list regarding the retail stocks with the highest potential to leapfrog. I have selected the ones operating in the States and analyzed them further, taking their technicals and field performances into account. I have also applied the O-Metrix Rating System where possible.
Here are Cramer's four retailer stocks poised to push higher.
The Gap, Inc.
The Gap, Inc. (NYSE:GPS) finds itself a place in this list as it has "gotten its groove back," Cramer says, "It's taken a long time, but the turn is clearly happening." The stock returned 3.4% since August 16, the time when it reported breathtaking quarterly earnings, while also raising its full-year guidance. The company reported a 29% increase in quarterly profits, claiming the fourth place in the S&P 500 Index in terms of stock increase this year. Besides, the stock price is rising systematically for more than 12 months.
Click to enlarge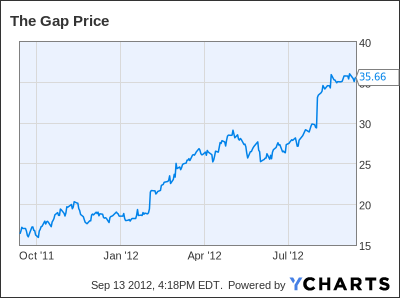 As the stock doubled itself in a year, many investors wonder if there's going to be a rally and when. The stock has been climbing up so fast recently, which dragged its Relative Strength Index up to 62.06%. Simple Moving Averages are eminently above where they should be. Based on its technicals, Gap isn't a bargain anymore. While it still has a solid net cash position and balance sheet, you can't expect any more upside movement from it. Gap is a widely known company holding some unique achievements and rankings, so you should consider putting your money on the table after it experiences a pullback. Gap has an O-Metrix score of 3.54.
Nordstrom Inc.
Will Nordstrom Inc.'s (NYSE:JWN) skyrocketing ever stop? That is one arguable thing today, as the company is seeking even more growth and striking into Canada with new stores. The stock is climbing up for some time, rewarding shareholders with a return of nearly 23% since June 1.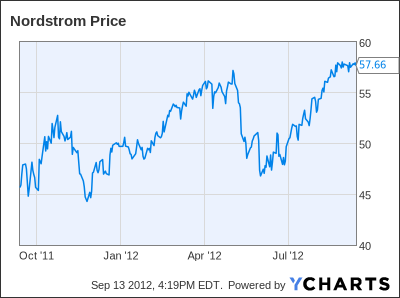 Nordstrom reported significant quarterly reports, most of which are in line with analysts' estimates. Revenue is tidy, as well as revenue and assets. Investors were worried about a slowdown that would hit retail business, but this company gets even more market share thanks to its exposure to the hottest retailing areas. Moreover, Nordstrom is expanding its arsenal with the top two British brands - Topshop and Topman.
Already pushing to higher levels since June 1, Nordstrom will be flying high in a short time as investors find out more on its finalization of Canada entry plans. Nordstrom has always rewarded its long-term investors with serious returns. I guess the stock will hit above $60 in the medium term, so you may want to buy some as soon as possible. Based on its numbers, Nordstrom has a C Grade O-Metrix score of 4.30.
Urban Outfitters, Inc.

Urban Outfitters, Inc. (NASDAQ:URBN) deserves a better place for a bull-bear discussion, as the stock seems to be going up even higher. Urban's stock went berserk after declaring its second-quarter earnings, crushing the consensus estimate by a landslide. The stock has a Relative Strength Index of 76.78%, as it saw a 28% increase since August 20.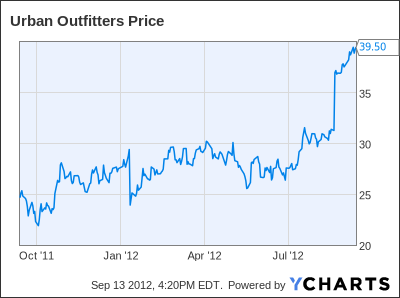 Urban has sizeable presence in the U.S. and over the world. The company is expanding its presence even more, while also receiving growth from its troubled brand, Anthropologie. Urban is quite an outperformer, as it surpassed the Zacks Consensus Estimates for four times in the last five quarters. While the company struggled to get fashion right for some time, Urban has firmly positioned itself to generate excellent profits now.
Although Urban faces strong competition from Gap, Abercrombie & Fitch (NYSE:ANF) and American Eagle Outfitters, Inc. (NYSE:AEO) - and they pay dividends while Urban doesn't - Urban is still competing with them easily. That's because Urban uses its surplus cash for repurchasing shares, and decreasing its diluted share count. What's more, Urban is highly interested in growing direct-to consumer sales, from which the company already benefits. There is absolutely decent value in Urban, and you don't want to miss it. Urban has an O-Metrix score of 4.09.
Lululemon
The last stock on this list is lululemon athletica inc. (NASDAQ:LULU), which is also enjoying its earnings report. The stock soared nearly 13% after unveiling a tremendous earnings report. Having its net income leapfrogged by almost 50%, Lululemon has also increased its revenue by one-third. Both ROA and ROE are amazingly good.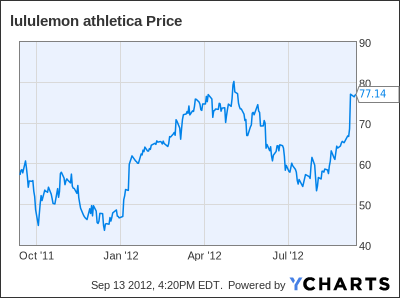 While watching the firecrackers, there are some unpleasant facts that we ignore. The stock has seen such a big upside movement that dragged its RSI to 79.9%, the highest on the list. Trading next to its 52-week high, Lululemon sells 52 times earnings, and 36 times forward earnings. While it has a strong balance sheet, assets and revenue, the stock is very, very pricey at the time being. Lululemon is surely a stock for the long run, but it would not be wise to buy a company at this high. Lululemon has an O-Metrix score of 3.21.
Disclosure: I have no positions in any stocks mentioned, and no plans to initiate any positions within the next 72 hours. I wrote this article myself, and it expresses my own opinions. I am not receiving compensation for it (other than from Seeking Alpha). I have no business relationship with any company whose stock is mentioned in this article.