Some companies seem to always gravitate towards the spotlight, even if they do not actively try to do so. Clearwire (CLWR) is one of those companies. Ever since the company was founded, Clearwire has been in the spotlight, sometimes for the right reasons, and sometimes for the wrong reasons. We have written about Clearwire more than any other company here on Seeking Alpha, because of all the companies we have analyzed, Clearwire is by far the most misunderstood. For readers who are new to the Clearwire story, our previous articles on this company may be a good place to start. Clearwire occupies an interesting place in the wireless market, for it has more spectrum than any other company, even though it is not a carrier. The company's stock price has fallen sharply from its IPO, and yet its potential is greater than ever (a theme we have addressed at length in prior articles). There have been several recent developments in the wireless market that we feel should be addressed, insofar as their impact on Clearwire. The first is examining the impact of Apple's (NASDAQ:AAPL) newly released iPhone 5 on the company's existing WiMax business, or more accurately, examining the lack of an impact.
The Irrelevance of the iPhone 5
At this point in time, Clearwire's main WiMax customer is Sprint (NYSE:S), America's 3rd largest wireless carrier. The relationship that Clearwire and Sprint have is long and complex, and since Sprint merged its broadband division with legacy Clearwire in 2008, the two companies have been intertwined in ways that few wireless companies are. Although Sprint is trailing Verizon (NYSE:VZ) (NASDAQ:VOD) and AT&T (NYSE:T), the company was in fact the early leader in 4G, choosing to deploy Clearwire's WiMax technology. Now, however, both Sprint and Clearwire are pivoting away from WiMax towards LTE. And given that the iPhone 5 now supports LTE on Sprint, and that the iPhone 4 and iPhone 4S are now discounted on Sprint's network, we have heard some chatter that investors are worried about how this will affect the cash that Clearwire receives from Sprint for its WiMax network. On the surface, this concern does seem valid. After all, none of Apple's iPhone models utilize WiMax, and given their popularity, it is not a stretch to assume that existing WiMax users will migrate to the iPhone. This would be an issue for Clearwire IF its agreement with Sprint was in fact based on usage. But it is not. Clearwire's current WiMax deal revenues are fixed until the end of 2013. Clearwire is receiving $600 million in cash in 2012, $300 million in 2013, and revenues will be recognized at a rate of $450 million per year, in accordance with GAAP. The deal reverts to usage-based pricing in 2014. But by that point, Clearwire's LTE network will be up and running, and the revenue drop-off caused by falling WiMax usage will be more than mitigated by revenues from the company's LTE network. While the iPhone 5 will have a dramatic impact on a good deal of the wireless industry, it will not affect Clearwire, for much of the company's existing revenue is locked in, and there is a clear pathway to future revenue, via the company's LTE network.
EarthLink: Diversification is a Reality
Clearwire's critics have often argued that the company is far too reliant on Sprint for its revenues. And in the past, there has been truth to that. However, Clearwire has been making an aggressive push to ink deals with more wholesale partners, and has signed deals with Leap Wireless (LEAP), FreedomPop, and Simplexity. And on September 10, Clearwire inked its newest deal, with EarthLink (NASDAQ:ELNK). Under the terms of the deal, EarthLink will use Clearwire's existing WiMax network to provide high-speed broadband, both mobile and non-mobile, to its customers. The companies indicated that they are likely to expand the deal to use Clearwire's LTE network when it launches. The deal with EarthLink not only strengthens Clearwire's WiMax revenue stream until the LTE network launches, but also shows the optimism that the industry has when it comes to Clearwire's upcoming LTE network. It is not even launched and there is already another company expressing interest in it (Clearwire's deal with Leap Wireless bypassed WiMax and focused on its LTE network).
While the iPhone 5 and the deal with EarthLink are interesting items to analyze, they are not nearly as important as the third issue we would like to analyze and discuss. And that is the road ahead for Clearwire, a subject that the company's CFO, Hope Cochran, shed some light on at a recent Merrill Lynch investor conference.
The Road Ahead: A Transformation is at Hand
Many investment conferences yield little in the way of exciting or even relevant information. Many simply restate the prior quarter's results, and reiterate the case for why that company makes a good investment. And while Clearwire's presentation did include those things, it also included genuinely relevant information, which we address below.
Clearwire used Merrill Lynch's 2012 Media, Communications, and Entertainment Conference to once again remind the market of its leading spectrum position.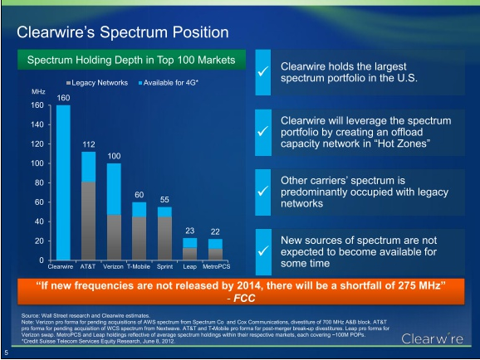 This chart, which takes into account recent spectrum transactions, once again shows that Clearwire is firmly in the lead when it comes to spectrum positioning. Furthermore, Clearwire's spectrum is 100% available for LTE usage, whereas all of its peers need to allocate spectrum to support their legacy networks. It is true that Clearwire's 2.5 GHz spectrum may not be of the caliber of 700 MHz spectrum. But, investors need to remember that Clearwire is approaching its LTE buildout differently than carriers such as AT&T or Verizon. Instead of blanketing the nation with LTE coverage, Clearwire is concentrating on what it calls "Hot Zones," which are dense, urban markets where LTE usage is greatest.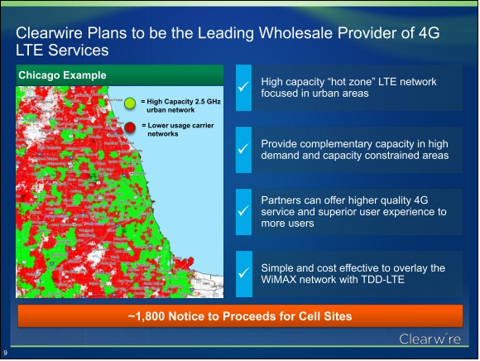 Clearwire's value proposition to carriers is that it can beef up their coverage in areas where it is most needed, such as Chicago, New York, or San Francisco. For a company of Clearwire's size, it is impractical to roll out its LTE network across the entire country in the same manner that the Big 4 carriers are doing. And frankly, it does not make that much business sense. If Clearwire rolls out a nationwide LTE network (if it could even find the necessary cash to do so), all it has done is create a fifth major network. But, if it rolls out the network selectively, it has created a way for carriers to acquire excess LTE capacity without having to invest in their own networks.
As interesting as these LTE plans are, they are not necessarily new developments. It has been known for some time that this is Clearwire's plan. What is new, however, are comments made by CFO Cochran regarding a number of issues, including Dish (NASDAQ:DISH), and Clearwire's plans for selling assets.
Wells Fargo, which maintained its outperform rating on Clearwire after the conference, provided insight into the drama regarding Dish. According to Wells Fargo, CFO Cochran stated that Clearwire cannot confirm who owns its debt, and she explicitly stated that Dish has not approached Clearwire to inform it that it owns Clearwire debt. Dish can have many reasons to buy Clearwire debt, if it has indeed done so. Perhaps it feels this debt is undervalued. Or perhaps Dish does indeed see a way to gain access to Clearwire's spectrum via its debt (Dish CEO Charlie Ergen is a shrewd businessman, so whatever company's debt Dish bought, it is because Charlie Ergen thought it would benefit Dish). For such a scenario to occur, however, Clearwire must first file for bankruptcy, something we believe is highly unlikely. Clearwire has made it clear that it has sufficient cash to fund itself for the next 12 months, and we believe that within the next 12 months, Clearwire will undergo a transformation.
The most interesting aspect of CFO Cochran's presentation was her commentary regarding asset sales. Over the past several months, investors have grown increasingly anxious over this issue. Many investors look at the spectrum activity going on outside of Clearwire and worry that when the time comes to sell spectrum, Clearwire will simply be unable to do so. We have consistently argued that such worries are overblown, and that when the time comes, Clearwire will be able to monetize its spectrum portfolio. And during her presentation, CFO Cochran indicated that the company is moving in that direction, stating that, "At the end of the day, we do have an asset. We've got 160 megahertz of spectrum. I don't know how in the world I would ever utilize all of that in my business plan." As the chart above shows, Clearwire has as much spectrum as Verizon and T-Mobile combined in the top 100 wireless markets, and it seems like the company has concluded that this is too much spectrum. Over the next several months, we believe that Clearwire will have something to announce. On the company's Q2 earnings call, CEO Erik Prusch made it clear that the company wants to arrive at a "strategic solution," which it defines as something more substantial than just another wholesale deal. CFO Cochran indicated that Clearwire is also looking at other financing options, including preferred stock and convertible bonds. Given the fact that Clearwire is currently unable to issue more secured debt, due to covenants in its existing debt, and the prohibitively expensive interest rates of unsecured debt, preferred stock and convertibles may be a route that the company has to pursue. CFO Cochran also expressed displeasure with where the company's stock is trading, saying that this rules out a debt for equity swap because it would be far too dilutive relative to the benefits it provides.
Conclusions
We continue to believe that Clearwire's best days are ahead of it, not behind it. The iPhone 5 will not hurt Clearwire in the short to medium-term, as the company's WiMax revenues from Sprint are fixed until the end of 2013. The deal with EarthLink further diversifies the company's revenue base, and we view spectrum sales as highly likely within the next 12 months. When a company's CFO states openly that the company has more spectrum than she can possibly allocate in a business plan, we believe that it is an indication that a sale is on the way.
Since bottoming in late July, Clearwire's stock is up almost 79% as of this writing, dramatically outperforming the S&P 500 (NYSEARCA:SPY).

But, even with this surge, the stock is down over 17% so far in 2012 (and almost 37% over the past year), even though we believe that the company's outlook has steadily improved through the course of the year. We would be buyers of Clearwire on any pullback, for we continue to believe that the market underappreciates the long-term opportunity in this company. The next 12 months will be transformative for Clearwire, and we continue to believe that shareholders who maintain, hold, add to, or initiate positions in Clearwire will be rewarded for their convictions.
Disclosure: I am long CLWR, AAPL. I wrote this article myself, and it expresses my own opinions. I am not receiving compensation for it (other than from Seeking Alpha). I have no business relationship with any company whose stock is mentioned in this article.