Vanguard Natural Resources LLC (NYSE:VNR) is an LLC that operates as an MLP without a general partner. Hence there are no IDRs to worry about. You do have to file a K-1 for the distributions/dividends when you do your taxes. Thursday, September 13, 2012, the Fed announced a new, open-ended round of QE. This will amount to $40B/month of MBS buying for now. Operation Twist will remain in place. This should give you more reason to buy oil and gas producers. The Fed is assuring you of high prices for these commodities. The companies that produce the commodities should do well. When they pay an 8.79% dividend/distribution as VNR does, you have that much more reason to buy them. VNR pays a monthly distribution of $0.20 per unit or $2.40 annually (8.79%). VNR has raised this distribution since its IPO in October of 2007 by about 41% -- a great record. VNR has just instituted a monthly distribution as of July 2012.
VNR has 136 million Boe of proved reserves. In Q2, it had average daily production of 12,338 Boe/d. This was down 9% from the previous quarter and 7% from the year ago quarter. The main reason for this was the divestiture of Appalachian assets that had produced about 1,300 boe/d. This divestiture took place at the end of Q1. On an individual asset basis, the average daily production was 7,549 bpd of oil, 1,422 bpd of NGLs, and 28,203 Mcf/d. Further, most of VNR's CapEx expenditures will start contributing to daily production in H2 2012, although there were problems in a few cases. These led to expenditures, which may be largely recoverable, without near-term production gains to show for them. Further VNR got hurt by oil prices about 10% lower on average quarter over quarter. These low oil prices were exacerbated by further temporary deterioration of oil prices in Elk Basin due to Enbridge (NYSE:ENB) pipeline operational issues in April. This led to widening differentials between Nymex WTI and local area pricing. The Permian Basin suffered from similar problems. The hedges (partly collars) mitigated the overall oil price decline problem, but it was still a problem. The local area differentials cannot be easily hedged. This situation should improve in Q3 both in oil prices and in differentials.
Another problem, the low NGL price realizations may be longer lasting. NGL prices have fallen along with natural gas prices, but they are very hard to hedge. The NGL futures market currently suffers from backwardation (future prices are cheaper than current prices). This makes it almost impossible to hedge NGL production, as it is already priced very low. In Q2, the NGLs price realizations were 24% below the year ago quarter. They were 16% below Q1 2012. VNR's production is 14% NGLs, so this is a significant problem. However, due to geographic location of VNR's assets and the constitution of their NGLs, VNR did realize 48% of the Nymex WTI oil price in Q2 2012 for its NGLs. This led to distributable cash flow of only $0.36 per unit (less than the distribution of $0.60). However, the Q1 distribution coverage ratio of 1.4x largely made up for this.
The Arkoma basin acquisition for $434 million of 402Bcfe of proved reserves of which 57% are PDP will add hugely to production in Q3 and Q4. Those results should be significantly better. This development is primarily natural gas, which is down this year. However, VNR has it mostly hedged at $5+/Mcf. With the addition of this new producing property, VNR expects to earn $270-$285 million in EBITDA for FY2012. This is expected to lead to about a 1.3x distributable cash flow ratio for the entire year. VNR should be able to easily pay its $2.40 distribution/dividend. If you are only concerned about the long term, the following charts of VNR's operational performance should assuage your fears.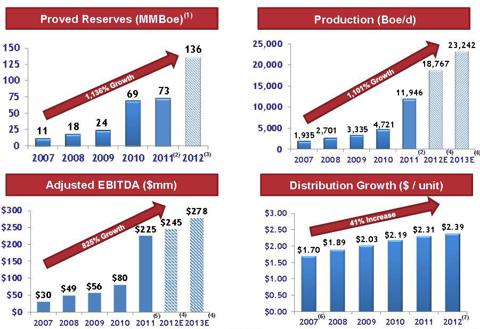 In terms of hedging, 2012 natural gas production is hedged 88%. It is hedged 100% in 2013, and it is hedged 86% in 2014. Oil production is hedged 95% in 2012, and it is hedged 91% in 2013. VNR should be relatively safe for the next two years. However, since many of the hedges are collars, it does have some upside potential if oil prices rise. Since many are worried about the state of a company's natural gas hedges these days, a chart of VNR's natural gas hedges is below.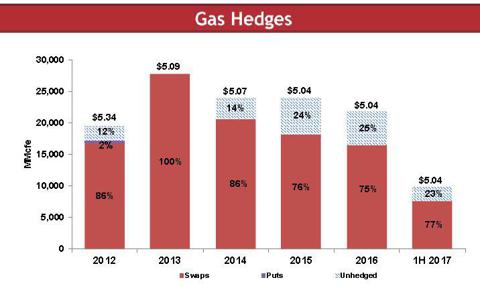 Overall, there is a good explanation for the rather poor earnings in Q2 2012, especially with the divestiture of 1,300 boe/d of production at the end of Q1 2012. Further, VNR has significantly added to production through the Arkoma acquisition. The production from this acquisition should be seen in Q3 and later quarters. There is every reason to believe that results in coming quarters will be much improved. VNR is fundamentally a buy.
The five-year chart of VNR provides some technical direction for this trade.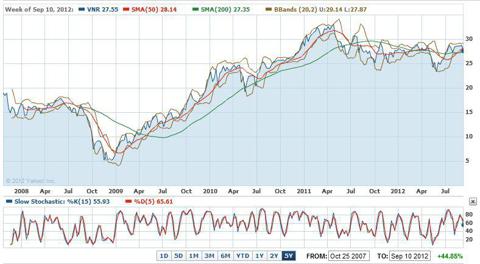 The slow stochastic sub chart shows that VNR is close to overbought levels. The main chart shows that VNR has been consolidating since early 2011. With the new Arkoma acquisition, it could break out of this consolidation to the high side. In a more troubled market, the company could keep consolidating. After the Arkoma acquisition, it is much less likely that VNR will fall appreciably. Hence you should get a great 8.79% dividend/distribution with good upside stock potential and only a little downside potential. This makes it a buy. Since the average analysts' EPS growth estimate for FY2013 is +43.00%, the prospects for VNR look good. It is a buy. The average analysts' recommendation is 1.8 -- a buy. CAPS gives it a five star rating. It trades at a P/E of 7.29 and an FPE of 14.28. These seem reasonable.
The recent announcement of an new stock offering at $27.51 per share for 6,000,000 with an option for a further 900,000 units should keep the price stuck near that value for the near term. However, it should have long-term upside, especially if natural gas prices rise in the coming years.
If you like VNR as an investment, you might also wish to look at Linn Energy (LINE), BreitBurn Energy Partners (BBEP), and QR Energy (NYSE:QRE).
Note: Some of the fundamental fiscal data above are from Yahoo Finance.
Good Luck Trading.
Disclosure: I have no positions in any stocks mentioned, but may initiate a long position in VNR over the next 72 hours. I wrote this article myself, and it expresses my own opinions. I am not receiving compensation for it (other than from Seeking Alpha). I have no business relationship with any company whose stock is mentioned in this article.