Investors in energy companies have been enjoying halcyon days in 2012. Oil prices are high, production is gushing, and earnings per barrel is increasing. The newly announced QE3 has given a huge bump to the market. Merely looking at the stock performance chart of five of the biggest publicly traded companies: Exxon Mobil (NYSE:XOM), PetroChina (NYSE:PTR), Royal Dutch Shell (NYSE:RDS.A), Chevron (NYSE:CVX) and BP (NYSE:BP), should be a feel good moment: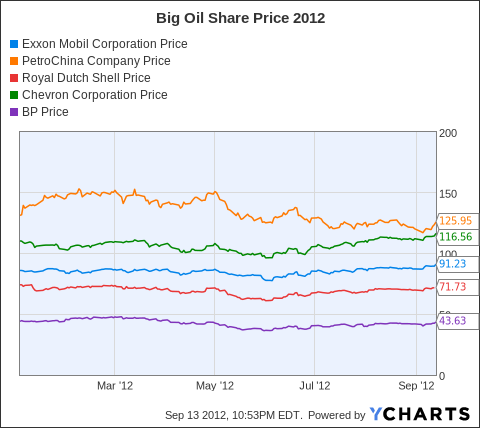 Hmm, there seems to be a lot of relatively flat lines here, despite a shallow rise in prices since July. In fact, mighty PetroChina is down for the year? Is there a reason for this or are investors overlooking Big Oil in the rush of investor support of smaller energy issues like Valero (NYSE:VLO), Phillips 66 (NYSE:PSX) and Gulfport Energy (NASDAQ:GPOR) which have made big gains?
Let's check out the earnings of these Big Five versus crude oil futures.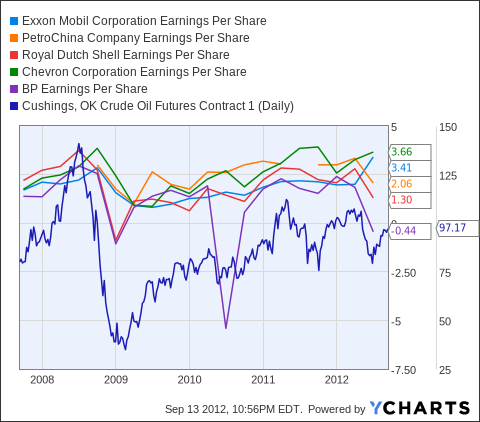 XOM Earnings Per Share data by YCharts
Earnings up, earnings down, clearly something is on, so I intend to take a macro and micro view of these oil behemoths to see if they are deserving of any investment dollars.
Dueling Price Levels
The international stage is a confused and shifting world where political, supply and demand factors are roiling the market. In a recent article, I wrote about how a combination of Arab Spring legacies, declining North Sea Production, and fears for Middle East conflict have caused a surge in prices within the region. Europe's ongoing sovereign debt problems will continue to hinder recovery and should keep prices from going too high, short of a shooting war in oil producing areas.
Meanwhile a combination of rapidly expanding oil production in mid-American oil plays like the Bakken (North Dakota) and Utica (Ohio), coupled with lagging pipeline infrastructure is causing an ever growing price decline for American crude. Small, regional energy companies have been able to take advantage of the imbalances in the market, but the bigger internationals have been slower to react.
Demand and QE3
The sluggish economies in Europe, North America and China are dampening demand. The September news of China's stuttering economy is especially worrisome to watchers as the world's second largest economy had been the one shining beacon of hope to recovery optimists. With China down, what will spur a global economic revival?
Governments and central banks are falling all over each other to splash liquidity into the system and stimulate jobs and growth. The Fed's recent announcements of QE3, the Chinese announcements of aggressive economic stimulus, and the ECB's expected bond buying initiatives have cheered the market. Yet, as repeatedly mentioned by Fed Chairmen Bob Bernanke and his ECB counterpart Mario Draghi, any central bank stimulus is merely a crutch. Real recovery will not become a reality until governments cure their fiscal problems.
And an important note: in my mind for the near term, the low interest rates driven by the US and German Central banks make for excellent business conditions. This is especially true for high-capital investment companies like energy internationals since their interest costs stay low. The problem is that market watchers, myself included, are nearly apoplectic over the massive money printing efforts governments are about today, fearing that some day the massive liquidity infusions will turn into wild inflation.
So from this mixed macroeconomic bag, let's look at the individual companies themselves.
Exxon Mobil's recent share price stands at $90.23 post QE3 announcement, with a $0.57 quarterly dividend producing a yield of 2.55%. It has a 52-week trading range of between $67.93-$91.56, PE ratio of 9.4 off of earnings per share at $9.52. Its price per book at 2.5 and price per cash flow of 6.5 is not out-of-line but it sports a juicy Return on Equity of 28.33%. Its 5-year annualized dividend growth is 7.64%
Exxon's 2Q 2012 earnings were up but it is facing a lot of headwinds. For one, compared to the other companies in this article, Exxon has a high percentage of natural gas in its production mix. While oil has been intensely profitable, gas has cratered and has been a drag on earnings. Exxon also is a company who is aggressively expanding production in the mid-American continent areas where lower spot prices also drag overall profits down.
Management indicates that production growth will only be in the 1-2% range per annum, so any significant future growth will come from higher gas prices and the company's aggressive share buyback program. With the stock at a 52-week high and future growth muted for the near future, this would be a good time to Hold the stock.
PetroChina is the publicly traded, part-government owned Chinese oil producer. Its recent price was $126.12 with a yield of 4.05% off a semi-annual dividend of $2.6095. It sports a 52-week trading range of $111.29-$153.35, PE ratio 11.1 and earnings per share of $11.14. Its price per cash flow TTM is 7.4, while the price per book is 1.6 and a Return on Equity of 12.80%. Dividends have posted a -0.91% retreat over the previous five years.
PetroChina does have some magnificent advantages which appeal to investors. Most importantly, as a partly-owned government corporation, it has a reliable "in" to the world's most dynamic economy. It also has almost unlimited resources. However there are two important points that make me wary of the Sino-giant.
The elephant in the room is the ongoing worry about the transparency of Chinese companies. A lot of basic information western investors take for granted are not as clearly available in Chinese issues, while government corruption is rampant. That is a scary environment to be investing your money.
The second point is that Chinese oil companies like PetroChina and Sinopec (NYSE:SNP) are subject to a strict price control system. From what I can gather, the price control is much more consumer friendly and much less investor friendly. Especially with a lagging economy, margins are getting squeezed and it is impossible to say how long or how bad this will continue.
Although the dividend is juicy, the uncertainties make me wince and I would say this is a Sell to anyone, but the most intense China loyalists at this time.
Royal Dutch Shell, the Anglo-Dutch monster, has a recent share price of $73.24, a dividend yield of 4.80% from a $0.86 quarterly dividend. the 52-week trading range is $57.967-$74.52. The shares have a PE ratio of 8.5 off earnings per share of $8.41. Price per cash flow is 5.7, Return on Equity at 15.35%, and dividend growth over five years a reliable 5.76%.
The company's earnings and shares have been erratic and lagging. Partly this has been global conditions and European economic woes. A large part has been tied to a six year on again-off again dance with the US Department of the Interior over opening up new offshore drilling areas off the coast of Alaska. The company also implemented a largely disappointing share buyback program, which has done little to raise investor value.
Still, the dividend yield is good, reliable and the company has a strong record of increasing dividends. Royal Dutch Shell also has probably the best future growth prospects provided it can finally start fully developing its Alaskan offshore resources. This is a situation that I would hold, but consider Accumulating if the share price corrects off its 52-week high.
Chevron has a recent share price of $116.56 and its quarterly dividend of $0.90 gives it a yield of 3.14%. It is another stock priced near the top of its 52-week range of $86.68-$116.97. The PE ratio is 8.7 off $13.43 TTM earnings per share. Price per book is 1.6 and price per cash flow 5.6, with a Return on Equity of a healthy 21.68%. Dividends have grown a satisfying 8.98% the last five years.
Chevron has been the best recent performer of this group. Mostly this has been because it has the least exposure to the earnings drag from natural gas prices. The company is involved in natural gas production, but most of its NG markets provide much higher pricing than what is available to its competitors.
It also is accumulating a $21 billion cash war chest. The worry is continued overhang by a pair of heavy lawsuits, one in Ecuador and one in Brazil which could easily eat up that cash. The worry is how much of the potential liability is actually priced into the share price. This is a Buy to me, but one that should be watched carefully.
BP is the final company of this screen, with a recent share price of $43.62 from a 52-week trading range of $33.62-$48.34, while a quarterly dividend of $0.48 provides a 4.51% yield. The price per sales is only 0.3, while the price per book is 1.7. The Return on Equity is an okay 15.71% while dividends have contracted -6.12% in the last five years.
Any discussion of BP begins and ends with trying to evaluate the legacy of the 2010 Deepwater Horizon Oil Spill. Its erratic earnings caused by lost revenue and cleanup costs, followed by a massive overhang of ongoing legal liability will probably drag the stock for several years. The 2Q 2012 results were hugely disappointing for analysts, especially a $4.8 billion dollar write off of a refinery and some shale deposits. The company has been selling assets to raise money and did sell large portions of its Gulf oil fields to Plains Exploration and Production (NYSE:PXP) for an estimated $5.5 billion. The company may soon need it.
It is best to stay away from BP until it can show a sustained ability to get over its 2010 disaster. Sell.
Conclusion: So in all, I like two sales (BP and PetroChina), one hold in Exxon Mobil, and a hold but accumulate for Royal Dutch Shell. From where I sit at this screen, it looks like Chevron is a close winner, getting a buy for now, but anyone purchasing needs to monitor the legal situation closely.
What do you think?
Disclosure: I am long GPOR, PSX. I wrote this article myself, and it expresses my own opinions. I am not receiving compensation for it (other than from Seeking Alpha). I have no business relationship with any company whose stock is mentioned in this article.