The September E-Mini S&P 500 contract Thursday rolled to December on a full blown QE3 plan from US Federal Chairman Ben Bernanke. The Federal Reserve did not disappoint yesterday announcing a program of mortgage debt buying worth about $40 billion per month. They will continue this program until the labor market shows substantial improvements. In addition, they intend to keep interest rates low until at least mid-2015. This is all on top of the two prior QE programs that purchased about $2.3 trillion in US government and housing debt.
US growth has been at a 1.7% annual rate with the last US Unemployment report coming in with a scant 96,000 jobs created last month. The US Unemployment rate dropped to 8.1% from 8.3%. Federal Reserve Bank of San Francisco Chief John Williams ran some numbers suggesting that on QE2, the $600 billion bond buying may have produced 700,000 jobs. The concerns in the Fed's move to increase cash pumped will result in consumer inflation.
The US Initial Jobless Claims increased by 15,000 to a seasonally adjusted 382,000 while expectations were more for 365,000 like last months. Tropical Storm Isaac may have accounted for about 9,000 of the first-time applications for unemployment benefits last week. The US seasonally adjusted Producer Price Index increased 1.7% last month after last month's reading of 0.3%.
The fiscal cliff represents about $500 billion in expiring tax credits and automatic spending reductions. Thoughts are that if not dealt with, the US could spiral into a recession with potentially 2 million jobs at risk. The White House is to work on about $1.2 trillion of the automatic cuts unpleasant as it will be for both Democrats and Republicans. The spending reductions could potentially cut about $55 billion from defense and another equal amount from other domestic programs in 2013.
Tax increases for the top income consumers may also be discussed. The White House is to report to Congress on the automatic spending cuts to go in effect under sequestration, a process where the government may exempt certain things, if an agreement cannot be reached. The cuts are expected to reach $109 billion in 2013 in both defense and non-defense programs.
Greece's unemployment increased to 23.6% in the second quarter just as they are meeting with the troika made up of the European Union (EU), European Central Bank (ECB) and the International Monetary Fund (IMF). Greece needs additional financing for restructuring the private-sector involvement that wrote down about $100 billion euros.
George Soros came up with an interesting proposition for the Euro Zone. He suggested that Germany either lead or leave. The European Union, he felt, was to be more of a voluntary association of equal states. If Germany left, he felt the Euro FX would fall in value, but would survive. He also felt that if the other countries such as Greece, Spain or Italy left that it would be disastrous.
Now, we also have Egypt expecting a $4.8 billion IMF loan deal within the next two months. They are also in negotiations with World Bank and African Development Bank for an additional $1 billion. The US has also been working with Egyptian President Mursi on a $1 billion forgiveness package. While the US has been buoyed by the Fed and the Euro Zone has been supported by the ECB, there is still a great deal of work to be done.
On the stock side: JP Morgan Chase and Co. (NYSE:JPM) was up 3.71 % to $41.40. Citigroup Inc. (NYSE:C) was up 4.11 % to $34.41. Bank of America (NYSE:BAC) was up 4.46 % to $9.37. Alcoa Inc. (NYSE:AA) was up 2.89 % to $9.62. Boeing Co. (NYSE:BA) was up 0.33 % to $71.19. Caterpillar Inc. (NYSE:CAT) was up 0.83 % to $89.86. General Electric Co. (NYSE:GE) was up 0.59 % to $22.02. Halliburton Co. (NYSE:HAL) was up 1.99 % to $36.44. Hewlett Packard Co. (NYSE:HPQ) was up 1.39 % to $18.24. SPDR Select Sector Fund - Financial (NYSEARCA:XLF) was up 2.60 % to $16.15.
E-Mini S&P 500 Chart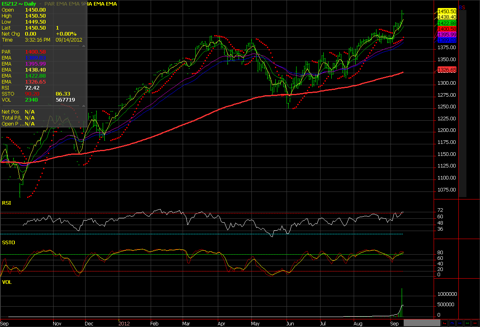 Friday, what to expect
We maintain a bullish bias unless the (December) E-Mini S&P 500 penetrates $1395.75. Thursday's range was $1457.25 - $1428.00. The market settled at $1450.50. Our point of control for this market is $1437.25. Our anticipated potential range for Friday's trading is $1473.50 - $1440.50.
Disclosure: I have no positions in any stocks mentioned, and no plans to initiate any positions within the next 72 hours. I wrote this article myself, and it expresses my own opinions. I am not receiving compensation for it. I have no business relationship with any company whose stock is mentioned in this article.