In a previous report, we had argued that the stocks of Verizon Communications (NYSE:VZ) and AT&T Inc. (NYSE:T) are attractive, not because they are growth stories, but because they are offering high dividend yields in the current low-yield environment. Verizon currently offers a high dividend yield of 4.6%, which compares very well to the current 10-year treasury yield of 1.67%. However, it must be a worrying sign for investors when these telecoms display fluctuations in their margins due to a product launch (iPhone 5).
Verizon Communications Inc. has been partnering with Apple (NASDAQ:AAPL) to sell its products since the start of 2011, and now with the recent launch of the iPhone 5, it is one of the three carriers that will carry it apart from AT&T and Sprint Nextel Corporation (NYSE:S). Verizon has announced that it will offer the new iPhone from September 21, with the 16GB model going as low as $199 on a two-year contract.
What is interesting is that the new iPhone has 4G LTE capability, which is both good and bad news for Verizon. It will work well for Verizon in that the company has been building its 4G LTE network for quite some time now. AT&T is also aggressively expanding its 4G LTE network; however, it is still behind Verizon in that regard. Currently, Verizon's 4G network covers over 300 markets, with expectations of covering more by the end of this year. Obviously, Verizon is the clear winner here as it has more coverage than its other rivals, and as iPhone users demand better speeds, it will likely attract more customers to join its network. Interesting to note will be the churn the three carriers report for the third quarter.
As the iPhone 5 has 4G wireless technology, the ongoing battle between Samsung and Apple will most likely intensify. According to reports, the Korean company had earlier decided to sue Apple if its new phone was launched with 4G technology, as it believes that Apple has infringed its LTE patents. Now, according to a news report, both companies are getting ready for another battle over LTE patents. And since Samsung holds the largest number of LTE patents globally, it is quite possible that it will use its superiority in the technology to influence its continuing litigation with Apple. Moreover, if this time the court gives a ruling in favor of Samsung, Verizon may lose the competitive advantage it currently has over its other rivals, because of its wider 4G coverage.
However, there is also the flip side to the competitive advantage that Verizon has over other rivals, and that is margin erosion. Companies like Verizon, AT&T and Sprint pay AAPL huge amounts in subsidies for each iPhone sold. On average, both Verizon and T are paying around $400-to-$450 per smartphone sold. So if customers flock to Verizon's network for its faster speeds, the company's margins may take a hit, despite the late third quarter release.
In an investor webcast, the company's chief financial officer said that because of a short selling period for the new iPhone 5 in the month of September, he doesn't expect too much contraction in margins in the third quarter, further adding that fourth quarter margins would be adversely impacted due to higher volumes. However, according to an analyst at Piper Jaffray Cos, Apple could sell around 10 million iPhones in the few days remaining in the month. Some analysts are also estimating a hit of approximately $1 billion to the earnings of Verizon and AT&T in the third quarter, due to the early launch of the phone. Whether or not Verizon's CFO is right about the modest third quarter margin erosion remains to be seen.
Looking at the latest filings of T and VZ, both companies have reported an increase in their wireless revenues, as well as wireless operating margins. Perhaps the biggest reason for the increase was that people held off on their iPhone purchases until the launch of the iPhone 5. It is well understood that by providing smartphones, telecom companies experience an erosion of their margins, as they heavily subsidize the price of the phone to attract customers. However, they are also able to recover their losses through lengthy contracts. It is all related to the iPhone cycle, as margins go up without the iPhone and they go down when they have to pay Apple all those subsidies.
Both AT&T and Verizon sell the most number of iPhones in the U.S., and despite the high subsidies they have to pay, they will definitely keep selling Apple devices. Now, with the possibility of a Samsung ban, Apple might even be able to increase its market share at both Verizon and AT&T. Telecom carriers need the iPhone so they can increase their market share, and since they can't reduce the subsidies they pay, they will be pushed to keep raising prices on their plans, which will eventually be borne by consumers. The table below illustrates the smartphone share for different telecom carriers. It also makes it clear how large an exposure Verizon and AT&T have to products by Apple.
Click to enlarge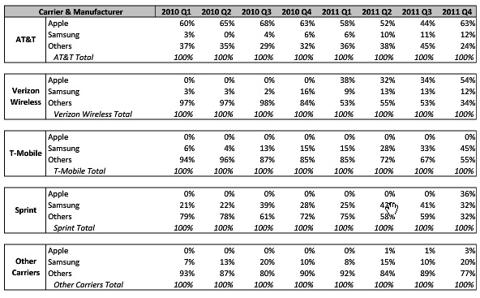 Disclosure: I have no positions in any stocks mentioned, and no plans to initiate any positions within the next 72 hours.
Business relationship disclosure: The article has been written by Qineqt's Telecom Analyst. Qineqt is not receiving compensation for it (other than from Seeking Alpha). Qineqt has no business relationship with any company whose stock is mentioned in this article