In November of last year, a 3,000-barrel oil spill occurred at the Frade field offshore Brazil. This resulted in an $11 billion civil lawsuit against field operator Chevron (NYSE:CVX) and drilling rig operator Transocean (NYSE:RIG). Chevron was also fined an additional $110 million by environmental and oil regulators. Since that time, both companies have been involved in a legal mess that could potentially make it extremely difficult for the Brazilian oil company Petrobras (NYSE:PBR) to achieve its ambitious growth goals.
At the end of March, the same Brazilian prosecutor that brought the $11 billion civil lawsuit filed criminal charges against 17 local executives and employees of Chevron and Transocean. The charges included failure to realize protocols to contain the leak; failure to take steps to kill the well and stop the drilling process; breach of licenses, legal norms, and regulation, including altering documents; and failure to meet legal and contractual duties. The employees that have been charged could face prison sentences of up to 31 years if convicted. Both Chevron and Transocean have stated that there is no validity to these charges.
The situation got worse for both companies at the beginning of August. On August 1, 2012, a Brazilian judge issued an injunction barring Transocean and Chevron from operating in Brazilian territory. The companies were given thirty days to cease all operations in the nation. Transocean and Chevron immediately filed an appeal of this injunction. The two companies received support in this appeal from both Petrobras and ANP, the country's oil regulator. These two organizations likely realized that damage that could be done to Brazil's rapidly growing offshore oil production should this injunction be allowed to stand. ANP also argued that the court overstepped its authority and stated that it (ANP) has the sole statutory power to decide who can and who cannot operate in the Brazilian oil industry.
Unfortunately for Transocean and Chevron, this appeal failed. On Tuesday, August 28, a panel of three Brazilian federal judges upheld the injunction in a unanimous verdict. The ban is expected to take effect in less than a month, while further civil and criminal penalties are sought against the two companies and their executives and employees. The two companies and the ANP will continue to pursue the legal options that are available to them in order to prevent this ban from taking place.
Transocean currently has 10 offshore drilling rigs operating in Brazil: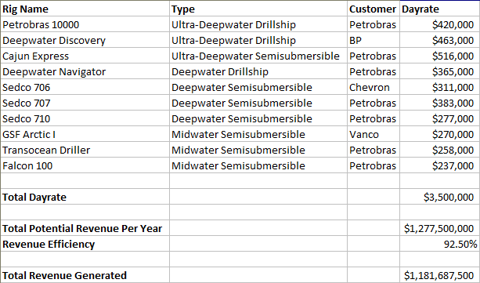 Source: International Hedges
These ten rigs generate total revenue of $3,500,000 each and every day for Transocean. This works out to approximately $1.28 billion per year of revenue from Transocean's Brazilian operations assuming 100% revenue efficiency. As 100% revenue efficiency is unrealistic to expect, the total revenue actually being generated by these rigs is somewhat lower. Transocean achieved a 92.5% revenue efficiency across its fleet in the second quarter. If we assume that the rigs in Brazil also each achieved this, then we can calculate that these ten rigs would generate annual revenues of $1.18 billion for Transocean.
The ultimate result of this legal battle remains to be seen. If the injunction against Transocean stands, then that would be cause for Transocean to declare force majeure on all of its rig lease contracts in Brazil. Force Majeure is a legal term that means "superior force." It is a provision in contracts that frees both parties from liability when an extraordinary event or circumstance beyond the control of the parties to the contract occurs and prevents one or both parties from fulfilling the terms of the contract. If Transocean declares force majeure on its Brazilian contracts due to the court's injunction, then the contracts for these rigs will be terminated. The customers would continue to pay the dayrate assigned to the rigs for a period of time specified in the contract. Following the end of this standby period, both Transocean and the respective customer would have the right to terminate the contracts for the rigs.
Transocean would lose all the revenue generated by these rigs after the standby period ends should the company declare force majeure. This loss of revenue would persist until the company can re-contract out these rigs and move them to their new assignments. That would likely take at least six months to accomplish and probably longer. Alternatively, Transocean could choose to sell these rigs. The company would still lose the revenues and cash flows from these rigs. However, the company would also obtain a considerable amount of cash for these ten rigs. That cash could be used for any number of purposes including paying down long-term debt or partially covering the company's legal liabilities. Depending on the sale price, Transocean may also be able to report a gain on the sale of the rigs.
Disclosure: I have no positions in any stocks mentioned, and no plans to initiate any positions within the next 72 hours. I wrote this article myself, and it expresses my own opinions. I am not receiving compensation for it (other than from Seeking Alpha). I have no business relationship with any company whose stock is mentioned in this article.