Originally written on July 11, 2008
Experienced investors in biotechnology companies have learned to think like venture capitalists: they spread the risk. This makes biotech-focused ETFs, which are inherently diversified, ideal vehicles for investors in the sector. But which ETF is the best? Although there are currently only four ETFs focused on biotech to choose from, because their holdings tend to be so diverse, ranking these funds is more difficult than many other sub-asset classes. The four funds and their expense ratios follow:
| | |
| --- | --- |
| FUND | EXPENSE RATIO |
| iShares Nasdaq Biotech Index (AMEX:IBB) | 0.48% |
| First Trust AMEX Biotech Index (AMEX:FBT) | 0.60% |
| Biotech SPDR (AMEX:XBI) | 0.35% |
| PowerShares Dynamic Biotech and Genome (NYSEARCA:PBE) | 0.65% |
In terms of their holdings these funds are distinguished first of all by their distinct approaches to diversification. IBB holds essentially all biotech companies in the Nasdaq Index, with 170 holdings overall.
By contrast First Funds is highly concentrated. It holds just 20 companies, with no individual company exceeding 7% of its index.
State Street's Biotech SPDR XBI holds about 25 funds and is similarly concentrated with most holdings weighted between 3-5% of the fund.
PBE tries to outsmart the three standard biotech indexes, espousing a proprietary selection criteria. According to its prospectus a methodology is based on "fundamental growth, stock valuation, investment timeliness and risk factors." In fact most of PBE's top holdings are also top holdings in the other funds. Currently only four of its top ten holdings are not found in any of the top ten of the other three funds, a rather typical assay.
Which fund is most representative of the sector overall? There is no easy answer. iShares was the first to launch an ETF and therefore is the de-facto benchmark. Capitalized at over 1 billion, its IBB product is five times the size of XBI and PBE and over twenty times the size of the new First Trust Product FBT. But because its holdings are restricted to Nasdaq securities, one of the most important biotech names, the behemoth Genentech (NYSE:DNA), is not included. IBB also is cap-weighted and thus despite its diversity is highly concentrated in biotech's other big names: Amgen (Nasdaq:AMGN) and Giliad Sciences (Nasdaq:GILD), which together compose around 20% of the fund, a level of concentration (and arguably beta) not found in any of the other biotech ETFs.
Because of the sector's volatility the inclusion or exclusion of a particular company can have a big impact on returns, these ETFs at least over the short to mid-term perform very differently. For example, in the period from June 2007- July 2007 XBI outperformed the other three ETFs by 15-20%.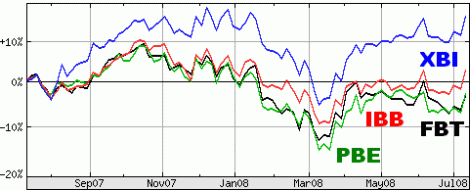 One possible explanation for the superior returns of XBI over the period shown in the chart above is the relatively high quality (but also higher P/E multiple) of its holdings.
Over the longer term performance variation between these funds, especially in comparison with the "best of breed" super-asset benchmark Vanguard Healthcare (AMEX:VHT), may be anomalous. This may provide opportunities for trading or hedging multiple biotech ETFs against each other based on performance variation. These funds can also be attractive as hedges for individual stock ownership.
Biotech is known as a boom-bust sector: down in the 1980s, up in the 1990s, flat to lower again in the first decade of this century. Typically thought of as a sub-sector of Healthcare, biotech has become critical to portfolio strategies with a focus on long-term growth. The four funds in the biotechnology sub asset class are unusual in the diversity of their holdings. Nevertheless they all are subject to investor enthusiasm for the biotech meme and can be expected to perform similarly over the long term.