Helicopter Ben lived up to his moniker yesterday by giving an open-ended commitment to buy $40B of mortgages monthly. The stated reason behind this latest Federal Reserve largesse was to improve Americans' job prospects (primarily that of professor Bernanke and that of his boss, in my opinion). This latest money drop from Helicopter Ben is likely to only help on the margins in supporting the economy and job growth. I also believe it will produce unintended detrimental consequences at some point in the future (ex. higher long-term inflation). Some of the smaller speculative gold mining stocks have already started to anticipate this and have vastly outperformed the overall market over the past month (see chart for performance of the two miners to be profiled). Given that these stocks have still significantly underperformed the S&P over the last year even with the last month's pop, I still think there is further upside to this theme. Here are two highly speculative gold miners I hold in my portfolio that aggressive investors should consider to play this reflation thesis.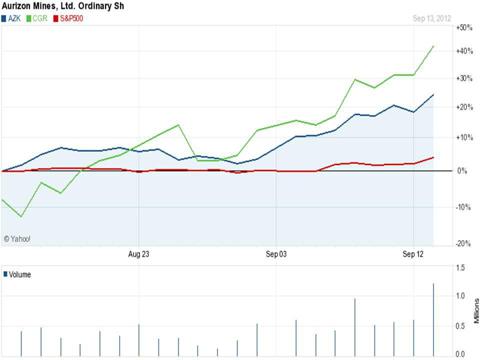 "Aurizon Mines Ltd. (AZK) engages in the acquisition, exploration, development, and production of gold properties in North America. The company's principal properties include the Casa Berardi gold mine and the Joanna gold project both located in the Abitibi region of northwestern Quebec." (Business description from Yahoo Finance)
4 reasons AZK is a solid speculative play at just under $5 a share:
Its latest exploratory drilling results from its properties in Canada were positive. All of Aurizon's assets are in geopolitically stable Canada as well.
The company has over $200mm in net cash on the balance sheet (over 25% of market capitalization).
The stock is cheap at just 7 times operating cash flow and the median analyst price target is $6 a share.
AZK has traded in a range of $4 to $7 a share over the past two years. Given the rise of gold prices over the last month, and the likelihood of further price increases triggered by central bank's money printing efforts, I believe we should head to the higher end of the range in the medium term.
"Claude Resources (NYSEMKT:CGR) explores for gold mineral reserves and mineral resources in northern Saskatchewan and northwestern Ontario. The company principally holds a 100% interest in the Seabee gold mine covering an area of 14,400 hectares located at Laonil Lake, northern Saskatchewan." (Business description from Yahoo Finance)
4 reasons CGR is good aggressive speculative play at just under $1 a share:
Claude Resources should book an over 15% revenue increase in FY2012. Analysts expect better than 20% growth in FY2013.
The stock is cheap at 7.5 times forward earnings and just 83% of book value.
The stock has traded between a range of 60 cents and just under $3 over the last two years. It is now at near the bottom of this range and should continue to trend higher on the back of higher gold prices.
The company has doubled its inferred resource over the last year and its latest released exploratory drill results were very positive.
Disclosure: I am long AZK, CGR. I wrote this article myself, and it expresses my own opinions. I am not receiving compensation for it (other than from Seeking Alpha). I have no business relationship with any company whose stock is mentioned in this article.