Many investors seem to agree a well-diversified portfolio should have a utility for safety, a yield grower that consistently raises its dividend year after year, and a solid yielding MLP for its notorious exposure to the energy sector. At this point, you may think this is just another article covering Consolidated Edison Inc (NYSE:ED), Proctor & Gamble (NYSE:PG) or Kinder Morgan (NYSE:KMI), right? Wrong. Would you believe you could come close to achieving this level of diversity and yield all in one stock? Well, you can with Brookfield Infrastructure Partners LP (NYSE:BIP).
This company operates a diverse group of businesses all over the world:
A port facility that exports metallurgical and thermal coal mined in the central Bowen Basin region of Queensland, Australia.
8,800 kilometers of electricity transmission lines in North and South America.
1.5 million electricity and natural gas connections in the United Kingdom, New Zealand, and Colombia.
Transportation, storage, and handling services for energy, freight, bulk commodities, and passengers via rail service with approximately 5,100 kilometers of tracks in southwestern Western Australia.
30 port terminal

s

, primarily in Europe.
15,500 kilometers of natural gas pipelin

es,

primarily in the US.
Timber businesses and approximately 419,000 net acres of freehold timberlands located in the coastal region of British Columbia, Canada

,

and the Pacific Northwest region of the United States.
Electricity transmission, natural gas pipelines, timber businesses, railroads, ports with exposure to shipping and coal exporting, with operations spanning three continents- it seems like this company has its hands in everything you could ever want from a utility. However, I know what you're thinking: What about the yield?
Brookfield Infrastructure Partners currently pays a 4.3% yield and is positioned as an MLP. BIP has raised the payout every year since 2009. These were not just insignificant yield boosts. The 2012 distribution is now over 41% higher than it was in 2009. Combine 41% of increases with 130% share appreciation during the same period, and you must admit BIP has been a formidable investment over the past several years.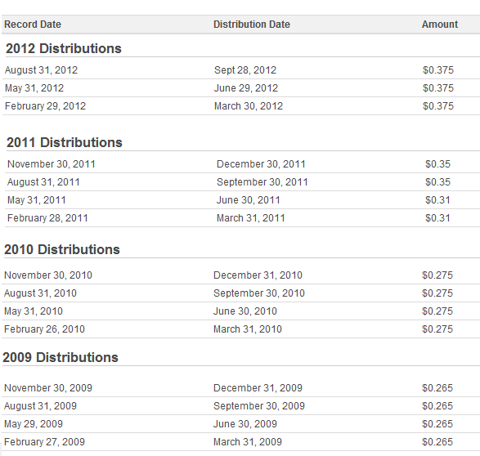 Latest Quarter Summary:
The partnership generated total revenue of $493 million, up 15.2% year over year.
Utilities: Funds from operations were up 18.2% yoy, driven by increased connections revenue from its UK-regulated distribution business and the contribution from its Colombian regulated distribution company that it acquired in early 2012.
Timber: Funds from operations of $6 million, down 53.8% yoy due to weaker demand from China and South Korea.
Transport and Energy: Funds from operations of $53 million, up 35.9% yoy. The results reflect its three Australian expansion projects and an increase in grain volume as a result of record harvest in Western Australia.
My Thoughts:
Brookfield Infrastructure Partners has been a solid investment over the past several years. BIP's formidable combination of diversified businesses spanning many different countries, and its history of distribution increases should not be overlooked. If you are in search for safe stock to help buoy your portfolio in case of a pullback once the QE3 dust has settled, look no further than BIP.
Disclosure: I am long KMI. I wrote this article myself, and it expresses my own opinions. I am not receiving compensation for it (other than from Seeking Alpha). I have no business relationship with any company whose stock is mentioned in this article.
Additional disclosure: I may initiate a long position in BIP over the next 72 hours.