It's a good time to be an owner of shares of a company like Freeport-McMoRan (NYSE:FCX). Even though FCX didn't have the best quarter on record, they are in the right business at the right time
During a conference call last Tuesday to discuss second-quarter financial results, Freeport President and CEO Richard Adkerson spoke his mind about cost, production and global demand.
The CEO stressed that FCX believes that higher new mine construction costs and increased production costs for the mining industry in general "are going to be another barrier to the delays that major greenfields projects are facing in this industry. It's going to be in everybody's thinking."
Therefore, Freeport is striving to "come in earlier with brownfields expansions, with an eye on "being able to profit from the overall situation that the industry is facing from a supply-development standpoint," Adkerson emphasized to analysts.
"We think the world's going to use all the copper we can find and produce," he declared. FCX now has significant development activities underway to expand production volumes, extend mine lives, and develop large-scale underground ore bodies.
In addition to the projects now under way, the New Orleans-based mega-miner is reviewing its properties to evaluate potential for expansion of existing ore bodies.
To help accomplish this, Freeport has increased its exploration budget this year from $180 million to $240 million. That's a 33% increase and is directed precisely to the future of copper demand in the developing world.
Adkerson told analysts the company can add 80 billion pounds of copper equivalent through exploration at current Freeport mines and operations. He explained that the company expects to consistently add reserves for the next four to five years.
Companies like Southern Copper (NYSE:PCU) whose yield is now a lofty 7.6%, also will be major beneficiaries of the supply and demand conundrum that is a part of the sheen on copper's future.
Take a look at this chart on copper futures and it shows a trend in action:
As one analyst put it, "Technically the copper chart looks fine , a-b-c 3 waves correction then an impulsive rally (wave i) , wave iii is currently underway, PPO , RSI up trending bullish. Potential inverted head shoulders pattern with a price objective of 520."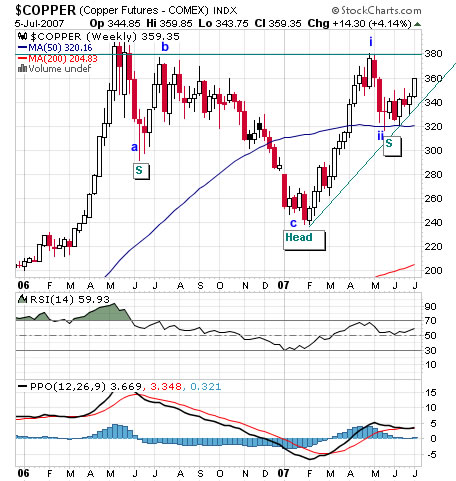 This brings to mind elements of the interview that The Gold Report did with newsletter writer and analyst Lawrence Roulston of Resource Opportunities.
In this wide-ranging interview, Roulston gives his thoughts on the outlook on the economy and what factors impact the gold market and all the other metals. His part of the copper-oriented comments that underscores the powerful copper price trend.
TGR: What should our readers be thinking about in terms of the base metals, particularly copper?

LR: Copper is the biggest of the base metals, but in my mind is like all the other base metals, and I will make some general comments. As the developing world has developed, demand for base metals, oil, food and every commodity on the planet has been escalating at a pace that nobody thought possible.

So when you look at the base metal prices, most of them are up several times, 10 times in some cases, from where they were at the start of the decade. This reflects the fact that demand for the metals has been increasing much faster than the industry has been able to increase its production capacity.

There's a perception that the base metal prices are going to come back down in the near term because of concerns about the slowing U.S. economy. In many investors' minds, and even in many analysts' minds – which is surprising – there's a perception that a slowdown in the U.S. economy will slow down the rest of the world, and that in turn will slow the demand for metals and the prices will come back down...
Credit Suisse addressed that issue earlier this year and looking at the copper market in particular, they said, if the U.S. economy continues at the current pace and the rest of the world continues to grow, even if somewhat slower than they're going, the copper price would rise from the current level near $4 to $6.
Their downside scenario was that the U.S. would go into a serious recession and other economies around the world would slow significantly to the point where overall growth in the world would be severely curtailed. In that worst-case scenario, they predicted that the copper price would come down to $2.60 a pound.
I am not holding my breath on seeing copper anywhere near $6 in the near term and certainly not factoring that into any analysis. But a lot of thought went into the Credit Suisse analysis, and I think that's a pretty good indication of how to see it. They're saying the worst-case scenario is $2.60; long-term projections on the copper price now being used to value junior companies are on the order of $1.50 a pound. So anything over a $1.50 a pound represents investment potential on any of these juniors.
[There are some other awesome companies, juniors, mid-tiers and senior copper producers which are worth mentioning here. Just to name a few: one junior that looks worth checking into and that has a lot going for it is Copper Mountain Mining (OTC: CPPMF.PK).
From a mid-tier, base metal value perspective, Lundin Mining (NYSE:LMC) looks like a great long-term bet. One bigger copper company that analysts have said is one of "the easier companies to own in the current environment of increased uncertainty over deflation and inflation risks and concerns about global growth rates" is Inment Mining (OTC:IEMMF.PK) that has very impressive numbers, growth in production and proven resources).]
A Precious Gem of Investing Wisdom
As Roulston put it, "But just to reiterate my fundamental investment philosophy, if you're looking for a metal that might spike in the short term or even the longer term, you're just speculating on a commodity price. And there are so many variables that really it's speculation.
"Whereas if you look at a particular company, you've got a much greater opportunity for identifying situations where there's a greater likelihood of the value increasing as the companies execute their business plans."
Roulston's "fundamental investment philosophy" when it comes to investing in the metals is itself a "precious gem" of investing wisdom. Knowing the difference between speculating and investing is the key between being a risk-monger and being a long-term investing winner.
If we rein in our emotions, our fear and greed especially, and stick to the time-tested, priceless disciplines of our personal fundamental investment philosophy we will always do better, much better, in the course of time.
If copper drops to $2.60 and we have some cash ready to invest in well-positioned producers at that point, our chances of making some big profits when copper goes to $6.00 are greatly enhanced. A strong, rational and proven investment philosophy with sensible disciplines are the true "precious gems" that every investor should own and protect.
Disclosure: long FCX, CPPMF.PK and LMC.