Introduction
As seen in the below graph, Ford's growth in revenues has been very unstable since 2006. The European operation of Ford (F) was especially hit hard in 2009 as revenue declined by 25% due to the financial crisis. Except for 2009, Ford accomplished positive revenue growth every year in that period, with a top growth rate of 15% in 2011. Margins, however, have gradually declined since 2007, and Ford hasn't made significant profit since 2008.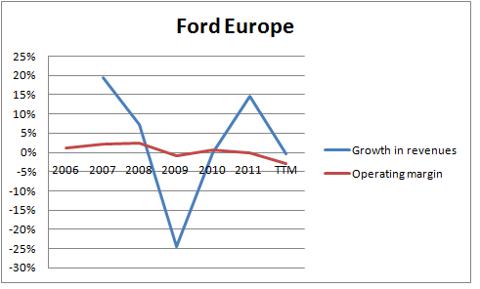 What has gone wrong in Europe?
This is not a simple question to answer as there are a lot of factors that have negatively impacted Ford's European situation. In this article I will focus on analyzing external factors. To be more precise, I will try to find out how the following factors impact the operating margin of Ford in Europe:
Growth in European GDP
Industrial commodity prices
Labor wages in Germany
Overproduction of cars
GDP in Europe
GDP growth is a measure of economic strength in the Euro zone. If GDP is showing signs of weakness we would expect consumers to buy fewer cars and spend less on each car. This means that the automotive industry (ceteris paribus) will decline and margins will deteriorate, since consumers will prefer cheaper cars over more expensive cars (where margins are higher). In the below graph you can see the correlation between growth in GDP and the amount of vehicles that Ford has sold in Europe. As expected there is a very strong correlation, which means that the growth rate of GDP has a large influence on the amount of vehicles sold.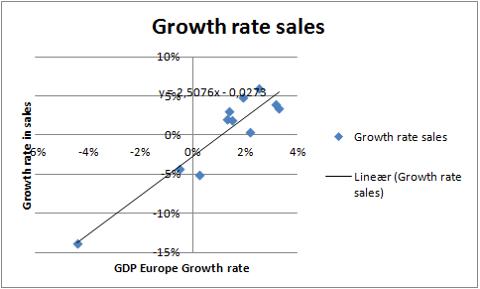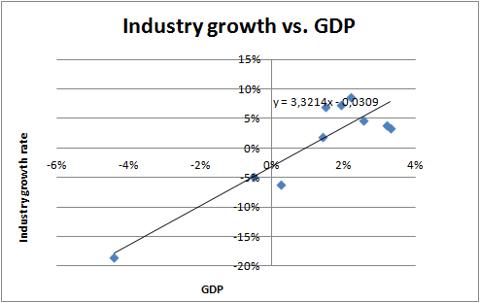 Industrial commodities prices
An increase in commodity prices, such as steel and aluminum, increases the costs of producing vehicles. Therefore we would expect a negative correlation between operating margin and an increase in the prices of commodities.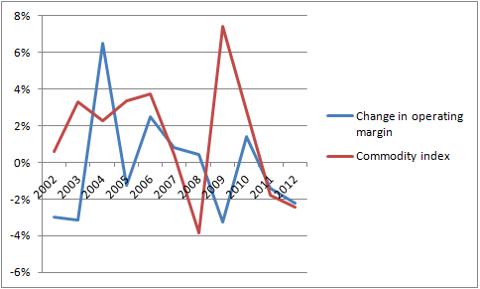 Source: Indexmundi.com
Looking at the above graph, it seems that there isn't a very strong correlation between change in operating margin and prices of commodities. However, this doesn't mean that steel and aluminum prices have no impact on the profitability of Ford, but rather that there are other factors which are more important.
Labor Wages in Europe
Ford bases most of its production in Germany; thus, we would expect an increase in German labor wages to have a negative impact on the operating margin. However, if an increase in labor wages is followed by a similar or higher growth rate of GDP, operating margins could possibly rise. Therefore I have plotted the excess wage increases in Germany (calculated as increases in wages - growth in GDP) against operating margin in Ford Europe.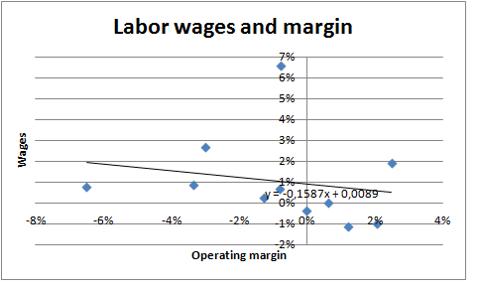 Source: Bundesbank.de
As expected there is a small negative correlation between labor wages and operating margin. The largest outlier is in the year 2009, where operating margin is -0.5% despite wage increases of 6.5%.
According to one analyst, wages and related expenses accounts for roughly 10% of production costs. Last year Fold sold around 1.6 million vehicles in Europe. Assuming an average production cost of $600 per vehicle, the total production costs are around $1 billion. The difference between a 5% increase in wages and no change in wages is $50 million, which is equal to a difference in operating margin of 0.1%.
Overproduction of cars
The last factor I want to analyze is whether overproduction of vehicles has an impact on Ford's margins. To do that, I have plotted the GDP growth against the amount produced vehicles (on an industry level). As seen in the below graph, there is a strong correlation (75%), which means that automakers produce cars in response to the strength of the economy. If growth in GDP starts to slow down, automakers should produce fewer cars; otherwise, it could lead to oversupply, which puts downward pressure on prices.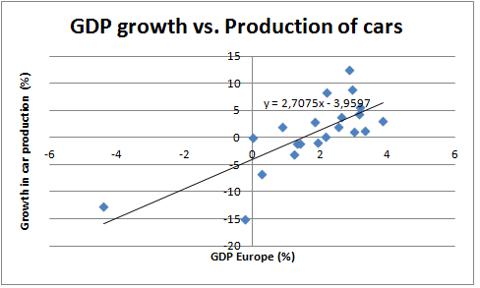 Source: Acea.com
However, there have been some years where too many cars were produced (instances of overproduction are represented by the dots above the regression line). To find out if this has any impact on the profitability of the European operation, I have plotted overproduction against an "adjusted operating margin" of Ford in Europe. The "adjusted operating margin" is basically an estimation of what margins would be if labor wages and commodity prices grew at an average rate each year. You can see the difference between the margins in the below diagram.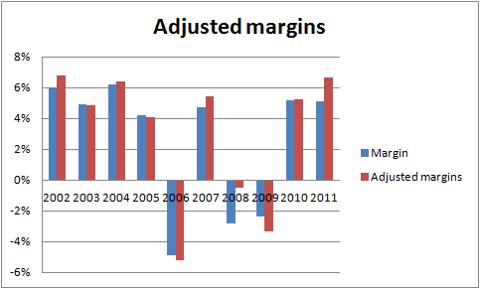 I do not, however, expect overproduction to have an immediate effect on margins, as there is a delay before the supplier's lower prices in response to the oversupply of vehicles. Therefore I have lagged overproduction against operating margin. As expected, there is a negative correlation, though the dots are too widely spread to have any significant power of explanation. Thus, I can conclude that auto-manufacturers generally do very good at producing the optimal amount of vehicles, and that Ford can't use overproduction as an excuse for its lack of profitability.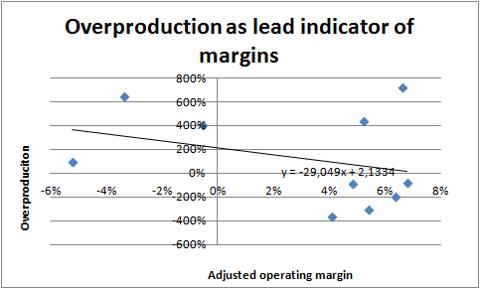 Does it all even matter?
After examining all these graphs and regressions, the question becomes: Are we any more knowledgeable? Well, to be honest, not really. Neither labor costs, commodity costs, nor overproduction seem to be decisive factors in estimating the margins of Ford's European operation. The input costs (commodities and wages) seem to constitute a relatively small part of the earnings, and I believe that automakers are generally very good at estimating the proper amount of vehicles to produce each year, which means overproduction isn't a factor.
The importance of economic growth
While the 3 factors mentioned in the prior passage do not have a significant impact on profitability, I think growth in GDP has a big influence on the success of Ford Europe. As I previously outlined, there is a very high correlation between growth in vehicle sales and the growth rate of GDP. Furthermore, besides increasing revenues, increases in vehicle sales also have a positive effect on operating margins.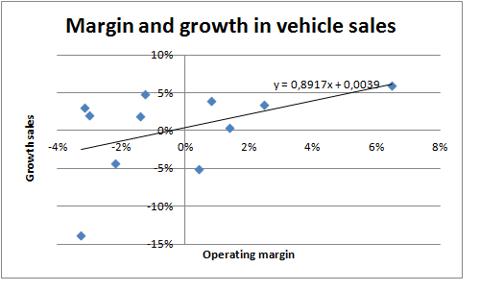 The explanation for the positive correlation is simple: Ford only uses 63% of its factory capacity in Europe. The costs related to the factory are fixed, so if revenue increases (due to increased vehicle sales), factory costs remain unchanged, which increases operating margins.
So can Ford blame the macroeconomic problems in Europe for its negative margins? To some extent it can, and as you can see in the below graph, Ford was actually doing pretty decently from 2006-2008. But in 2009 GDP declined, and the profitability of the European operation has never recovered.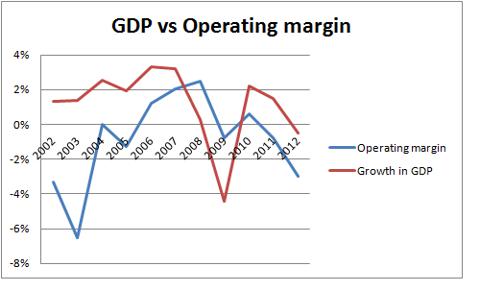 It's about economic growth… and market share
But macroeconomic problems can't completely explain the lack of profitability in Europe. Ford seems to be less competitive today than it was a couple of years ago, as evidenced by the steady decline of its market share since 2009. The top performers over that period are Volkswagen (OTCPK:VLKAF) and Hyundai (OTC:HYMLF).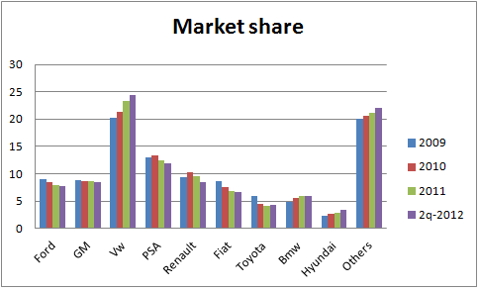 CFO Bob Shanks has acknowledged that the problems may not be solely be caused by the economic crisis, as he during the most recent earnings call said:
We fully understand the seriousness of the situation in Europe and we view the challenges the industry faces as more structural than cyclical in nature.
The advantage Hyundai has over Ford is the ability to produce cheap vehicles. Hyundai produces its vehicles in low-cost countries like Czech Republic, Slovakia and Turkey, while Ford has its main factory in Germany. Hyundai pays workers about 207 Euros to make a Hyundai i30, while Ford pays workers about 480 Euros to make a Focus compact. This difference allows Hyundai to offer cheaper vehicles, and since Ford does not produce significantly higher-quality vehicles compared to Hyundai, consumers are buying more Hyundai vehicles. Meanwhile, Volkswagen has had a lot of success with its Golf, which is the best-selling car in Europe, and Audi (a subsidiary of Volkswagen) leads luxury auto sales in Europe.
What to look for as investors
To sum up, I believe this is what we need to look at when evaluating Ford's European situation:
Commodity costs and labor costs are not that influential. Nevertheless, I believe Ford can add some basis points to margins, if it can secure some decent wage reductions in (potential) negotiations with European labor Unions.
It is very important that Ford begins to sell more vehicles and win back its lost market share.
The GDP of the Euro zone needs to be followed very close by investors, as Ford will have a hard time earning money in their current environment (though it is possible that they could break even if they had maintained their market share).
One way investors can gain an insight on whether the economy of the Euro zone is improving is to look at the Consumer Sentiment/Consumer Confidence index. In the below table you can see the historical consumer sentiment and the historical GDP growth rate for the Euro zone. As you can see there is a relatively high correlation.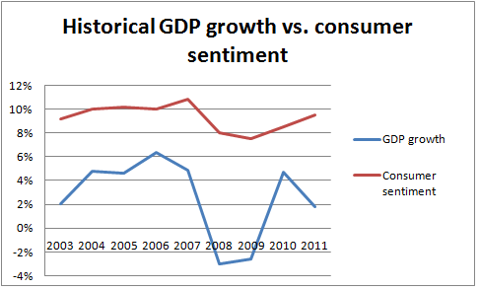 Source: ec.europa.eu/
In the below graph I have taken a closer look at the Consumer Confidence vs. GDP on a quarterly basis. Since the former is updated on a monthly basis, its is a decent estimator of the GDP growth we can expect in Q3 2012. As you can see, Consumer Confidence has declined a bit in Q3 (July + August), which indicates that there is no recovery in sight.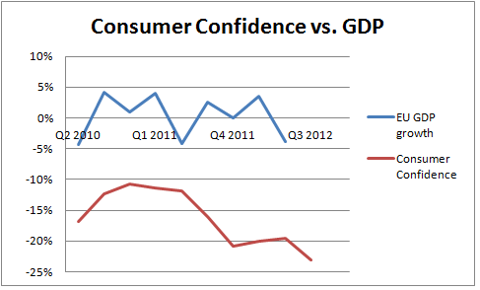 Source: ec.europa.eu/
Though the outlook for the European operation of Ford seems negative, remember that Europe is just a small part of Ford Motor Company, and that Ford North America is extremely profitable. Given the low P/E ratio of the company, I still believe the company is fairly undervalued. But if you are looking for a quick profit on your investment, Ford might not be the best choice, as the European problems will drag the company down in the near future. As a long-term investment, the income from the North American operation alone will make your investment worthwhile.
Disclosure: I have no positions in any stocks mentioned, and no plans to initiate any positions within the next 72 hours. I wrote this article myself, and it expresses my own opinions. I am not receiving compensation for it (other than from Seeking Alpha). I have no business relationship with any company whose stock is mentioned in this article.