Earlier this week, I shared the background and overall asset allocation for my recently introduced "Conservative Growth/Balanced Model Portfolio."  You can refer back to the article or visit my website to learn more.  As I stated in the previous article, the equity component of the portfolio is overweight relative to the S&P 500 in the Industrial, Consumer Discretionary and Financial Sectors.  I previously shared my basis for taking these exposures.  Yesterday, I reviewed my selection of an Energy stock, Chevron (NYSE:CVX) that qualified for inclusion.  In this post, I would like to take share my reasons for including three Industrials:  Administaff (ASF), Carlisle Companies (NYSE:CSL), and Illinois Tool Works (NYSE:ITW).
ASF is a member as well of the Top 20 Model Portfolio. It focuses on HR services, providing small businesses with outsourced payroll, health benefits and many other services.  Based in the Houston area, the company has significant exposure to Texas, which I think is a good thing these days.  Other geographic concentrations are balanced.  The company focuses on leading smaller businesses and has little exposure to financial services.  The employees of their customers tend to be professional/technical (not labor). 
I believe that fears of high job loss have plagued the company.  The company has no debt, a very low valuation (14 P/E, 3.5X tangible book), generates significant free cash flow, has a very large short-interest, enjoys 17% insider ownership, pays a 1.5% dividend and has seen estimates rise slightly recently.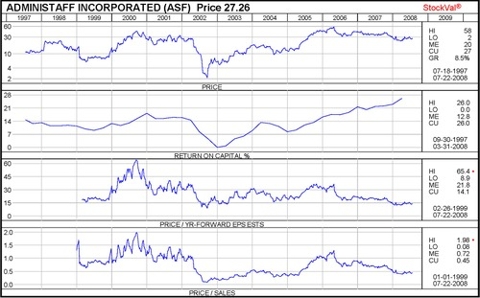 CSL is a stock that I have followed for quite a while.  I added the stock a year ago to my watchlist when they abruptly changed CEOs.  The new CEO came from Graco (NYSE:GGG), where he was wildly successful improving margins.  It has turned out to be a horrible environment, but the company is making some adjustments, is disposing of a division and seems to have a good plan.  CSL is a conglomerate with many different industrial exposures.  Building Materials is an area that has been challenging, but the company has exposure to agriculture and many other strong sectors of the economy. 
I was attracted to several metrics and added the name to the new model portfolio on Monday though they were reporting on Tuesday.  Fortunately, I also added the stock to my own holdings on Monday.  I felt that there was too much bad priced into the stock and that a surprise could take the stock from below $27 to $32.50 or so.  So far, it has reached $31, but I expect that many of the former GGG investors who looked into the new CEO situation a year ago may decide to take another look now that the stock is down 40% or so.
While the numbers have changed a bit since the rally, I was attracted to a P/E at a 20-year low and an EV/EBITDA ratio of 7X for a company with a strong balance sheet (18% net debt to capital).  The company generates significant free cash flow and has margins that sure look like they can be improved.  The short-interest level is quite high too.  The company has increased its dividends in each of the past 30 years.  With a payout ratio of just 21%, I expect that trend to continue.  While the stock has jumped, I actually added to it at $29 and hope to build out my personal position even further.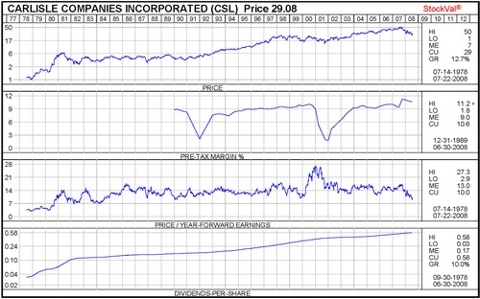 Finally, I recently wrote about ITW, which fell slightly more than I had anticipated.  Still, this highly diversified Industrial with 800+ operating divisions, held in fairly well and is extremely inexpensive.  Margins have been under pressure for a bit, though the P/E has also compressed.  I expect that this high-quality name will draw investors soon.  The P/E is at a 13-year low, the balance sheet is strong, inside ownership is in excess of 10% and the company has increased its dividend in each of the past 24 years.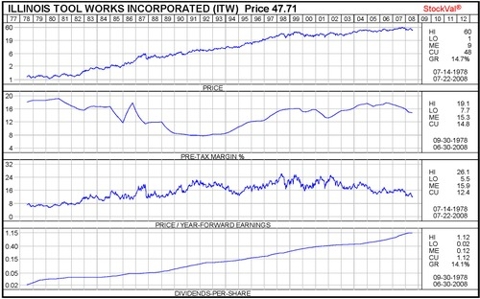 These three stocks allow the portfolio to get an above-average exposure to Industrials, with each stock quite different.  ASF, a small-cap, is a services company with strong growth potential yet conservative financial measures.  CSL, a mid-cap, is an operating-margin expansion story, a chance for new management to build on a rich history.  Finally, ITW, a large-cap, is a solid broadly diversified industrial with large global exposure at a rock-bottom valuation.  While CSL has underperformed the market YTD and over the past year, ASF is outperforming the market YTD and lagging it slightly over the past year as the P/E has compressed significantly.  ITW, on the other hand, has matched the market over the past year but is performing marginally better in 2008.
Disclosure:  The author is long ASF and CSL.