Southern company (NYSE:SO) pays an annualized dividend of $1.96 per share, which means a dividend yield of 4.3%, below its competitors. Duke Energy (NYSE:DUK) and Exelon Corp (NYSE:EXC) are better than Southern because of cheaper valuations and a higher dividend yield. Southern has been issuing common equity to generate cash, which is leading to EPS dilution.
Southern Company is one of the largest electricity generators and distributers in the U.S. It is primarily engaged in the generation, transmission and distribution of electricity. It operates through different entities, which include Georgia Power, Alabama Power, Mississippi Power and Gulf Power. It also owns the Southern Power Company. Georgia Power's revenue contribution to total revenue was highest in 2Q2012 (47%). Southern Power has the highest profit margin (16.4%).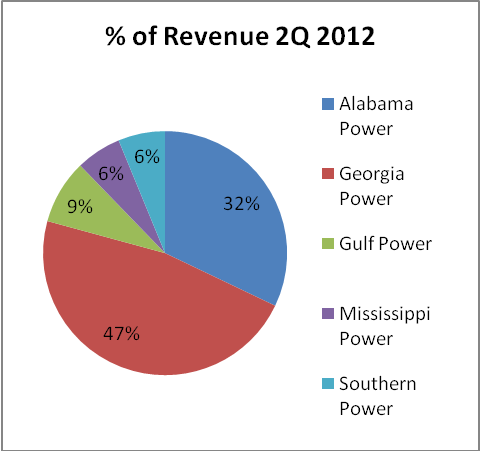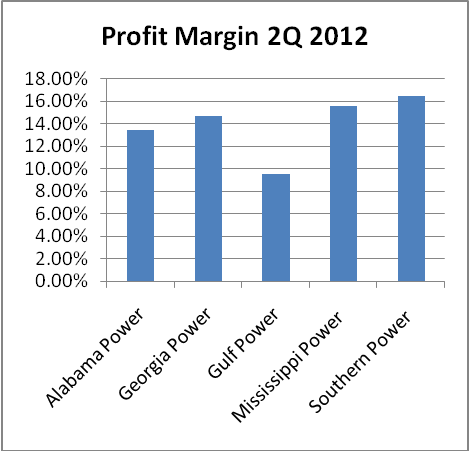 Source: 2Q Earnings release and Qineqt s estimates.
Southern Company reported revenues of $4.18 billion for 2Q2012, down 7.5% YoY. It reported EPS of 69 cents for the recent quarter, down 2.8% YoY, whereas its competitor Duke Energy's EPS increased by 3% for the same period. Second quarter earnings were slightly above the earnings estimate of 68 cents. Earnings for the quarter were down due to near normal weather in 2Q2012, as compared to unusual warm weather in the corresponding period last year. The earnings for Q32012 are expected to be up 4.5% YoY and annual EPS for fiscal year 2012 are expected to be up by 0.5%-5% YoY.
Total retail sales were down 1.9% YoY. In retail, commercial sales has the highest contribution with a ~35% share, followed by Industrial with ~33% and residential with 31.5%. In the first six months of 2012, operating companies added 20,000 new residential customers.
In recent years, the industry has been experiencing a change in inputs used for production of electricity "coal to gas switching" in the U.S. Natural gas usage for electricity generation has been increasing due to a fall in its price in recent times. Coal usage has been criticized for electricity generation input due to its adverse impact on the environment and nuclear power generation being considered unsafe. Southern has also been increasing its dependence on natural gas to take advantage of low gas prices - in the first half of 2012, share for gas was 46% as compared to 28% in the corresponding period last year.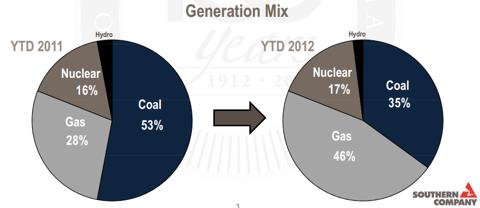 Source: investor.southerncompany.com
Southern has been working on the construction of Plant Ratcliffe, a coal-based generating plant, which would be operational in 2014. The company has also been working on nuclear plant Vogtle 3&4, with an estimated cost of $6.2 billion; based on 2016 and 2017 service dates, the cost for the project is expected to increase by $87 million. The company might have to face criticism on its nuclear facility construction, as it is considered unsafe; concerns regarding nuclear facilities have been on a rise since the nuclear facility accident in Japan.
Currently, the company offers a dividend yield of 4.3% and an annual dividend rate of $1.96 per share. Southern has been paying continuous dividends in the last 259 quarters, and in the last 11 years, dividends have been increasing. Dividends paid by the company were not backed by free cash flows; rather, the company has been issuing common equity to generate cash. Common shares outstanding have increased by ~16% in the last five years, from 756 million in 2007 to 875 million by 30 June, 2012. If the company keeps on issuing shares to generate cash, it will lead to EPS dilution. Yield offered by the company is below its competitors' average of 5.1%.
| | | | | | |
| --- | --- | --- | --- | --- | --- |
| | P/E forward | P/B | Dividend Yield | Debt to equity | Interest Coverage |
| SO | 16x | 2.2x | 4.3% | 115% | 4.5x |
| Duke Energy Corporation | 14.5x | 1.3x | 4.7% | 95% | 5.4x |
| Exelon Corporation | 13x | 1.35x | 5.9% | 87% | 6.3x |
| PPL Corporation (NYSE:PPL) | 12 | 1.5x | 5% | 180% | 3.45x |
| Ameren Corporation (NYSE:AEE) | 16.7x | 1x | 4.9% | 89% | 1.9x |
| Average | 14.1x | 1.3x | 5.1% | 113% | 4.3x |
Source: yahoofinance
Disclosure: I have no positions in any stocks mentioned, and no plans to initiate any positions within the next 72 hours.
Business relationship disclosure: The article has been written by Qineqt's Utilities Analyst. Qineqt is not receiving compensation for it (other than from Seeking Alpha). Qineqt has no business relationship with any company whose stock is mentioned in this article.