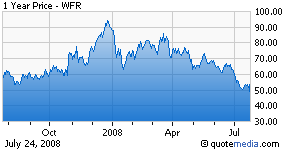 There has been all kinds of trouble since yesterday afternoon for MEMC Electronic Materials (WFR), maker of silicon wafers and raw polysilicon used int he semiconductor and solar sectors.
For starters, the company whiffed Q2. Revenue of $531.1 million was well short of Street estimates of $557.9 million. Non-GAAP profits of 92 cents a share missed the Street consensus of $1 by 8 cents. MEMC noted that the results were a bit below the bottom of its targeted range.
The company said in June it suffered "the premature failure of a relatively new heat exchanger" at its Merano, Italy facility, reducing Q2 polysilicon output by 5%. MEMC said that in May and early June it looked like strong output from its Pasadena, Texas plant positioned the company to exceed the upper end of its its targeted revenue range, but that "unfortunately, a loose pipe fitting caused a fire at the company's Pasadena facility" that required a week-long shutdown of half the silane gas production at the plant. (Silane is a precursor to polysilicon.)
For Q3, the company sees revenue of $560 million to $620 million; the Street has been looking for $616.3 million. MEMC said that "solar application demand continues to be strong," but that "semiconductor application demand seems to be uncertain" due to macro conditions.
For all of 2008, the company sees revenue of $2.25 billion to $2.35 billion, with non-GAAP profits of $4 to $4.30 a share. The Street has been looking for $2.36 billion and $4.30.
The company yesterday also announced plans to buy back an additional $500 million of its common stock, bringing the total authorization to $1 billion.