On September 14, 2012, Titan Pharmaceuticals (NASDAQ:TTNP) announced it had entered into a stock purchase and option agreement with another pharmaceutical company for the potential license of Probuphine. As part of the transaction, Titan sold 3.4 million shares of common stock to the potential partner at a price of $1.25 per share, netting proceeds to Titan of $4.25 million.
Given that Titan's stock was trading at $0.72 before the announcement, we interpret the transaction as roughly $2.5 million in a straight stock purchase transaction and $1.75 million in an exclusivity option for talks on Probuphine. The exclusivity period expires on October 31, 2012, but can be mutually extended to December 31, 2012. In our conversation with Titan management, Titan noted that both companies are expecting to close a licensing agreement "sooner rather than later," so at this point we think it is very possible a deal gets done in October or November 2012.
We are very pleased with the above deal. Sure, we would have loved for the pharmaceutical company to have just outright licensed Probuphine for an upfront payment, backend milestones, and royalties on future sales, but prior to the NDA filing it seems as though the potential partner still has due diligence remaining. That being said, the fact that the company was willing to fork over $4.25 million today clearly shows serious interest in the product. On the company's second quarter earnings call in August 2012, Titan reported being in talks with three potential partners. Clearly this partner today wanted to secure the rights to continue negotiating with Titan without the risk of losing out to a competitor.
Plus, now the pharmaceutical company can assist Titan in the filing of the NDA. Titan management noted to us that the partner has been intimately involved in the process to date. We remind investors that Titan expects to file the NDA in October 2012. The FDA has 74 days to accept the application. Titan will seek a Priority Review for Probuphine. Probuphine is not a new molecular entity, so under PDUFA-V the FDA should respond to the application in six months.
We note none of the above transaction is refundable, so if continued talks do not lead to a deal for Probuphine, Titan keeps the $4.25 million. However, we think a deal will get done with this partner. We expect that the deal will include all of the things we noted above, an upfront payment, backend milestones, and royalties on future sales. We think Probuphine has peak sales in the area of $300 million. In the past, we have written that we believe Titan should be able to obtain upfront cash in the area of $15 million, a similar approval milestone in mid-2013, backend milestone totaling $100 million, and a ~20% royalty on sales.
Under this scenario, we see the net present value (NPV) of Titan's cash from a deal, risk-adjusted backend milestones, and royalties on sales worth $200 million, or around $2.50 per diluted share. We've posted our DCF model below: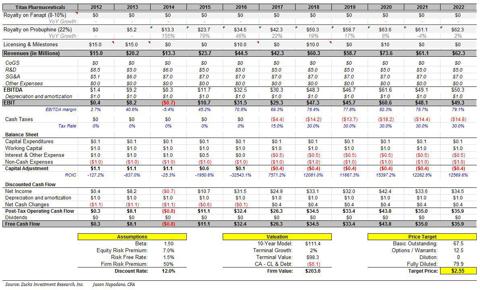 Disclosure: I have no positions in any stocks mentioned, and no plans to initiate any positions within the next 72 hours. I wrote this article myself, and it expresses my own opinions. I am not receiving compensation for it (other than from Seeking Alpha). I have no business relationship with any company whose stock is mentioned in this article.
Additional disclosure: I am an employee for Zacks Investment Research. For additional information about Titan, please contact me directly.