Well, the Federal Reserve came through as promised yesterday as it said it will expand its holdings of long-term securities with open-ended purchases of $40 billion of mortgage debt a month in a third round of quantitative easing as it seeks to boost growth and reduce unemployment.
Open-ended purchases? To be completely honest, this move scares us quite a bit. The Fed is basically admitting that they have zero faith that the economy can recover on its own. That is not a good thing.
All that said, we do think the Fed's new easing plan will be very positive for agency mortgage REITs.
The Current Environment is Ideal for Agency mREITs
We think mortgage REITS, particularly agency REITs, continue to be a suitable investment for investors seeking good risk-adjusted yield. Agency mortgages are guaranteed by government-sponsored entities (implying limited credit risk). Conversely, non-agency securities do not carry a similar implied guarantee, making them inherently more risky due to the higher relative credit risk.
The current yield curve has actually steepened over the past few months, which is an ideal environment for mREITs.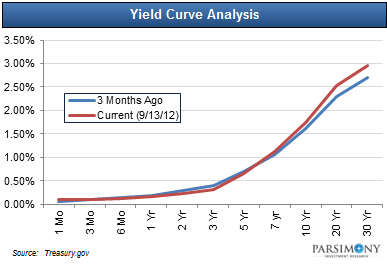 If the economy remains stagnant and interest rates remain low (as expected), mREITs should continue to prosper.
Note: A mortgage REIT's principal business objective is to generate income for distribution to its stockholders from the interest rate spread (i.e., the spread between the interest income received on its mortgage-backed securities and the cost of borrowing to finance its acquisition of mortgage-backed securities). In other words, the slope of the yield curve is one of the main factors that drive mREIT profits.
QE3 Should Drive Up The Price Of Agency Mortgages
An mREIT creates value for shareholders in two primary ways: (1) growing book value and (2) generating consistent income for distributions.
The Fed's new agency mortgage purchase plan should certainly drive up the price of agency mortgages as demand increases. This should increase the book value of agency mREITs in the coming quarters, making their current valuations more attractive.
mREITs have historically offered the best value to investors when trading around 1.0x book value. Below are the current comparative valuations for some of the larger agency mREITs:
Conclusion
The environment remains ripe for agency mortgage REITs and we believe that investors should take advantage of any meaningful pullback in valuations.
Disclosure: I am long AGNC, NLY, CMO. I wrote this article myself, and it expresses my own opinions. I am not receiving compensation for it (other than from Seeking Alpha). I have no business relationship with any company whose stock is mentioned in this article.