Total transparency: Thursday-Friday, I moved out of Astex Pharmaceuticals (NASDAQ:ASTX) to jump on Catalyst Pharmaceutical Partners, Inc. (NASDAQ:CPRX) here on Friday after reading up on its fast-tracked drug candidate, CPP-109 (Vigabatrin). I will explain my reasons in full detail.
First, SA author Chemistfrog wrote an excellent summary on Vigabatrin, invented by lead Lyrica inventor Dr. Richard Silverman. Here are the salient points from that article:
...Q4 2012 with Phase II results due out for its lead drug candidate, CPP-109 (vigabatrin), for cocaine addiction. The data is actually due out per the company's revised schedule "around the end of September 2012" versus the previous projection of Q1 2013. Per the press release "After discussions with our collaborators, the National Institute on Drug Abuse (NIDA) and the Department of Veterans Affairs Cooperative Studies Program (VACSP), and our statistical and regulatory consultants, we have been able to work through the complexities of modifying our statistical analysis plan. This will enable us to report top-line trial results about four months earlier than previously expected." ... The trial received a "Fast Track" status from the FDA, which can help speed up the regulatory process. The Phase II trial is short for the small pharma world requiring only 24-weeks total for the patient set. The actual treatment phase of the trial is comprised of nine weeks. Clinical investigators are scheduled to evaluate patients at weeks 8-9 to determine how many patients abstain from cocaine use versus the group receiving a placebo.
Second, I have found a comparitive example of a phase 2 trial completing early due to positive results. I quote this as an example as to why Vigabatrim's data may be released early:
GERMANTOWN, Md., July 24, 2012 /PRNewswire/ -- Psyadon Pharmaceuticals, Inc. announced today that its Phase 2 study of ecopipam in patients with Tourette Syndrome was stopped early when a planned interim analysis revealed a statistically significant reduction in the severity of the patients' tic symptoms. This decision was supported by both the independent Drug Safety and Monitoring Committee overseeing the study and by the external Research Committee established as part of Psyadon's partnership with the Tourette Syndrome Association (TSA) -- the nation's largest patient advocacy group for this disorder.
Third, it is an established fact that Vigabatrim performed well in an earlier trial, and was granted fast track status by the FDA. That fast track status affords Catalyst the important opportunity to almost leap-frog through clinical development or, as the FDA explains:
Fast track is a process designed to facilitate the development, and expedite the review of drugs to treat serious diseases and fill an unmet medical need. The purpose is to get important new drugs to the patient earlier. Fast Track addresses a broad range of serious diseases...

Eligibility for Accelerated Approval, i.e., approval on an effect on a surrogate, or substitute endpoint reasonably likely to predict clinical benefit
Rolling Review, which means that a drug company can submit completed sections of its New Drug Application (NDA) for review by FDA, rather than waiting until every section of the application is completed before the entire application can be reviewed. NDA review usually does not begin until the drug company has submitted the entire application to the FDA
It's my hunch that Vigabatrim's phase 2 data has met this qualification for accelerated approval and rolling review. I do not view the company's recent $6M fund-raising as a negative at all, but rather as the company preparing for the next step. Catalyst is a very small biotech with a very low market cap ($42M) and zero long-term debt. However, for a low-priced flyer, it certainly trades well (860,503 average vol/3 mths). I think positive data could result in either an immediate collaboration and/or being bought out by a larger firm. According to the FDA, Vigabatrim is fast-tracked because it addresses an unmet medical need in what would be a multi-billion dollar market for drug addiction.
Fourth, regarding an entry point, the chart favors any buy in the $1.30-1.40 range in advance of news. I personally think as more investors become aware of this stock and the pending catalyst, it could see a significant run to the upside.
(click image to enlarge)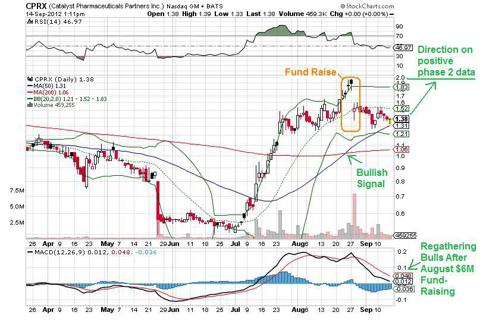 Finally, a few closing comments: (1) Catalyst could also report Vigabatrim failed in phase 2, so investors are fully warned of that possibility, though I am presently not leaning in that direction; (2) I want to acknowledge Catalyst chat room posters and SA author Chemistfrog for bringing Vigabatrim to my attention -- this is why I value SA as an important voice for stock information; and (3) Please read my disclosures very carefully. I practice open disclosure about what stocks I own or don't own and how I may trade. Here on Friday afternoon, I am initiating a STRONG BUY on Catalyst Pharmaceutical Partners, Inc.
Disclosure: I am long CPRX. I wrote this article myself, and it expresses my own opinions. I am not receiving compensation for it (other than from Seeking Alpha). I have no business relationship with any company whose stock is mentioned in this article.
Additional disclosure: Regarding my position in CPRX, I may add to my current position or sell in part or full at any time. Investors buy and/sell at their own risk. I declare that I may day-trade any stock at any time mentioned in this article. For me "long" is until I sell. I do not "short" stocks. I have zero connection to Wall Street other than being published by SA and my own private stock account.