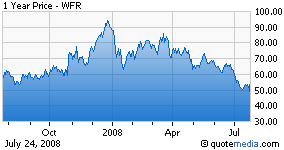 As I noted last night, MEMC Electronic Materials (WFR) reported disappointing Q2 results and weak guidance, due in part to manufacturing problems at the maker of silicon wafers and raw polysilicon that cropped up at two of the companies facilities. The combination has triggered a big sell-off in MEMC shares Thursday - but a number of analysts think the selling spree has gone too far, and that the stock is now too cheap to ignore.
Citigroup's Timothy Arcuri today upped his rating on the stock to Buy from Hold, with a $65 price taget. He thinks this is "finally the peak of the bad news." He contends that the shares are now inexpensive, "and finally set up to beat and raise" heading into late 2008 and early 2009. He says that, even if you assume they get just $50/kilogram for the polysilicon it sells to the solar industry, the downside is $35, against upside to the target of $65. He is looking for profits of $4.26 for this year, and $5.47 next year.
Likewise, J.P. Morgan's Christopher Blansett raised his rating on the stock to Overweight from Neutral. He notes that at the the stock at around $40 "now reflects all of the risk associated with additional execution issues." He says that while worries on semi wafer margins and the solar outlook remain, "the significantly reduced stock price" provides a good re-entry point.

Pierre Maccagno, an analyst at Needham, who already had a Strong Buy on the stock, wrote Thursday that the shares have become "grossly undervalued" given favorable long-term busines conditions in the solar and semi markets, a solid balance sheet and management focused on profitability and market share gains.
WFR Thursday is down $9.83, or 18.3%, to $43.97.