Let's sort out some of the ramifications of Wednesday's surprise settlement of all the patent litigation between Qualcomm (NASDAQ:QCOM) and Nokia (NYSE:NOK).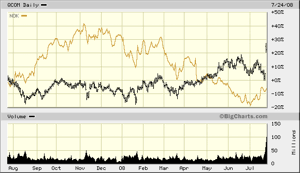 Let's start with the players themselves. The Street regards the deal as a win-win, and both stocks are higher. (Though QCOM clearly benefits even more than NOK.) The agreement lifts a huge cloud from both companies, and relieves them of a not-inconsiderable legal expense. One unanswered question is just what royalty rate Nokia will pay; there are estimates on the Street in the 1.5%-3% range, which as expected would be less than they had been paying before the whole issue blew up into a blizzard of litigation.
Thursday afternoon, Nomura's Richard Windsor writes that, based on some preliminary estimates from the company this morning on the Q4 impact of the deal, the royalty rate appears to be 2.3%, down from 4% previously. "The war is over, but peace has come at a price," Windsor writes. However, he notes that Nokia also gave Qualcomm the rights to "a significant amount" of intellectual property, which he says Qualcomm will now attempt to use to generate additional royalty income. For the most part, the Street is gushing: Cowen's Matthew Hoffman says it is a "huge win…removing a major barrier to appreciation of the company's share price."
One area not discussed by the company, but under intense discussion on the Street, is the possibility that Nokia will become a customer for Qualcomm's 3G chipsets.
Citigroup's Glen Yeung notes that the deal sets the stage for that to happen; he says that could boost revenue by $680 million to $690 million a year, adding 9 cents to EPS. Mark McKechnie, of American Technology Research, says that the prospect of NOK using QCOM chips would be "the true home run for QCOM."
Yeung notes that the prospect of Nokia buying chips raises the risk for Nokia's incumbent 3G chip suppliers, including Texas Instruments (NYSE:TXN) and ST Micro (NYSE:STM). And in fact, he added QCOM today to the firm's Top Picks Live list, while removing TXN.
From a stock standpoint, the biggest hit so far seems to be on shares of Broadcom (BRCM). UBS analyst Uche Orji Thursday notes that the deal is not likely to quickly trigger a settlement of Broadcom's own litigation with Qualcomm, but that "the loss of the perception of implicit NOK support could be seen as a negative." He also fears that the change in the competitive environment that results from this deal will make it more difficult from BRCM to expand at NOK beyond its current EDGE products.

Merrill Lynch's Srini Pajjuri Thursday took a look at the implications from a potential deal for NOK to buy chipsets from QCOM. He notes that TXN currently supplies 100% of Nokia's 3G baseband chips, and that NOK accounts for 15%-20% of its overall sales. "Clearly, if Nokia decides to bring in QCOM as a third supplier, it could have a meaningful negative impact for both TXN and STM." That said, he notes that the potential impact in the next 2 years should be minimal.
Pajjuri notes that BRCM supplies Bluetooth chips to Nokia and is expected to supply EDGE baseband chips starting 2009. "The actual impact on BRCM would be minimal since QCOM doesn't currently offer standalone EDGE chipsets," he says. "But the stock could come under pressure nevertheless.
As for Infineon (IFX), which supplies RF components to Nokia and is expected to supply 2G baseband chips starting in the second half, he sees limited implications since QCOM does not participate in the standalone GSM/GPRS market.
STM, Pajjuri writes, provides RF, connectivity and application processor chips to Nokia. He notes that STM recently acquired NOK's chipset design team, and has an agreement to supply 3G chips starting in 2010. "Clearly, a Nokia/QCOM chipset relationship would be negative for STM," he writes.
In Thursday's trading:
Qualcomm is up $8.39, or 18.7%, to $53.21.
Nokia is up 73 cents, or 2.7%, to $27.43.
Broadcom is down $2.49, or 9.5%, to $23.75.
Texas Instruments is down $1, or 4%, to $24.02.
Infineon is down 42 cents, or 5.3%, to $7.54.
ST Micro is down 31 cents, or 2.7%, to $11.03.