Dover Downs (NYSE:DDE) owns and operates the Dover Downs Hotel and Casino in Delaware. The casino consists of video lottery (slot machines), table games, and a sports book. Additionally, the 500-room hotel and conference center has a AAA four diamond rating, as well as several bars and restaurants. There is also a racetrack at the hotel, which hosts two NASCAR events annually that is owned by Dover Motorsp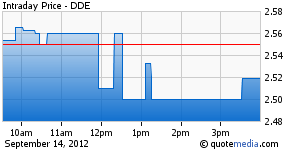 orts.
Trading at $2.50 as it is currently, DDE appears to be significantly undervalued based on my analysis. DDE is carrying $1.20/share in cash on its balance sheet, and estimates EPS for this year of $0.26 while paying a 3-cent quarterly dividend. The dividend appears safe for the time being, but there are some concerns regarding the future earnings for DDE. Some analysts predict that over the next three to five years the company's EPS could have growth around -25%, and the continued development of additional casinos in Maryland does not bode well for the long-term growth for the company.
I believe, however, that the company is significantly stronger than many of these analysts think. The continued hosting of two annual NASCAR events, while not providing any direct revenue, does bring a large number of people to the casino. In addition, the casino is in relatively close proximity to the Delaware beaches. In the summertime on the East Coast, the beaches of Delaware offer much needed relief from the heat and humidity that will continue to drive people this way. As the economy in this blue-collar town improves along with the economy across the U.S., families will have more disposable income that can be put toward recreation, and the casino will benefit from increases in spending. Having table games and a sports book will continue to add revenue to the top and bottom line for DDE, and I believe the business will become more profitable than it is now.
Investing in DDE is not without risk, however. A number of casinos have been opened within short drives of DDE, and in Maryland there is talk of opening more. The popularity of NASCAR has waned, and the crowds drawn to these events have shrunk over the past few years. Smaller crowds at the casino inevitably lead to less income for the casino owner and less revenue. Couple this with a state economy that is struggling to grow and produce new jobs, and you could see hard times ahead. However, with $1.20 per share in cash and 4.7% dividend yield, I believe that DDE is significantly undervalued, presents an opportunity for gains, and, valued at ~$81 million, may become a buyout candidate for a larger casino operator looking to expand its footprint on the East Coast.
Disclosure: I am long DDE. I wrote this article myself, and it expresses my own opinions. I am not receiving compensation for it (other than from Seeking Alpha). I have no business relationship with any company whose stock is mentioned in this article.