As we all know by now, the U.S. Federal Reserve has now gone all in on monetary stimulus. On Thursday, the Fed announced an open-ended, balance sheet expanding securities purchase program that will pump $40 billion into the financial system every month until it is fully satisfied with the employment picture. I will forgo expressing my personal opinion about the Fed's latest strategy in this article other than to say that I strongly oppose it. Instead, it is worthwhile to examine closely what we can now expect from stocks (NYSEARCA:SPY) in the months ahead. While further equity market gains are likely in the wake of the Fed's decision, it is important to also issue an important warning - stocks do not always rise under the spell of the Fed's quantitative easing (QE).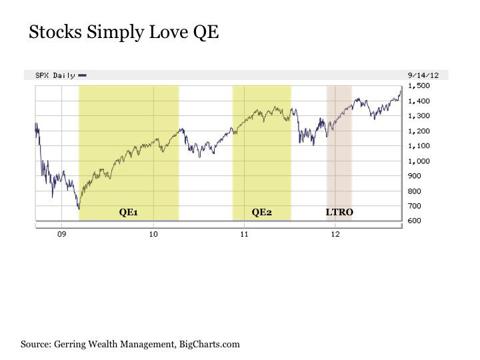 The resounding impact of QE on the stock market simply cannot be disputed. During QE1 from March 2009 to March 2010, stocks as measured by the S&P 500 gained +73%. From the moment QE2 was tipped to the market in Jackson Hole in late August 2010 through the end of the program in June 2011, stocks advanced by +26%. And even balance sheet expanding monetary stimulus from overseas is enough to whip stocks into a euphoric high, as the European Central Bank's Long-Term Refinancing Operation (LTRO) from late December 2011 through February 2012 helped drive the U.S. stock market higher by +13%.
So where do we stand today. Starting at the beginning of June, the stock market began rallying in anticipation that more balance sheet expanding monetary stimulus would soon be on its way from the Fed. And since the official QE3 announcement, stocks have added to these gains.
This leads us to the critical question. What more can we expect from the stock market from here? This question is particularly important given that the global economic outlook continues to weaken markedly, which would imply a stock market that should be moving sharply lower were it not for the artificial buzz of balance sheet expanding monetary stimulus.
But related to this critical question is an important warning for stock investors as it relates to QE3 in the coming months. The key point of caution is the following:
Stocks do not always melt higher under QE. In fact, they can reach a threshold where they no longer meaningfully respond to the injection of further stimulus.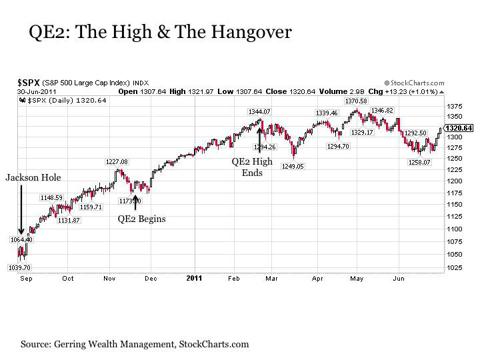 A closer look at the path of the stock market under QE2 highlights this important point. Stocks began anticipating QE2 once Fed Chairman Bernanke signaled the program during his Jackson Hole speech on August 26, 2010. And the market went on to rally by +15% ahead of the official launch of QE2 on November 12, 2010. Once the program was in place, stocks actually sputtered sideways for the rest of November before finally becoming fully intoxicated and melting higher starting in December. And for nearly two and a half months from the beginning of December 2010 to the middle of February 2011, stocks drifted higher in a dreamy euphoria marked by gains seemingly every single trading day in advancing by another +14%. But suddenly the buzz started to wear off, and for the remainder of QE2 from mid February 2011 to the end of June 2011, stocks started to act as if hung over. During this time, stocks thrashed back and forth in +/- 5% moves on average that included three sustained corrections along the way.
So when reflecting on QE2, the best results for stocks came during the run up in the few months before the program officially began and ended only a couple of months after the program was underway. From there, it was a choppy ride at best with stocks ending up below their February 2011 peaks by the end of the program.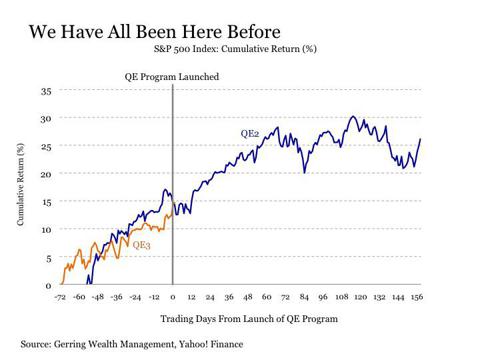 So using our most recent experience with QE2 as a backdrop, where do we stand with the current QE3 rally today? Interestingly, a similar picture is already beginning to emerge. Although it took 56 trading days from anticipation to launch with QE2 versus 72 trading days today with QE3, the stock market path thus far is notably similar. Just as they did with QE2, stocks advanced by +14% in anticipation of QE3.
Whether stocks under QE3 will advance by another +12% over the next two and a half months just as they did under QE2 remains to be seen, as correlation certainly does not equal causation. But the following points are worth noting. First, the Fed was conducting asset purchases under QE2 totaling $75-$80 billion each month versus just $40 billion per month under QE3. In other words, the magnitude of the current balance sheet expansion program is roughly half the previous plan. Second, the markets are facing a far more challenging economic environment today than in late 2010 and early 2011. While markets were grappling with the natural disaster in Japan, the instability of the Arab Spring, the unfolding crisis in Europe and a mounting Congressional debt ceiling standoff last time around, the environment today is marked by a full fledged global economic slowdown, the continued threat of crisis in Europe, persistent unrest in the Middle East, the uncertainty of a Presidential election and a looming fiscal cliff at the end of the year. And unlike the last time around when these challenges began to surface only several months after the launch of QE2, the current challenges are already presenting themselves immediately at the start of QE3.
So while it is more than reasonable to expect that the stock market can rally further with the official launch of QE3, it is important to remember that balance sheet expanding monetary stimulus is not necessarily a complete panacea for all of challenges facing the stock market today. Thus, exercising a degree of caution amid the euphoria is more than a prudent approach.
In terms of portfolio strategy, the most likely winners from the Fed's now boundless largesse are likely to reside in the commodities space. This includes precious metals including gold (NYSEARCA:GLD) and silver (NYSEARCA:SLV), which provide the dual benefit of hard asset protection against inflation and currency debasement as well as a safe haven during crisis. The Central Gold Trust (NYSEMKT:GTU) and Central Fund of Canada (NYSEMKT:CEF) provide an ideal way to gain exposure to these categories. Industrial metals such as copper, energy including oil, and agricultural commodities are also likely to receive a boost from this latest round of aggressive monetary policy action from the Fed. With these themes in mind, BHP Billiton (NYSE:BHP) provides an exposure to a broad range of these commodities including copper and diamonds. Occidental Petroleum (NYSE:OXY) provides high quality exposures that are correlated with the oil market. And Potash Corporation (POT) provides attractive and broad exposure to the agriculture space. Selected non-U.S. markets are also attractive in this context including China (NYSEARCA:FXI). Adding to the appeal is the fact that all of these stocks have trailed the broader market by a meaningful margin over the past year, implying the potential for additional upside in the current environment where sustained asset inflation is a very real possibility in the months ahead. Lastly, continuing to hold those positions that hold up well regardless of whether the Fed is stimulating or not is also worthwhile. This includes Agency Mortgage Backed Securities (NYSEARCA:MBB), which are the focus of the Fed's QE3 asset purchases, and U.S. Treasury Inflation Protected Securities (NYSEARCA:TIP), which provide inflation protection along with the safe haven protection of U.S. government backed securities.
Disclosure: I am long BHP, OXY, POT, FXI, CEF, GTU, MBB, TIP. I wrote this article myself, and it expresses my own opinions. I am not receiving compensation for it (other than from Seeking Alpha). I have no business relationship with any company whose stock is mentioned in this article.
Disclaimer: This post is for information purposes only. There are risks involved with investing including loss of principal. Gerring Wealth Management (GWM) makes no explicit or implicit guarantee with respect to performance or the outcome of any investment or projections made by GWM. There is no guarantee that the goals of the strategies discussed by GWM will be met.