Marathon Oil Corporation (NYSE:MRO) has a strong inventory of projects in the developmental stage in areas such as Indonesia, Iraq (the Kurdistan section), and Poland. These projects should enable management to maintain and most likely surpass its guidance for a 6.8% annual production growth rate for 2012 and 2013.
The company has disposed of assets that do not fit into its long-term growth plan. In the past five years, it has sold roughly $3.5 billion worth of non-core oil and gas properties. This has helped it free up capital and focus on its longer term high growth prospects. It plans to get rid of an additional $1.5-$3.00 billion of assets by 2013.
The completed acquisition of acreage in the Eagle ford shale formation in South Texas from Hilcorp Resource Holdings offers Marathon Oil an important production growth opportunity in the high margin North American unconventional resource plays.
Additional Reasons to be bullish on Marathon Oil Corporation
A very strong interest coverage ratio of 30
A great retention ratio of 74%
A low payout ratio of 26%
A positive levered free cash flow of $1.72 billion
A good operating margin of 33%
A total return for the past 3 years of 62%
Net income has risen from $1.4 billion in 2009 to $2.9 billion in 2011
Annual EPS before NRI rose from $1.63 in 2009 to $3.21 in 2011
Cash flow per share increased from $4.37 in 2009 to $6.48 in 2011
A projected growth rate of 21.8% for 2012 according to dailyfinance.com
Zack's has Projected EPS of $3.33 for 2013 which represent a $0.63 over its projected EPS for 2012 of $2.70
$100K invested 10 years ago would have grown to $346K.
Charts and tables of interest for Marathon
Click to enlarge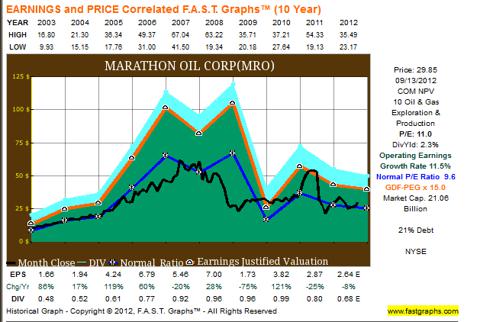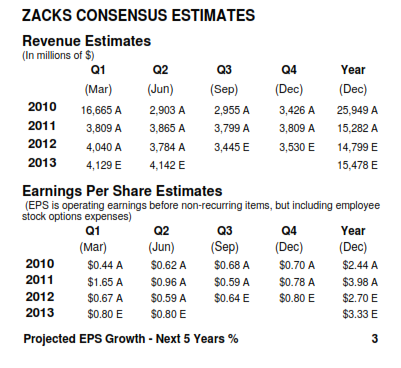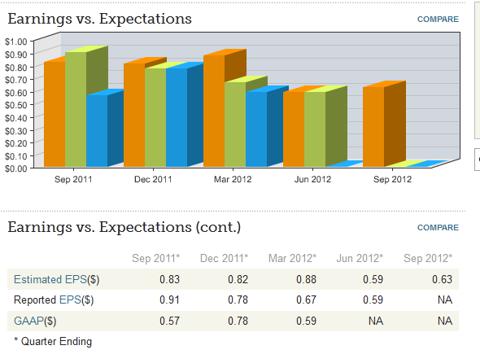 Competition
We compare Marathon Oil with Chevron Corporation (NYSE:CVX) and Exxon Mobil (NYSE:XOM).

Company: Marathon Oil Corp
Brief Overview
Operating cash flow = $3.86B
52 week change = 23.5%
Profit Margin = 11.8%
Operating Margin = 33.1%
Quarterly Revenue Growth = 1.4%
Quarterly Earnings Growth = - 60%
5 year sales growth = -22.6%
Gross Margins = 55%
Levered free cash flow = $1.72B
Growth
Net Income ($mil) 12/2011 = 2946
Net Income ($mil) 12/2010 = 2568
Net Income ($mil) 12/2009 = 1463
Net Income Reported Quarterly ($mil) = 417
EBITDA ($mil) 12/2011 = 6800
EBITDA ($mil) 12/2010 = 6188
EBITDA ($mil) 12/2009 = 4819
Cash Flow ($/share) 12/2011 = 6.48
Cash Flow ($/share) 12/2010 = 6.56
Cash Flow ($/share) 12/2009 = 4.37
Sales ($mil) 12/2011 = 15282
Sales ($mil) 12/2010 = 73621
Sales ($mil) 12/2009 = 54139
Annual EPS before NRI 12/2007 = 5.43
Annual EPS before NRI 12/2008 = 6.47
Annual EPS before NRI 12/2009 = 1.63
Annual EPS before NRI 12/2010 = 3.65
Annual EPS before NRI 12/2011 = 3.21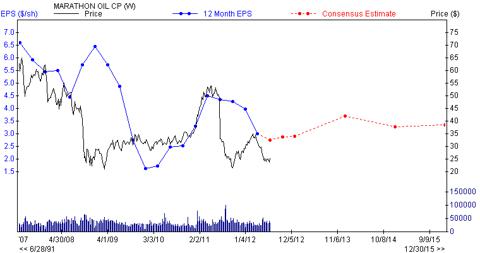 Dividend history
Dividend Yield = 2.3
Dividend Yield 5 Year Average = 3.3
Dividend 5 year Growth = - 3.40
Dividend sustainability
Payout Ratio = 0.26
Payout Ratio 5 Year Average = 0.26
Performance
Next 3-5 Year Estimate EPS Growth rate = 2.06
ROE 5 Year Average = 15.63
Current Ratio = 0.70
Current Ratio 5 Year Average = 1.19
Quick Ratio = 0.65
Cash Ratio = 0.21
Interest Coverage = 30
Retention rate = 74%
Conclusion
Marathon is a great long-term play, and individuals should consider using strong pullbacks to add to their current positions. For the short term, it is slightly oversold. Consider waiting for the $28.50 range before committing new funds to this play. Alternatively, you can sell puts at strikes you would not mind owning the stock at. If the stock trades below the strike price the puts were sold at the shares could be assigned to your account. If the stock does not trade below the strike price, you get to keep the premium.
EPS consensus estimates and EPS surprise charts and a major portion of the Research and historical data used in this article was obtained from Zacks.com. Earnings vs expectations sourced from smartmoney.com.

Disclosure: I have no positions in any stocks mentioned, and no plans to initiate any positions within the next 72 hours.
Business relationship disclosure: This article was prepared for Tactical Investor by one of our analysts. We have not received any compensation for expressing the recommendations in this article. We have no business relationships with any of the companies mentioned in this article.
Disclaimer: It is imperative that you do your due diligence and then determine if the above play/plays meet with your risk tolerance levels. The Latin maxim caveat emptor applies - let the buyer beware.