Edited by Marianna Avilkina
Vale S.A. (NYSE:VALE) is the second largest mining company in the world, as well as the largest producer of iron ore and pellets. The company continues to diversify its product offerings by increasing the volume of non-ferrous metals in proportion to its total revenue, as was seen by its acquisitions of Inco and Caemi. The ongoing expansion of Chinese steel output puts increasing pressure on the world's supplies of high-grade seaborne iron ore, meaning high prices and massive profit for Vale.
As of Sept 15, 2012, the Vale stock was trading at about $19, with a 52-week range of $15.77-$27.60. It has a market cap of about $140 billion. The trailing twelve-month P/E ratio is 6.31, whereas forward P/E ratio is 6.29. P/B, P/S, and P/CF ratios stand at 1.8, 2.4, and 6.8, respectively. The operating margin is 41.3%, while net profit margin is 30.0%. The company does not have any significant debt issues.
Vale pays well, yet floating dividends - the trailing yield is 6%. Upcoming dividends are expected to amount to $0.57 in Q4 2012. The five-year dividend history suggests that Vale is a sufficient, yet volatile dividend payer.
Vale has a 4-star rating from Morningstar. Out of two analysts covering the company, one has a "buy" rating, and the other - an "outperform" rating. This is good reason to suppose that Wall Street holds diverse opinions on the company's future. The average five-year annualized growth forecast estimate is -2%. What is the fair value of Vale given the forecast estimates? We can determine Vale's fair value using the discounted earnings plus equity model, as follows:
Discounted Earnings Plus Equity Model
This model is primarily used for estimating the returns from long-term projects. It is also frequently used to price fair-valued IPOs. The methodology is based on discounting the present value of the future earnings to the current period:
V = E0 + E1 /(1+r) + E2 /(1+r)2 + E3/(1+r)3 + E4/(1+r)4 + E5/(1+r)5 + Disposal Value
V = E0 + E0 (1+g)/(1+r) + E0(1+g)2/(1+r)2 + … + E0(1+g)5/(1+r)5 + E0(1+g)5/[r(1+r)5]
The earnings after the last period act as a perpetuity that creates regular earnings:
Disposal Value = D = E0(1+g)5/[r(1+r)5] = E5 / r
While this formula might look scary for many of us, it easily calculates the fair value of a stock. All we need is the current-period earnings, earnings growth estimate, and the discount rate. To be as objective as possible, I use Morningstar data for my growth estimates. You can set these parameters as you wish, according to your own diligence.
Valuation
Historically, the average return of the DJI has been around 11% (including dividends). Therefore, I will use 11% as my discount rate. In order to smooth the results, I will also take the average of ttm EPS along with the mean EPS estimate for the next year.
E0 = EPS = ($3.07 + $3.08) / 2 = $3.08
Wall Street holds diversified opinions on the company's future. While analysts tend to impose subjective opinions on their estimates, the average analyst estimate is a good starting point. Average five-year growth forecast is -2%. Book value per share is $15.15. The rest is as follows:
Fair Value Estimator

V (t=0)

E0

$3.08

V (t=1)

E0 (1+g)/(1+r)

$2.71

V (t=2)

E0((1+g)/(1+r))2

$2.40

V (t=3)

E0((1+g)/(1+r))3

$2.12

V (t=4)

E0((1+g)/(1+r))4

$1.87

V (t=5)

E0((1+g)/(1+r))5

$1.65

Disposal Value

E0(1+g)5/[r(1+r)5]

$15.00

Book Value

BV

$15.15

Fair Value Range

Lower Boundary

$28.82

Upper Boundary

$43.97

Minimum Potential

48.76%

Maximum Potential

126.96%
(You can download FED+ Fair Value Estimator, here.)
I decided to add the book value per share so that we can distinguish between a low-debt and debt-loaded company. The lower boundary does not include the book value. According to my 5-year discounted-earnings-plus-book-value model, the fair-value range for Vale is between $29 and $44 per share. At a price of $19, Vale is trading at a significant discount. The stock has at least 50% upside potential to reach its fair value.
Peer Performance
While there are many companies in the metals and minerals industry, Vale's close competitors are BHP Billiton (NYSE:BBL), Cliffs Natural Resources (NYSE:CLF) and Rio Tinto (NYSE:RIO).
The figure below shows Vale's performance against its major peers over the last year:
Click to enlarge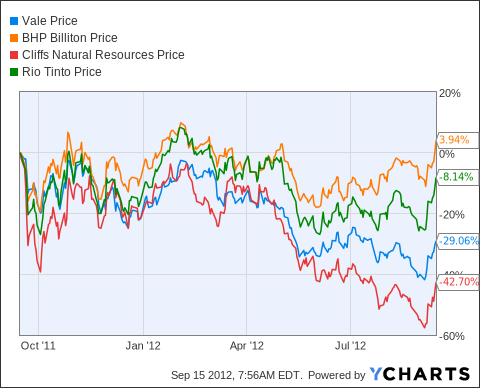 A symmetrical downward trend is prevalent among all of Vale's competitors. This is due entirely to the international commodity market and the reduced demand there. CLF rivals Vale primarily in the production of pellets, whereas the other two companies are also Vale's competitors in metal and mining. Almost all above mentioned stocks disappointed their shareholders with negative returns in the last year. Only BHP Billiton provided a positive return of 3.94%.
Vale has been paying consistent dividends over the past 10 years. However, the dividend amount has decreased in the recent years due to the downturn of industry performance and company profits.
Current Economic Outlook
Countering the downward trend exhibited by Vale, there has been a dramatic upturn of the trend line since January this year. This is because speculation grows that Chinese government spending will turn the fortunes for the commodities players. China, the world's largest consumer of steel-making products, recently approved plans to build 1,254 miles of roads and announced 25 projects worth 700 billion yuan, as also 30 more projects. Many companies, including Vale, stand to profit from this announcement. Vale has almost bottomed out and such a stimulus was exactly what it requires to return to its previous highs.
The stock is cheap at the moment, which would encourage investor confidence and positive sentiment regarding its future. While the entire commodities industry seems to be suffering, the immediate future looks much better, as China aims to boost output for the coming year. However, this seems to be the only ray of hope for Vale. Vale's production may increase, but its revenues could dwindle if the current global downward trend continues. Many analysts believe that China's slowdown will deepen further, causing the price of commodities to fall even lower.
Summary
The iron ore industry can look forward to the next year as China's investment of nearly a trillion yuan looks set to take place. Vale has expanding operations across the world. As the stock lost almost 30% in the last year alone, it could prove to be a smart buy. The stock has been recording low growth in the market; however, it is expected to climb upward along with its competitors, as China further invests in its infrastructure.
Based on my FED+ valuation, Vale stock is trading at a significant discount. The stock has at least 50% upside potential to reach its fair value. A recommendation of 'buy' is prevalent across analysts for iron ore and mining firms, especially for Vale because of its undervalued price and huge growth potential. We expect Vale to show bullish signs towards the end of this year and commodity prices to rise back up again. The stock is primed for a big rebound. The recent upward movement, accompanied by high-volume trade, also supports this claim.
Disclosure: I have no positions in any stocks mentioned, and no plans to initiate any positions within the next 72 hours. I wrote this article myself, and it expresses my own opinions. I am not receiving compensation for it (other than from Seeking Alpha). I have no business relationship with any company whose stock is mentioned in this article.