On Thursday, Ben Bernanke announced a new bond-buying program in which the Federal Reserve will purchase $40 billion of mortgage-backed securities each month. The program is open ended and set to expire at a future time when the labor market has sufficiently recovered from its current malaise.
The idea behind the program is that pushing mortgage rates even lower will push debt service for home owners lower, leading to an increase in consumer and construction spending. In the event this happens, it should eventually reduce the rate of unemployment.
The markets loved the news, but the question of whether the move is one that will ultimately aid the economy is debatable. Undoubtedly, Mr. Bernanke is taking action in order to improve the recovery, but is he taking the right action?
The chart below shows the progress of the 30-year mortgage rate versus the Case-Shiller Index. Clearly, in the 1990s and early 2000s, the steady lowering of interest rates fed the increasing price of property values and ultimately led to the housing bubble. The due diligence of banks (or lack thereof) was also a major contributing factor to an epic spike in the price of housing.
Click to enlarge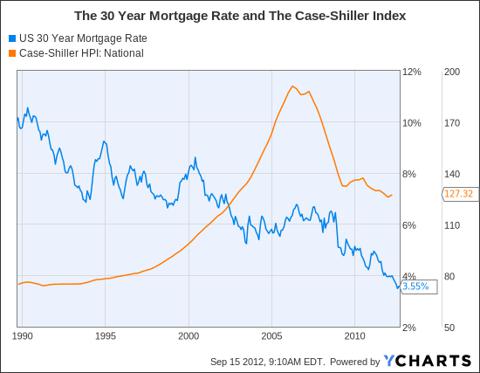 One problem in the current program is the lack of available credit to homeowners who were trapped underwater when the housing bubble burst. I would argue that the most distressed homeowners have the least ability to take part in the recent decline in mortgage rates.
Banks are far more scrupulous in performing due diligence, and combining this with the depreciation of housing values, many buyers during the peak years remain unable to qualify for refinancing. It is these homeowners who could help the economy the most. Allowing a homeowner who is easily making ends meet to refinance at a lower rate may save him some money, but allowing someone who is distressed to refinance would greatly change their standard of life and spending habits.
Below is a table showing the dramatic effect that takes place on monthly payments as interest rates fall. Imagine a homeowner who has been trapped in a 6% 30-year mortgage since before the crisis. Property values have fallen and he or she can no longer refinance. For them refinancing the 6% mortgage they signed into in 2006 would be a major aid, reducing the cost of their mortgage by 25%.
Now imagine a homeowner in good standing who has a 30-year mortgage at the present rate. Even pushing the rate to 2.5% would only save an additional 9% versus the 6% mortgage payment.
| | | |
| --- | --- | --- |
| 30-Year Rate | Monthly Payment | Percent Reduction from the 6% Rate |
| 6% | 1499 | 0.0% |
| 5.75% | 1459 | 2.7% |
| 5.5% | 1419 | 5.3% |
| 5.25% | 1381 | 7.9% |
| 5% | 1342 | 10.5% |
| 4.75% | 1304 | 13.0% |
| 4.5% | 1267 | 15.5% |
| 4.25% | 1230 | 17.9% |
| 4% | 1194 | 20.3% |
| 3.75% | 1158 | 22.7% |
| 3.5% | 1123 | 25.1% |
| 3.25% | 1088 | 27.4% |
| 3% | 1054 | 29.7% |
| 2.75% | 1021 | 31.9% |
| 2.5% | 988 | 34.1% |
It is my contention that lowering mortgage rates further will probably have a limited effect on consumer spending and the ability to service debt. What is needed is a more targeted program that would give underwater homeowners some relief from their situation.
Perhaps the Federal Reserve could work in coordination with an investment bank to accomplish this goal. For example, the investment bank could offer refinancing to underwater homeowners and the resulting mortgage backed securities could be immediately sold to the Federal Reserve. This kind of a targeted program would offer greater relief to consumers than simply throwing money at the problem.
In terms of investing advice, it is my opinion that the current open-ended QE3 program is very bullish for the energy and materials sectors. Also, banking stocks, such as Wells Fargo & Co. (NYSE:WFC), which generate revenue from refinancing, may strengthen even more in the coming months.
Since the crisis, each time mortgage rates have hit a new low, the share price of Wells Fargo has put in a good performance over the following several months. If 30-year rates decline even lower, Wells Fargo should experience strong demand in refinancing and price appreciation. As always, perform your own due diligence before taking a long position in any stock.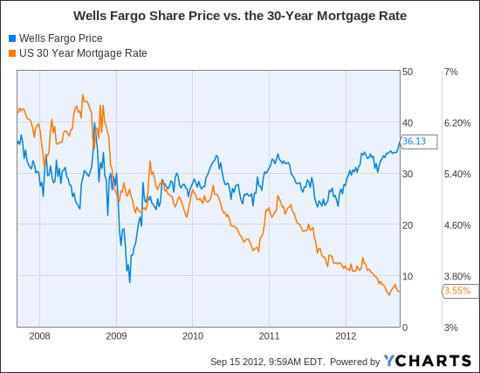 In conclusion, Bernanke is clearly doing his best to help the economic recovery. However, I believe his actions would be much more helpful if he introduced a more targeted approach to help underwater homeowners. At this juncture, we need some unconventional thinking.
Disclosure: I have no positions in any stocks mentioned, and no plans to initiate any positions within the next 72 hours. I wrote this article myself, and it expresses my own opinions. I am not receiving compensation for it (other than from Seeking Alpha). I have no business relationship with any company whose stock is mentioned in this article.