Edited By Marianna Avilkina
Halliburton Company (NYSE:HAL) is one of the top providers of oil services, from pressure pumping to drilling. Over time, Halliburton has integrated its services into a single solution. Thanks to this policy, customers can obtain increased well performance, and reduce nonproductive time, by standardizing with Halliburton's services rather than combining services from several service providers. Thus, the company provided all-in-one solution to its partners. Halliburton is a global company. In 2011, 58% of the company's revenues came from North America while the rest was attributed to international ventures.
As of September 15, Halliburton stock was trading at around $37, with a 52-week range of $26.28-$40.60. It has a market cap of $35.7 billion. The trailing twelve-month P/E ratio is 11.04, and the forward P/E ratio is 10.67. P/B, P/S, and P/CF ratios stand at 2.5, 1.3, and 10.4, respectively. Its operating margin is 18%, whereas net profit margin is 10.7%. Halliburton has minor debt issues thanks to a low debt/equity ratio of 0.3.
Halliburton pays stable dividends - the trailing yield of 0.99% is the same as the forward one. Over the last five years, the company has been paying the same quarterly dividend at 9 cents per share, amounting to 36 cents annual dividend. Consequently, the quarterly dividend is expected to be 9 cents in the coming year as well. While, the dividend yield is low, five-year dividend history suggests that Halliburton is a regular dividend payer.
Halliburton has a four-star rating from Morningstar. Out of eight analysts covering the company, all eight have a "buy" rating. Wall Street has a largely positive outlook for the company's future. The average five-year annualized growth forecast estimate is 21.30%. What is the fair value of Halliburton given the forecast estimates? We can estimate Halliburton's fair value using discounted earnings plus equity model as follows.
Discounted Earnings Plus Equity Model
This model is primarily used for estimating the returns from long-term projects. It is also frequently used to price fair-valued IPOs. The methodology is based on discounting the present value of the future earnings to the current period:
V = E0 + E1 /(1+r) + E2 /(1+r)2 + E3/(1+r)3 + E4/(1+r)4 + E5/(1+r)5 + Disposal Value
V = E0 + E0 (1+g)/(1+r) + E0(1+g)2/(1+r)2 + … + E0(1+g)5/(1+r)5 + E0(1+g)5/[r(1+r)5]
The earnings after the last period act as a perpetuity that creates regular earnings:
Disposal Value = D = E0(1+g)5/[r(1+r)5] = E5 / r
While this formula might look scary for many of us, it easily calculates the fair value of a stock. All we need is the current-period earnings, earnings growth estimate, and the discount rate. To be as objective as possible, I use Morningstar data for my growth estimates. You can set these parameters as you wish, according to your own diligence.
Valuation
Historically, the average return of the DJI has been around 11% (including dividends). Therefore, I will use 11% as my discount rate. In order to smooth the results, I will also take the average of ttm EPS along with the mean EPS estimate for the next year.
E0 = EPS = ($3.39 + $3.51) / 2 = $3.45
Wall Street holds diversified opinions on the company's future. While analysts tend to impose subjective opinions on their estimates, the average analyst estimate is a good starting point. Average five-year growth forecast is 21.3%. Book value per share is $15.70. The rest is as follows:
Fair Value Estimator

V (t=0)

E0

$3.45

V (t=1)

E0 (1+g)/(1+r)

$3.77

V (t=2)

E0((1+g)/(1+r))2

$4.12

V (t=3)

E0((1+g)/(1+r))3

$4.50

V (t=4)

E0((1+g)/(1+r))4

$4.92

V (t=5)

E0((1+g)/(1+r))5

$5.38

Disposal Value

E0(1+g)5/[r(1+r)5]

$48.88

Book Value

BV

$15.70

Fair Value Range

Lower Boundary

$75.02

Upper Boundary

$90.72

Minimum Potential

100.44%

Maximum Potential

142.39%
(You can download FED+ Fair Value Estimator, here.)
I decided to add the book value per share so that we can distinguish between a low-debt and debt-loaded company. The lower boundary does not include the book value. According to my five-year discounted-earnings-plus-book-value model, the fair-value range for Halliburton is between $75 and $91 per share. At a price of $37, Halliburton stock is excessively undervalued; the stock has at least 100% upside potential to reach its fair value.
Peer Performance
While there are many companies in the oil and gas services industry, Baker Hughes (BHI) is probably the closest competitor of Halliburton. To assess how much profit companies generate on the money shareholders have invested, we consider return on equity. Halliburton has a trailing twelve-month ROE of 22.6%, while Baker's rate is twice as low. Obviously, Halliburton has a relatively strong advantage in terms of profitability However, Baker's stock is also extremely undervalued these days, as its stock has at least 130% upside potential to reach its fair value. Over the last five years, Halliburton and Baker Hughes have been offering steadfast dividends, amounting to $0.09 and $0.15, respectively. However, in terms of dividend yield, Baker Hughes looks more attractive to investors.
Another competitor, Schlumberger Limited (NYSE:SLB) also has an underpriced stock with 22% upside potential to reach its fair value. However, SLB's ttm P/E ratio of 19.45 is far above that of Halliburton. In contrast to both BHI and Halliburton, SLB pays a superior dividend of $0.275 per share.
The chart below shows Halliburton's performance against its main competitors over the last five years: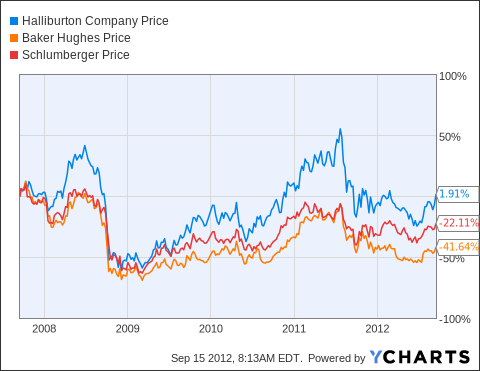 Current Economic Outlook
Halliburton's involvement in the Gulf of Mexico oil spill may be a cause of concern for investors. However, the evidence and public records suggest that the company had little to do with the oil spill. The company expects margins from North America to improve by the start of 2013. What further strengthens this forecast is the $1,105,200 investment into shares, made by the company director, Murray Gerber. This is by far the clearest sign that the insiders have strong expectations for the company's growth in the future, and should be welcome news to investors.
The company expects to have an EPS of $3.50 and revenues of up to $26.9 billion in 2013. When compared to 2011′s EPS of $3.08 on sales of $24.8 billion, the stock seems like a bargain. Furthermore, many gas producers are shifting to oil production to take advantage of better commodity prices. The extensive nature of oil exploration puts Halliburton's services in greater demand.
Summary
When it comes to stocks, there is a rule of thumb: if the price has not yet caught up with the strong earnings growth, that stock is a "must-buy." Halliburton's strong revenue, operating margins, stable EPS and continued payment of dividends ensure that the company does indeed have strong earnings.
However, based on my FED+ valuation, Halliburton stock has not reached its fair value and this stock has at least 110% upside potential to reach its fair minimum. The earnings uptrend is more likely to pull up the undervalued stock. This is why now would be a smart time to obtain Halliburton stock, before the stock achieves its eventual fair value. The stock has not performed well over the last 5 years. However, if analysts' estimates hold, Halliburton might just become one of the best buys in the current market.
Disclosure: I have no positions in any stocks mentioned, and no plans to initiate any positions within the next 72 hours. I wrote this article myself, and it expresses my own opinions. I am not receiving compensation for it (other than from Seeking Alpha). I have no business relationship with any company whose stock is mentioned in this article.